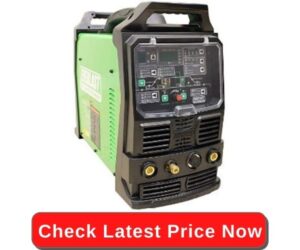 Everlast 225 EXT welder keeps appearing on the top when searching for a reliable and powerful high-end welder.
This heavy-duty welder is a personal favorite of professionals because of the huge range of advanced features.
From light-duty to heavy-duty welding, you can throw any project at it, and it will finish it with sheer exquisiteness.
This is just the tip of the iceberg.
This review will show you in great detail why Everlast 225 EXT is synonymous with perfection.
Before proceeding further, we can tell one thing with certainty though: Buy this welding machine if all you want is a deluxe welder brimming with technologically advanced features to attain master-like finesse in TIG welding.
What Makes Everlast 225 EXT Stand Out?
Everlast 225 EXT beats other top-notch welding machines with its featured-packed construction and the amount of control that it lets the welders exercise over the welding procedures. Its overall performance is better than even some more expensive models.
>> Click here to See Owner Reviews on Amazon
Our Everlast 225 EXT Review
You call it Everlast TIG 225 EXT, we call it craftsmanship brilliance, best TIG welder, best aluminum welder. The descriptions are endless.
Everlast has, true to its name, given this unit a lasting construction, which is evident from the mighty 85 pounds weight of the welder. This bulkiness doesn't deter welders even the least bit because of the built-in rugged handle that promotes the portability of the machine.
The machine has used IGBT inverter type technology to give you extra assurance about its reliability and performance. The thing that puts it high on professional welder's radar is a laundry list of features for enhancing versatility. This doesn't mean that its operation is complicated. In fact, its digital readout makes the use very simple.
Color-coded controls for amperage adjustment, arc start, arc intensity and its control allow welders to finish projects at a record pace without facing any issues. The amount of control that it gives welders is very impressive.
Featuring AC mode and four waveforms to choose from means you have got extra power to make sure the weld penetrates not just thicker metals but also thin aluminum sheets, without the worry of warping
Thanks to a unique spot weld timer feature, welders are capable of delivering perfectly concentrated welds to keep the performance consistent. TIG or Stick Arc technique, you will not see its welding quality dwindling.
Besides, the unit supports both 120/240V coupled with DC mode, which means not only it can be set up in homes, garages and commercial sites, but can also be powered up in remote workplaces in a snap.
With all being said, if you want a top-of-the-line welder loaded with advanced features, buy Everlast 225 EXT.
Construction
Everlast has personified the brand's name into this top-end welder. The weighty construction of the machine is a blessing and bane at the same time. Call it a blessing because such heavy-duty built can survive bashing and harshness of the work environment to stay functional for years.
However, this stout champ is hard to move around without having extra help. That extra help is offered through its sturdy handle, which enables welders to move it to places with quite an ease.
Digital Controls
You might have seen digital panels on many other welders, but this one outshines the competition with the amount of ease and control it offers. From amperage to arc starting, its intensity and overall control, all are featured on the front panel to help you easily punch in the desired settings for the job at hand.
More impressively, the option to choose from one of the four waveforms available and save the settings frequently used keep you in full control of the entire welding process.
Plus, with support of AC mode and a unique spot weld timer feature, you can ensure that the machine welds thicker metals including aluminum with delicacy, and keep doing so whenever a project is thrown at it.
Power Source
Another favorite of welders is the flexibility of the design. Having the ability to operate either on 120V or 240V along with AC/DC format means welders have the liberty to set it up anywhere. Whether its a house, garage, workshop, farm, construction site or some remote location, plugging it for work won't be a challenge at all.
Besides, it comes with all the accessories including torch and consumables to make its operation more convenient by providing a vital push in the productivity of this machine.
Pros
Heavy-duty construction is long-lasting.
Digital readout laden with multiple adjustments makes its use extremely simple.
Impressive versatility with AC/DC welding.
Settings can be saved.
Capable of TIG and Stick Arc welding of aluminium and thicker metal sheets.
Supports both 120V and 240V power input.
Cons
Why Should You Buy It?
Everlast TIG 225 EXT has a rugged construction that makes it a hard-to-break fella. This heavy-duty construction assures that the unit can withstand the harshness of the work environment without coming off at hinges.
Moreover, the improved digital setup gives you complete control over the welding process, allowing you to execute the kind of exquisite welds that are hard to achieve with some other costlier models.
The price, the construction and the laundry list of features make it abundantly clear that Everlast 225 EXT is a great top-tier welder. They also imply that it tilts more towards appealing professional welders.
Conclusion
However, the simpler use coupled with improved safety features keeps it within the expertise bounds of entry-level users and hobbyists as well.
So, if you are in search of a premium welder equipped with several advanced features to make tough TIG welding of aluminum and thicker metal articles a cinch, bet your money on Everlast 225 EXT. The stellar reviews of welders guarantee that you will not regret your decision.
You May Like to Explore Other Everlast Models: