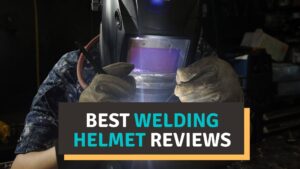 Taking welding projects as a professional or as a passionate DIYer is fulfilling and rewarding in terms of money.
But like the Yin-yang concept, the job is equally dangerous since you'll be frequently subjected to harmful light radiations and welding sparks that can cause serious damage to the eyes and face.
That's why best welding helmets are constantly in business because they provide you necessary protection and safety in any kind of work environment.
Unlike welding helmets of the past, modern-day headgears are more durable and lightweight to not feel like a brick being placed around the head and neck. Their visibility and optical clarity are also improved with multiple sensitivity adjustments to offer a crystal clear view of work under any work environment.
So, whether you're welding, fabricating, grinding, or cutting metal material, your peepers will be fully shielded from harm with the helmet lying comfortably on your head through long hours of work.
Best Welding Helmet Reviews of 2023
With a sea of falsely advertised products, finding one which actually does the job is quite a feat. That's why we meticulously searched to put together a list of the best welding helmets that make them worth every penny.
Antra AH6-260-0000 Welding Helmet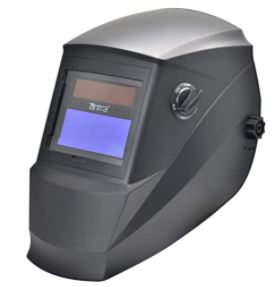 It always feels like an irresistible "buy one, get one free" deal or icing on a cake when you search for the best model of a product and by sheer luck come across one with the best price range too. This is what we have here for you. Antra AH6-260-0000 is one of the best budget-friendly welding helmets that you can find.
With its super lightweight construction, the helmet provides you with full face-to-neck coverage without weighing like a brick on your head.
Coming equipped with four premium arc sensors and a double-layered auto-darkening LCD shutter, you'll not have stressed eyes as it will swiftly and accurately adjust the shading to the welding arc radiations.
All these make it a highly versatile helmet to be used for any welding job including TIG MIG, along with abrasive grinding and plasma cutting projects. For the price, it really offers a lot as compared to rival models.
You can customize the delay time and sensitivity settings of arc sensors to reduce their sensitivity to sunlight or workshop lighting. The unit will go to sleep after remaining inactive for 10 minutes in the dark.
With its battery indication ability and tester, it really proves to be a reliable and one of the best auto-dimming helmets for any level of use, be it industrial or learning process for novice users.
Pros
Lightweight and budget-friendly.
4 sensors with auto-darkening LCD shutter prevents stressing of eyes.
Versatile helmet.
Delay time and sensitivity of arc sensors are adjustable.
Compatible for industrial use as well as training beginners.
Cons
It's not long lasting.
Not suitable for demanding projects.
Bottom Line:
This auto-darkening welding helmet is one of the best of its kind because of better lens clarity, arc sensitivity, and lightweight design. For a fraction of the price, you get a highly versatile welding helmet with a large viewport to handle any welding, grinding, and plasma cutting project.
YESWELDER EH-091X Welding Helmet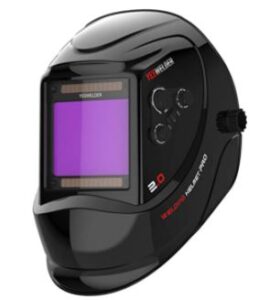 We found another budgeted welding helmet for you; and because of its low cost and auto-dimming feature among many others, it has become a popular and reliable option for those who have just recently got introduced to the realm of welding. Like our top pick, this one also has four arc sensors. Its large screen with original colour viewing is undoubtedly the highlight of this model. You'll appreciate it when you've a welding project at hand that needs a wider and clear view.
You will be pleased more knowing that it doesn't lag behind in comfort as well. A pivotal headgear helps you adjust the helmet to fit on your head perfectly. Also, with its large buttons situated on the outside of the helmet, access to the control panel becomes very easy.
For a standard welding helmet designed for DIY jobs, this one can handle welding (MMA, TIG, MIG), plasma cutting, and grinding applications far better than any other budgeted option.
Pros
Budgeted model for DIYers.
Larger view screen with true color viewing.
4 premium arc sensors with auto-darkening shade.
Pivoting headgear for a comfortable fit.
External control panel with large buttons.
Cons
Not high-quality welding helmet.
Not suitable for demanding professional use.
Bottom Line:
This is a reliable and budgeted auto-darkening welding helmet with standard features to meet the needs of a variety of DIY welding, grinding, and plasma cutting projects. Its wide-view screen with true color depiction gives it an edge over competing budgeted models.
Fibre-Metal Pipeliner Welding Helmet, (110WH)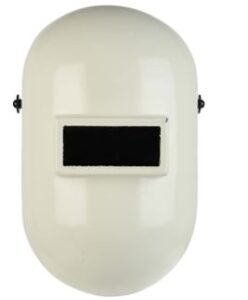 When you give it a first glance, this welding helmet with its capsule-like shape seems a bulky gear, but actual fun begins once you take a closer peek. From price to structure, everything looks very attractive. Its Superglass Plus composition is the crowning jewel of this welding helmet because not only it makes the headgear impact-resistant, but also gives it a self-extinguishing quality that prevents it from catching fire.
As if that's not impressive enough, it goes further by making sure the helmet is kept lightweight despite the rugged build to not feel uncomfortable on head. Also, the compactness of design allows it to have easy access in tight clearances. But, what's really amazing is that it minimizes pressure impacts to ensure the helmet retains its balance and stability while you're welding.
For a low-price model, Honeywell has really gone all out as the shade 10 lens provides true relief to eyes by giving clear view and completely blocking UV and IR wavelengths from penetrating to harm eyes.
Finally, the ratchet headgear can be easily adjusted to give you a more secure and comfortable fit.
Pros
Lightweight, compact design.
Impact-resistant fiberglass composition deflects sparks.
Safe and clear vision with protection against UV and IR radiations.
Adjustable headband for comfortable fit.
Low-costing.
Cons
Hood is very long.
Hood locks up behind the ratchet adjuster when lifted.
Bottom Line:
This affordable welding helmet is recommended to all those people who enjoy welding projects as it will not only keep their eyes safe from harmful UV and IR radiations but also absorb pressure impact and deflect sparks to prevent the helmet from catching fire.
TEKWARE Welding Helmet (Race Car-White)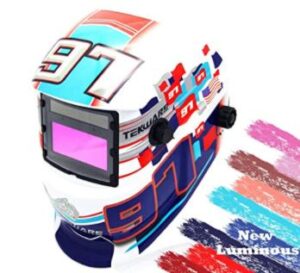 This is another one from the auto-darkening welding helmets category that's slightly pricier than the previous models, but a well-constructed design and shade make it worth every cent. Its standard clear viewing port combined with four angle adjustments reward users with a conveniently clear view in any direction. The sponge covering not only keeps you protected but also enhances your comfort level.
The highlight is that it ensures you aren't blinded by welding blaze as the highly sensitive probe instantly dims the screen and shields your eyes against damaging UV and IR radiations, making it a safe choice.
Tekware has committed itself to user convenience which is evident from the blend of battery-powered and solar energy consumption features. Together they prevent the helmet from going out of juice which means you'll have an opportunity to work for long hours to finish the job. You get more comfortable knowing that the headgear is lightweight and adjustable, keeping you fatigue-free even after hours of use.
Pros
Auto-dimming shade with UV and IR protection.
The viewing port comes with four direction adjustments.
Battery-powered and solar panel.
Lightweight and adjustable helmet for fatigue-free wearing.
Cons
Doesn't come with replacement lenses.
Not suitable for a professional level.
Bottom Line:
This is one of the best auto-darkening welding helmets for entry-level welders and light DIY jobs. The manufacturers have given extra attention to design to develop comfortable protective headgear for long hours' use.
DEKOPRO Solar-Powered Welding Helmet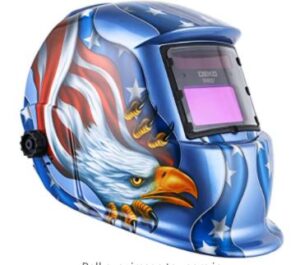 When you are searching for welding helmets with sleek and comfortable design along with the comfort of budgeted price, then this model by DekoPro will definitely save the day. For a low-costing welding helmet, it offers decent durability with a lightweight design.
Its wider lens with light diffusion quality and standard viewport combined with angle adjustments result in providing a clear view at any angular position during welding. Also, the auto-darkening ability of shade along with delay and sensitivity adjustments are nothing short of blessings for welders as they help them adapt to any work condition and duration.
More importantly, a combination of battery-powered and solar energy consumption technology keeps it juiced up for hours.
As mentioned earlier, its lightweight which when combined with adjustable headgear, results in keeping your head and neck area fatigue-free. This is a blessing in disguise, especially when you have long work hours to complete a task.
Pros
Lightweight and cheaply-priced.
Wider lens with light diffusion ability.
Auto-darkening viewing visor with eye protection.
Angle adjustment for clear view at different directions.
Solar and battery-powered technology.
Cons
Limited durability.
Suitable for beginners and hobbyists only.
Bottom Line:
This welding helmet comes with a decent quality, lightweight design and wider viewing visor with auto-darkening feature to make it one of the best value welding helmets available. Its eye protection and comfortable headgear make it a safe choice for beginners and hobbyists.
Jackson 46131 Welding Helmet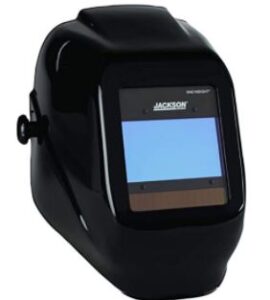 This welding helmet boasts of ultra lightweight design which makes it one of the most comfortable safety headgears present on our list. Looking at the price, it's not very budget-friendly, but it's a fair price for a welding helmet designed for more rigorous use. Its auto-darkening filter is a real friend of welders because it allows them to adjust the shade of lens to make it comply with a variety of working conditions. Besides, the presence of grind and weld mode expands users' creativity in the welding realm.
Since it is for serious welders therefore its adherence to safety and quality standards is guaranteed. Moreover, its larger shade warrants deliverance of unobstructed view throughout the welding process without requiring you to frequently lift the hood.
It adheres to ANSI and CNS standards making it one of the best professional-grade welding headgear for the price. Also, it's solar-powered so you will not have to keep worrying about batteries.
Pros
Superior quality and extremely lightweight.
Designed for professional use.
Shade of the lens can be adjusted.
Weld and grind mode with easy settings
Keeps eyes protected from damaging welding flare.
Cons
Comparatively expensive.
There have been some complaints about shipping.
Bottom Line:
Jackson 46131 safety welding helmet boasts of premium-quality and super lightweight construction, making it comfortable for longer use. Besides, its adherence to safety and quality standards and promise to protect eyes from damaging welding blaze make it one of the best welding helmets for professional use.
ESAB Sentinel A50 Welding Helmet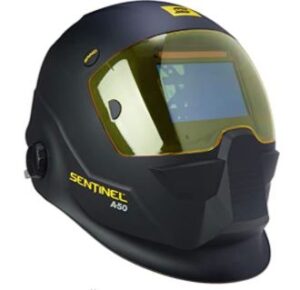 This is not just the best welding helmet; it's a premium pick for serious welders looking for a solid headgear designed for strict business. The sudden jump in price alone warrants that, but there's so much more hidden underneath the pretty face ready to be discovered.
Its wider viewing port combined with an internal LCD touchscreen doesn't just sets it apart from the common lot but makes it a dream-come-true for any welder because it offers convenient setting adjustments and also has some presets. Meaning, you'll not have to spend long minutes sticking your nose in programming it.
On top of that, a knob for "grinding" on the side of exterior of the helmet is another blessing as you can easily switch from welding to grinding mode without taking off the helmet. You will appreciate the low-profile design for its ability to provide wider clearance even if the cap is lifted up.
All in all, it rightfully earned the title of "best premium-quality welding helmet" with such advanced technologies; and when you add four-strap design of headgear – for stable and comfortable fit – you actually come face-to-face with perfection in real shape.
Pros
HD quality wider view port.
Easy-to-operate colour touchscreen with 8 memory settings.
External button for switching to grinding mode.
Four-strap design for comfortable and perfect fit.
Ideal for seasoned welders.
Cons
Bottom Line:
This welding helmet is comparatively more high-costing, but the hike in price comes with premium quality and advanced technology. So, if the cost isn't a problem, then this will be the best welding helmet for serious welders.
Lincoln Electric 3350 Series Welding Helmet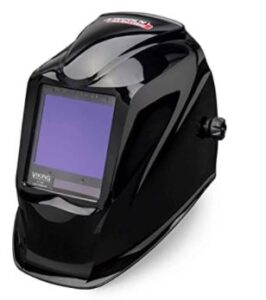 We've moved to more pro-level premium safety headgears and there's no one better than Lincoln Electric. Some welders might find the high cost a slight putoff, but once you manage to look past this, the quality and design is nothing short of remarkably impressive.
Coming in thick plastic construction, it can withstand any work uncertainties or rugged work conditions without losing form. Its lightweight design and well distributed weight makes sure it doesn't feel like a heavy brick is being placed on head and neck.
Sudden halting of work due to battery running out of juice is a nuisance that you'll not experience with this because of its solar-powered mechanism. So, even when the batteries are low, your work will continue to run smoothly.
The biggest advantage of having a Lincoln Electric helmet is that it boasts of unmatched optical clarity with its large viewing screen, larger than many helmets of the same category. This is attributed to its auto-darkening lenses that depict true shades of the material and arc and easily convertible modes that promote clear viewing no matter whether you're working indoors or outdoors.
Pros
Well-balanced comfortable design.
Ultra-large viewing port.
Optical clarity with multiple light mode adjustments and auto-darkening lenses.
Solar-powered system.
Cons
Expensive.Harness is troubling.
Bottom Line:
This premium-grade safety headgear boasts of flawless performance and incredibly clear viewing in any work environment. This premium quality and functioning is of course accompanied by high price, which might put it out of the league of some serious hobbyists and DIYers.
Miller 281000 Digital Elite Welding Helmet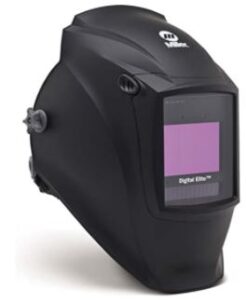 When you've "Miller" and "elite" in a single sentence then there remains no doubt of this welding helmet belonging to the top-notch category. Its nylon construction is basically for the purpose of keeping the weight lighter to promote comfortability, but that doesn't make it pliant. It can definitely survive tough working conditions.
As the name says digital, it employs an internal digital display with easy controls which together with lens' Clearlight technology results in optimum clear view of work at hand. The presence of weld, cut, grind and X-Mode modes ensure that it can be trusted for a wide range of applications. Miller's special X-Mode, as mentioned earlier, is the glorifying feature of this headgear because it darkens the lens to block sunlight, making it perfect for outside use during sunlight. While we're at it let me add a little more to its charm. Its auto-darkening feature is one of the fastest that you'll ever find in the headgears of this class.
Lastly, Miller has gone all out with comfort on this one by including extra adjustability settings to provide more comfortable and stable wearing.
Pros
Lightweight and durable.
Easy-to-operate digital controls.
Four-modes setting for versatile applications.
Excellent viewing.
Additional adjustment settings for comfortable wearing.
Cons
Helmet requires constant adjustments.Lens latch is a bit flimsy.
Bottom Line:
If you're looking for a top-notch professional-quality welding helmet fully loaded with features, then look no further than this protective headgear. The presence of various adjustments for clarity of vision makes it a worthy option, especially for working in sunlight or a complex lighting environment.
Hobart 770890 Welding Helmet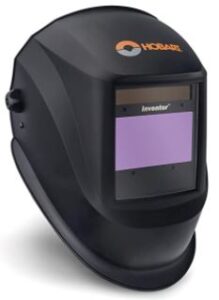 After subjecting you to high-budget headgears for the above few models, we decided to drop the curtain with a BANG. The name Hobart alone brings indubitable reliability to the table, but we know how important nitty-gritty details are for your peace of mind.
So, here's what money is getting you, might I say at a fairly attractive price point.
It belongs to your favorite auto-dimming headgear category, but the factor that makes it rise above the common folk is the use of dials for auto-darkening controls instead of knobs. This makes controlling more easy.
The helmet shell feels thin and quite lighter in weight for the amount of protection it offers against impact, slag and sparks. However, it's actually slightly heavier than its competitors which is the result of a wide visibility area and magnifying cheater lens along with adjustability settings at front and rear of the headgear. I can assure that you're only gaining here in the form of crystal clear vision and comfortable fit with well-balanced weight.
The employment of grind mode keeps the lens from dimming to offer clear and unobstructed view while grinding.
In short, it proves to be a reliable addition to professional workshops and personal arsenal of serious hobbyists.
Pros
Reasonable price.
Rugged construction.
Easy-to-use control dials for auto-darkening.
Large view area.
Adjustments for achieving comfortable fit.
Cons
Bottom Line:
Like other Hobart products this one also offers exceptional quality and performance at an attractive price point. Its large view port and adjustments for comfortable fit keep welders protected and fatigue-free even after hours long work.