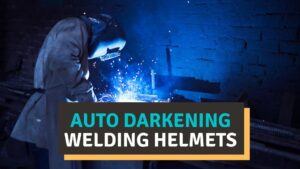 Anyone who knows even abc of welding will be aware of the dangers involved in this line of work. Welding helmets have been around to provide shielding from harming radiations and welding blaze.
Yet, accidents occur in large proportion because an ordinary safety headgear fails to adjust the view screen according to a welding arc as successfully as a best auto-darkening welding helmet would do.
It's an improved version of a welding hood that employs multiple arc sensors for easy identification of a welding arc and responds to it in microseconds by automatically dimming the viewing screen and lens to prevent stressing of eyes.
Many come with shade adjustments and sensitivity settings to deliver real-world colors and a clear view in most work environments. The whole construction and design are engineered with such perfection that offers face-to-neck coverage without weighing your neck down.
Best Auto-Darkening Welding Helmet Reviews of 2023
Since this whole business is critical for your safety and comfort that's why we found a list of the 10 best auto-darkening welding helmets with their pros and cons and monetary value to help you make the safest and informed decision.
YESWELDER EH-091X Auto-Darkening Welding Helmet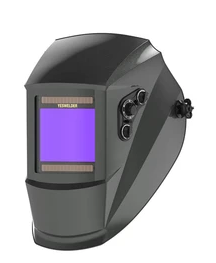 This welding helmet is our top pick because for a price it has alot more to offer than what's expected of a budget-friendly, entry-level auto-darkening welding helmet. Its wide view screen with real-world colours depiction quality is the prized possession of this model because it offers view as clear as if watching a picture in a movie theater. Such clarity of image is extremely appreciated when your welding project requires a crystal clear and wide view.
Besides that, pivotal design headgear is another highlighting feature as it can be adjusted to be placed securely around head and neck.
It might be a cheaply-priced headgear but that doesn't prevent it from providing optimal convenience in the form of easy-to-access external control panel with large buttons situated on the exterior of the helmet.
Its awe-inspiring factor is that despite being an entry-level headgear designed mainly for DIY projects it can tackle welding, plasma cutting and grinding operations better than other budgeted counterparts.
Pros
Designed for beginners and DIYers.
Low-costing.
Larger view screen with true colour depiction.
Easy-to-access control panel with big buttons on the exterior.
Pivoting headgear design offers comfortable fit.
Cons
Somewhat lesser quality construction.
Not designed for heavy-duty professional use.
Bottom Line:
This is a reliable budget-friendly welding helmet designed for DIYers and lighter projects. It's a wide viewing area with crystal clear image coupled with user-friendly controls makes it one of the best cheap auto-darkening welding helmets.
Tacklife Auto-Darkening Welding Helmet- PAH03D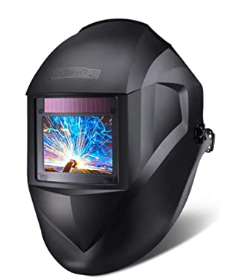 Placing this welding helmet by Tacklife among the best was easybecause it offers amazing features and impressive functioning for an insignificant price. You can use it professionally for welding, plasma cutting, grinding and fabricating projects without fearing any damage to your eyes.
In addition, its four arc sensors help the auto-darkening feature to activate instantly; and with a super wide viewing screen coupled with adjustable sensitivity, getting bright and clear view to finish your job in a flawless manner becomes a regular happening.
It really deserves brownie points for the adjustablities employed for the purpose of getting a comfortable fit around the head and to adjust shade range according to the metal work at hand.
What really makes it earn the title of best professional-grade, auto-darkening welding helmet is its versatility to handle industrial use, welding shops' projects as well as DIY assignments with equal efficacy. On top of that, it's lightweight construction makes sure that the safety gear doesn't feel like a brick around the head and neck even after having it on for hours.
Pros
Inexpensive and lightweight.
Wider viewing screen offers a bright and clear view.
Adjustable headband for comfortable and snug fit.
Variable shade range for making it compatible with the welding project at hand.
Ideal for both professional and DIY projects.
Cons
Issues with PAH03D filter.
Bottom Line:
Buying Tacklife auto-darkening welding helmet will be a beneficial choice for you because at an inexpensive price it comes in a durable lightweight build housing amazing features and versatility to let you work in a safe and effective manner.
DEKOPRO Solar-Powered Auto-Darkening Welding Helmet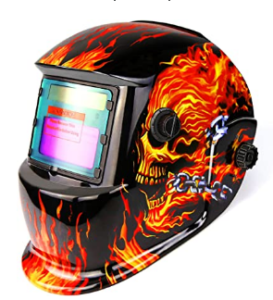 This auto-dimming welding helmet is a life saver for DIY enthusiastsand hobbyists as it has the potential to meet all their demands including the budgeted pricing. Unlike traditional cheap headgears, this one comes with a dependable durability and lightweight housing.
Unclear and hazy optics associated with low-end models are not going to cause you distress with this one because it boasts of optical clarity. A standard view screen paired with wide lens and light diffusion quality as well as angle adjustments are attributed with letting you experience clear view in any direction during the welding process. And since it comes with an auto-dulling feature with sensitivity and delay adjustments, helping it to adapt to any work environment will not be a problem.
A little thoughtful addition goes a long way in bringing comfort to users and that's what Dekopro has aimed at when combining solar-powered and battery-powered systems. Together they make sure the unit has enough juice to last for hours. Besides that, employing adjustable headgear further assures that any source of discomfort is eliminated.
Pros
Budget-friendly.
Lightweight and comfortable.
Wide lenses with light diffusion ability offer clear viewing.
Angle adjustment feature.
Runs on both solar and battery power.
Cons
Durability issues.
Not suitable for seasoned welders and demanding professional use.
Bottom Line:
If you're looking for an inexpensive auto-darkening welding helmet with some nifty features and adjustments to handle DIY and hobbyists projects, then this model will be worth a punt. Its lightweight design allows the user to wear it for long hours without feeling any discomfort in the neck.
Jackson Safety Auto-Darkening Welding Helmet – 46131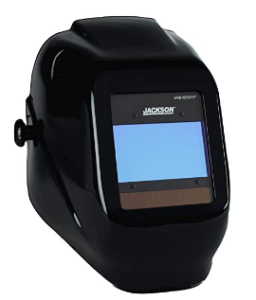 This can be simply described as "a welder's true friend." Is it too vaguefor you to comprehend? Here you go with the simplified details. This sleek and shiny model is sturdy enough to withstand harsh working conditions and yet has super lightweight structure to feel as light as a feather. This implies that you'll not have any neck pains even after long hours of work.
Its auto-darkening filter is a real charmer because it helps you adjust lens shade to suit your working conditions. Besides, the grinding feature further adds on to its flexibility and utility since you'll be able to conveniently weld or grind without any hampering experience.
You'll really appreciate how focused it is on attaining a welder's unconditional affinity. With that aim in mind, it employs a large shade for presenting clear and unobstructed view without frequent need of lifting the hood to monitor your welding work.
I have no biases against batteries, but many of you will agree with me that including solar-powered system is a smart move on part of Jackson's. Not only is it a very cost-effective alternative but it's also a surety that the headgear will remain juiced up for hours to let you finish a project uninterruptedly.
However, it's not all sunshine and rainbows because this amazing engineering and functioning entails a rise in price. But, that's understandable since it is crafted for more professional and rugged use.
Pros
Premium quality for rugged use.
Super lightweight.
Auto-darkening filter adapts to the working environment.
Easily accessible weld and grind modes settings.
Runs on solar energy.
Wide shade offers unobstructed view without lifting the hood.
Cons
Pricey.
A few complaints regarding shipping.
Bottom Line:
This auto-darkening welding helmet is recommended for those seasoned welders and metal workers who can afford a pricey premium-quality protective headgear designed to endure rugged professional use.
TEKWARE Auto-Darkening Welding Hood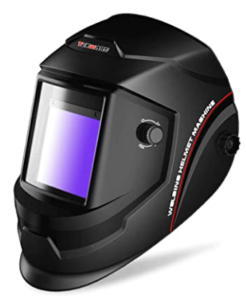 This is another pricier welding hood but we couldn't help including iton our list because it's impeccable construction and impressive operations were calling in to us. This one comes with a standard viewing screen coupled with four angle adjustments to ensure the user gets a clear view regardless of the direction he's tilting his head towards while working.
It has auto-dimming quality but what makes it steal the limelight is the instant dimming action of the screen that protects your peepers from welding blaze and harmful UV and IR radiations.
Besides, this one also employs that much-desired dual juicing mechanism – solar power consumption and battery-powered – to keep the headgear juiced up for hours long use.
Lastly, what it gained in price tag, it made sure to lose in weight. Meaning, it's very lightweight which when you combine with headgear adjustments keeps your head and neck fatigue-free even after prolonged use.
Pros
Lasting and lightweight build.
Clear view at any angular position
Solar and battery power mechanisms.
Instant auto-darkening quality with eye protection against harmful radiations.
Cons
Slightly pricier.
Not suitable to withstand professional use.
Bottom Line:
Tekware auto-darkening welding hood is a comparatively expensive headgear designed for beginners and DIY assignments. Its impeccable structuring with safety and comfort-providing features make it a trustworthy partner for welding jobs.
Antra AH6-260-0000 Auto-Darkening Welding Helmet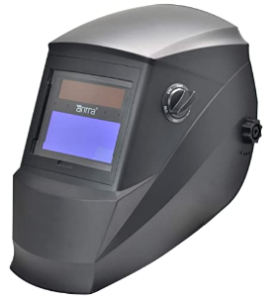 Getting a well-designed welding helmet with special auto-dimmingfeature for mere peanuts seems like a far-fetched dream unless you come across Antra AH6-260. Its insanely low price is no doubt the biggest selling point but that's just a starter. The real treat starts with its dependable and ultralight construction. You get full face-to-neck coverage without feeling an ounce of fatiguing in the neck by the time you finish working.
You have nothing to worry about because the significant drop in pricing doesn't come at the expense of user's comfort and safety. Featuring four arc sensors and dual-layered auto-dimming LCD shutter instantly adjust the shading in accordance with welding arc radiations to prevent eyes from getting damaged. In addition, you can alter delay time and sensitivity settings to make it compatible with sunlight and workshop lighting conditions.
Moreover, the inclusion of battery indication and tester make it one of the most reliable welding associates to have around the worksite.
To completely vanquish your misconceptions, I find it necessary to highlight that it's versatility is unmatchable. It can take up any welding, grinding and plasma cutting project whether it's a small scale DIY one or an industrial one.
Pros
Well-designed lightweight structure.
Cheaply-priced.
Quick auto-darkening LCD shutter shields eyes from getting stressed.
Handle various welding, grinding and plasma cutting assignments.
Equally suitable for tough industrial jobs and entry-level training projects.
Cons
Built isn't long lasting.
Demanding projects might be challenging for it.
Bottom Line:
This auto-darkening welding helmet is widely liked by seasoned welders and novice users in equal proportion because at one-third of a price it offers a lot of dependability and versatility.With its auto-darkening LCD screen coupled with sensitivity and shade adjustments, your eyes will be protected from any harm.
Hobart 770890 Auto-Darkening Welding Helmet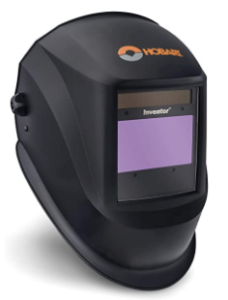 Coming across a Hobart welding hood is like sunshine after the rain; andwhen the said helmet also comes at an attractive price point, the happiness is hard to explain. This headgear by Hobart is not as impeccably crafted as its previous models, however, alone it definitely has a lot to offer to stand a fighting chance for clinching the title of best budget-friendly welding helmet.
First, its auto-darkening feature is superior to other cheap folks because of control dials, making it more user-friendly. What is really surprising is the thin structure of the helmet housing remarkable strength to shield fully against impact, slag and sparks.
The helmet feels a little bulky piece of equipment which is understandable because of the wider visibility port coupled with magnifying lens and adjustability knobs at the front and back of the hood. Don't brush it off because this feature rewards you with a crystal clear view of the work. The weight is well-distributed across the design so you'll have a comfortable and fatigue-free fit.
Its grinding mode is another admirable little thing as it prevents the lens from dulling to result in unobstructed and clear grinding. All in all, it will be a dependable partner for any workshop owner or serious hobbyist.
Pros
Affordable.
Dependable built.
Broad visibility port.
Easily controlling dials for auto-dimming.
Grind mode for easy grinding.
Cons
Feels bulky.
Some other competing models are cheaper.
Bottom Line:
This auto-darkening welding hood has good quality and super comfy design without the scourge of hefty price tag. Its large viewing area and eye protection features makes it a hands down best investment for professional workshop owners and handymen alike.
Instapark ADF Series GX990T Auto-Darkening Welding Helmet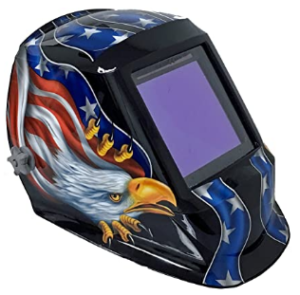 This headgear gives off daredevilish vibes and I dare say it thrills manywelders and metal workers because there's no harm in paying attention to appearance as well even when it's a serious business like welding. And, when the protective headgear also falls within budgeted range of the cost spectrum, yet doesn't bring down the overall quality and performance of the unit, it's simply a "Green Signal" to go for it.
Its tall visibility port with quick auto-darkening filter alone makes it superior to many others belonging to the same class. But, its real winning characteristics are easily accessible external controls for dimming, sensitivity and delay. I called them winning traits because you can tinker with them without taking off the helmet. Peachy! On top of that, it employs a broad range of shade adjustments from 5 – 13, #4 is a resting stage, which means it can take dead-on any complex lighting situation in the working area.
Usually we either get a high-quality helmet weighing like a brick or a lightweight with flimsy structure, but that's not the case with this one. It gives a knockout punch with its combination of rugged and yet lightweight built. Add ratcheting headband and padded interior to the mix and you get a super comfy protective headgear.
Lastly, its built-in solar-powered technology paired with a replaceable battery option boosts productivity substantially by offering juice for hours long work.
Pros
Inexpensive.
Sturdy and lightweight structure.
Attractive appearance.
Large visibility area with easy-to-access controls.
Broad range of shade adjustments, from 5 -13.
Comfortable fit with ratcheting headband and internal padding.
Cons
Darkening shade isn't effective for continuous working for hours.
Adjustment knobs are tiny.
Bottom Line:
This is overall a great protective headgear despite a few drawbacks. Its ultra large viewing area, swift auto-darkening quality and responsive sensitivity and shade adjustments make it one of the best inexpensive auto-darkening welding helmets in that price range.
Lincoln Electric K3034 Viking 3350 Auto-Darkening Welding Helmet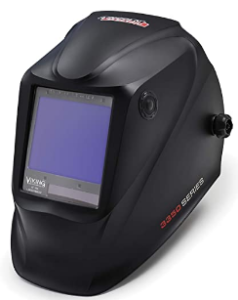 A welding helmet by Lincoln Electric and particularly one from thefamous 3350 series is only professional welders' cup of tea not only because of the expensive price, but also for top-notch build and performance.
Its thick plastic structure promises to endure rigorous use, work hazards and any uncertain condition without falling apart. Despite the muscled built, it's very lightweight to make sure you don't feel like your neck will fall off when worn for hours.
Another promising feature is the inclusion of a double power system, solar energy consumption and battery-powered. Together they ensure that your unit never comes to an abrupt halt in the middle of working due to running out of juice.
Its biggest asset is the extra-large view screen that boasts of maximum optical clarity. This unmatchable clear viewing is the result of auto-dimming lenses that offer actual shade of working material and arc coupled with easy-to-convert modes. You'll have a bright and clear view whether you work in sunlight or in an indoor environment.
Pros
Rugged and lightweight structure.
Extra-large visibility port.
Maximum optical clarity both indoors and outdoors.
Solar power technology.
Cons
High-costing.
Complaints about harness.
Bottom Line:
If you want perfection of design and superior functioning in every work environment, then this welding helmet is the best option to invest your money in. It's expensive price followed by impressive optical clarity and comfy design makes it a reliable choice for seasoned welders and demanding professional use.
Miller 281000 Auto-Darkening Welding Helmet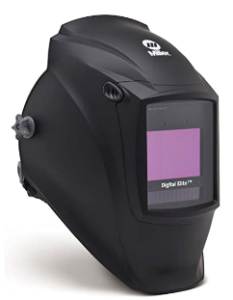 Conjuring up a list of the best auto-darkening welding helmets without including Miller 281000 is like preparing a pizza without adding cheese. Exactly, it's impossible. Miller digital elite is quite expensive, but that doesn't deter most welders and metal workers from choosing it because of its overall impeccable construction and top-class performance.
Its nylon construction is often misjudged for being flimsy. However, I can say with certainty that it's just for keeping it comfortably lightweight and the hood still houses enough muscles to endure any harsh work conditions.
Like the namesake, it has a digital display, but the highlighting part is internal controls that combined with Clearlight technology present such clear viewing that is hard to find even in elite models.
Its modes for cut, weld and grind are appreciable but the crown jewel is Miller's distinctive X-Mode with its ability to block sunlight by dimming the lens. This enables it to be used even in sunlight. To spice things up more, it's auto-dulling feature is by far one of the fastest that you'll ever come across.
To top it all, Miller employs additional adjustability settings to make it as comfortable and stable for wearing as possible.
Pros
Sturdy and lightweight.
Internal digital display with user-friendly controls.
Multiple modes for cutting, welding and grinding applications.
Incredible viewing even in sunlight.
Comfortable to wear.
Cons
Constant adjustments are required for comfortably fitting it on head.
Lens latch seems a bit flimsy.
Bottom Line:
This auto-darkening welding helmet belongs to the elite class due to its rugged build and expensive price. This safety hood is recommended for those welders who want a versatile piece of equipment with maximum clarity of vision in any complex lighting environment.