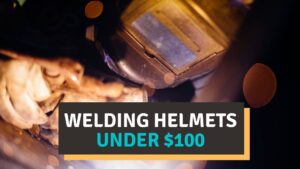 Welding and plasma cutting jobs have their rewards, but the downside is also very hard to ignore because it entails considerable risks to your eyes.
Damaging your peepers with sparks, welding debris and harmful radiations is not an option; but so is breaking a bank by paying an exorbitant amount for protective welding headgear.
Best budget welding helmet under $100 is a solution that gives you all the necessary shielding at a pocket-friendly price.
Contrary to popular misconceptions, many such budget-friendly welding hoods come with a decent durability and comfortable wearing to last for long. In many cases their optical clarity and eye protection goes neck and neck with some high-end models.
They might not have cutting-edge features, but with a decent amount of adjustability settings and easy controls, you will not find them any lesser than their pricier counterparts.
10 Best Budget Welding Helmet Under $100 Reviews of 2023
Finding such a budgeted welding helmet under $100 will no more be a challenging task because we've put together a few names for you in the article below. You'll easily find your desired pick.
Antra AH6-260-0000 Welding Helmet Under $100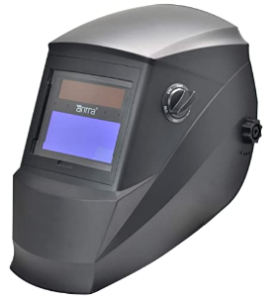 When looking for the best budget welding helmet under $100,Antra AH6-260 is the top pick of beginners and ardent welders alike because of its reliable and ultralight built. Regardless of its lightweight structure and incredibly low price, the unit comes equipped with four arc sensors and double-sheet auto-darkening LCD visor that adjusts the screen shading in accordance with arc radiations to fully shield eyes from any harm.
To make it more safe and compatible with any kind of complex lighting conditions, you can also adjust sensitivity and delay time. All these adjustments and flexibility make it a highly versatile protective gear which can handle with ease any light industrial or DIY welding, grinding and plasma cutting task.
The unit might not seem to last for decades, but for the price it really offers a lot of muscles to withstand years of use. On top of that, presence of battery indication and tester further prove helpful in improving its reliability.
Pros
Dependable, lightweight build.
Four arc sensors with highly responsive auto-darkening LCD visor.
Suitable for every lighting environment.
Highly flexible and versatile.
Ideal for light industrial use and DIY projects.
Cons
It will not last for years of use.
Not suitable for heavy-duty projects.
Bottom Line:
This inexpensive model of auto-darkening welding hood is a treat for both novice users and serious welders because of its dependable construction and performance. Irrespective of cheaper price, it features a number of adjustment settings coupled with large viewing.
YESWELDER EH-091X Welding Helmet Under $100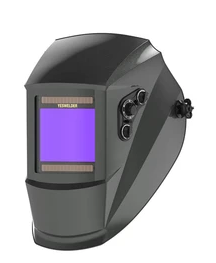 Yeswelder EH-091X comes with an irresistible combo ofbudget-friendliness, reliability and user-friendliness which makes welders, especially the beginners,automatically exclaim "YES!" in glee like its name claims. Like Antra AH6-260, this one also employs four arc sensors, but what gives it an edge over our top pick and many others of the same clan is its big view port with real colour viewing. The feature comes as a blessing when your welding project demands brighter and more vivid visibility.
Like me you'll also appreciate its dedication to user's comfort that is promoted through adjustable pivotal headgear. Means, getting a comfortable and secure fit is right in your hand. It really wants to leave every competing model behind in terms of user's convenience that's why you'll find large buttons on the helmet's exterior for easy access and control.
And this last feature removes every remaining doubt about its utility as you'll be able to take assistance from it on any welding (MMA, TIG, MIG), grinding and plasma cutting task.
Pros
Designed for novice users and DIYers.
Large view screen with real-colour presentation.
Easily accessible control panel.
Adjustable pivotal design headgear.
Multiple applications.
Cons
Budget-friendliness brings down overall quality.
Cannot handle demanding professional use.
Bottom Line:
We recommend this welding hood to all DIYers and novice welders because regardless of its somewhat less ideal quality built, the unit houses a widescreen with clear visibility and user-friendly operation.
Fibre-Metal Fiberglass Welding Helmet Under $100 (110WH)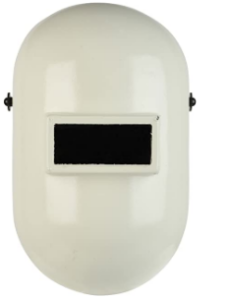 We picked this welding helmet because along with its desirable combination of affordability and durability comes an element of surprise. Its sleek capsule-like shape comes off as bulky, but in reality, it's very lightweight to be securely placed around your head and neck for hours.
Wait, the element of surprise doesn't end here. Despite being lightweight, Superglass Plus structuring gives it enough brawns to withstand impacts along with self-extinguishing ability, keeping the unit from catching a spark.
The same capsule-shaped structure that was making you skeptical in the beginning will now seem like a blessing due to its ability to give you struggle-free access in narrow clearances. You will admire this compact design more once you witness how successfully it fights against impacts to keep the unit stably placed around your head during welding. Add ratchet headgear to the equation, and you'll have a super comfy and secure fit on every use. For an inexpensive model it offers crystal clear viewing with foolproof protection from harmful UV and IR radiations.
Pros
Rugged, lightweight and compact design.
Impact-resistance and self-extinguishing qualities.
Crystal clear viewing with complete protection against radiations.
Ratchet headgear offers comfortable and stable fit.
Cons
Long length of head isn't very ideal.
Hood sometimes gets stuck behind the ratchet adjuster upon lifting.
Bottom Line:
This is one of the best value welding helmets. Its innovative brawny composition with compact design offers maximum protection against any work mishappening, making it a reliable associate for any welder.
TEKWARE CSJ-107 Welding Helmet Under $100
This daredevil-like welding helmet is gaining considerable appreciation because not only it goes extremely easy on your pocket, but also on your head and neck. We aren't playing 20 questions here so I'll simplify it for you. It's insanely low-priced, lower than even our top pick Antra AH6-260, housing decent durability in a lightweight body to prevent your neck from weighing down.
In a very surprising move, it comes equipped with a standard viewing area with angle differences to provide you a clear view of work from any angle. Our absolute favorite and no doubt its crown jewel is the highly responsive auto-darkening filter which together with a large area for solar cell and sensitive probe reacts instantly to harmful arcs and darkens screens in microseconds, blocking out harmful UV and IR radiations.
Since you already picked on the hint so I'll just lay it out in the open for you. It employs solar technology along with a battery-powered mechanism for running. So, you're looking at a unit fully capable of handling long work hours without breaking down in the middle. In short, what you're looking at is a highly versatile headgear that can handle some serious applications including automotive, construction, metal work and fabrication etc.
Pros
Lightweight and comfortable.
Clear viewing at different angles.
Highly active auto-darkening filter.
Shade offers complete protection against arc and damaging radiations.
Solar technology paired with a battery-powered system.
Cons
Not ideal for pro welders.
Faulty headband.
Bottom Line:
This welding helmet, irrespective of its few drawbacks, offers good value for money. Its effective auto-dimming feature along with lightweight and comfortable design make it a reliable option for occasional DIYers and entry level welders.
DEKOPRO Welding Helmet Under $100, DNS-800S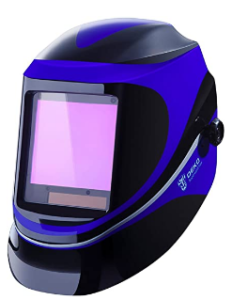 Ever since DekoPro has introduced this welding helmet, the infamous cheaply-priced models have become a thing of the past. Although this one has a budgeted price, nowhere is it a flimsy model. However, rugged construction is still kept lightweight to not make you uncomfortable upon longer use. Together with adjustable headgear, you'll not suffer even an iota of fatigue while working for long hours.
DekoPro's commitment to please users is further proved when you witness its optics. The unit features a wide view area with diffusion of light and angular adjustments to enhance clarity of viewing at any angle during work.
You can actually imagine a smug look on manufacturer's face when going through its auto-dimming filter because it works a lot better and quicker than some premium-grade models. In a fraction of second it darkens screen shade to provide maximum protection to your peepers from damaging radiations and welding sparks. Besides, with manual adjustments for sensitivity and delay time, you achieve a lot of flexibility to make it compatible with various work environments and task durations.
To completely rob you out of arguments, it employs solar power consumption and a battery system. Now, it doesn't require Einstein's brains to decipher that the given combination of double power sources enables the unit to literally hang around your head for longer hours.
Pros
Lightweight structure with adjustable headgear.
Large screen offers brighter view and optimal eye protection.
Quick auto-darkening filter with manual adjustments.
Angular adjustments.
Comes with solar panel technology and battery power system.
Cons
Relatively less durable.
Not suitable for ardent welders and heavy-duty industrial work.
Bottom Line:
DekoPro auto-darkening helmet is a best value gear with its decent lightweight structuring and super viewing ability. Pro welders might brush it off as not a worthy choice but it is housing enough flexibility to withstand various work environments, turning it into a worth-considering option for avid DIYers and hobbyists.
TACKLIFE Welding Helmet Under $100, PAH03D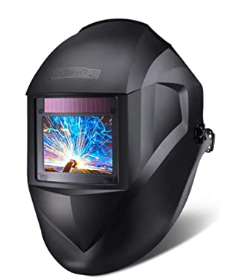 The hood with its matte black design appears plain and without flashy stickers, but there's nothing plain about its functioning as it's fully adorned with brawny structure and nifty features. Irrespective of what the budgeted price suggests, it has a solid build that can endure serious professional use. Yet, it feels so lightweight that you're forced to take a double take immediately after first experience.
Moreover, its auto-darkening feature might not surprise you as much since many on our list have been equipped with it; but, what will really astonish you is the responsive nature of it. Presence of four arc sensors enable the dimming action to take place in a flash. One thing that I can assure you is that you'll gain instant edge on your fellow welders in a professional work environment with this as your assistant because its large screen together with adjustable shades and sensitivity promises super viewing. This is the game changing factor that will let you accomplish your job in a flawless manner regardless of the environment and nature of a metal project.
Lastly, you're compelled to give it some brownie points due to the versatility it brings. Throw any demanding industrial project, welding shop's task, or personal DIY assignment, it will come out victorious in every scenario.
Pros
Burly structure in lightweight design.
Sharp viewing with a wide screen.
Highly responsive auto-dimming feature with four arc sensors.
Versatile nature can take demanding professional and small scale DIY projects.
Cons
Complaints about PAH03D filter.
Bottom Line:
Tacklife auto-darkening welding hood is like a diamond in the rough because at a budgeted cost it comes with impressive functionality to outperform all bargain helmets. It's highly recommended to those welders who work either in their home shop or in a factory and are unwilling to spend an exorbitant amount of money on a welding headgear.
Hobart 770890 Welding Helmet Under $100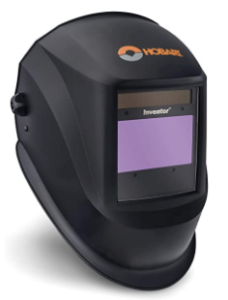 This isn't Hobart's signature top-notch craftsmanship, but inits defence, for such a budgeted price you can't expect it to come with Thor-like aura of invincibility. However, it's housing a decent amount of durability and reliability in comparison to traditional low price models to successfully make it to the category of best welding helmet under $100.
What it loses in durability, it gains through its user-friendly control dials of auto-dulling filter. Regardless of the popular belief, you can still find a touch of Hobart's superior artistry in the headgear's ability to appear thin and bulky at the same time. Its thin structure has packed enough muscles to fight against slag, sparks and impacts.
On the other hand, the bulkiness is the result of a large view port along with adjustment knobs and magnifying lens. You'll not complain much about its heavy build once you experience an unimpeded, crisp view of the work. Besides, the weight is quite evenly distributed across the structure. So, you really don't feel unpleasant heaviness around the neck and head during prolonged use. Also, by incorporating adjustments for attainment of comfortable fit, any possibility of discomfort is thrown out of the window.
Pros
Dependable structuring with impact- and spark-resistant qualities.
Effective auto-dimming feature with user-friendly controls.
Comfortable to wear.
Suitable for hobbyists and small workshop owners.
Cons
Bulky.
Some other models are cheaper.
Bottom Line:
This protective gear by Hobart offers dependable durability and reliability at a fairly reasonable price. Its user-friendly controls and wider screen with eye protection make it a trustworthy companion for workshop owners and avid handymen.
Miller Electric Welding Helmet Under $100, Black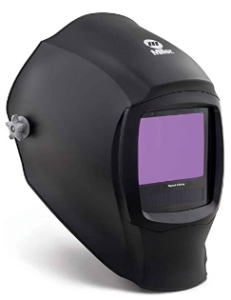 Miller is a killer when it comes to manufacturing premium-grade, affordable welding headgears. This helmet furthers the company's reputation with its classic black appearance and rugged build at an affordable price.
Contrary to what it looks like
, the gear is pleasantly lightweight that you might not even notice anything sitting on your head. Plus, adjustable side knobs and ratchet effectively deal with fitting issues, leaving you with a super comfy gear snugly fitted around your head.
This is the gear that you can count on to not let you hang in the middle of a project because it can run on either solar energy or a regular battery. So, your gear will have sufficient juice stored up to last for longer work hours.
Like mentioned earlier, it's a killer at its job. The viewing window isn't ideally large, but with auto-darkening action and a clear lens you have a clear and unobstructed view of the work. You can also adjust lens shade between and 8 and 13 for achieving better results in different lighting conditions. All in all, you'll not find much to complain about.
Pros
Sturdy build with adjustment knobs for comfortable fit.
Runs on solar energy as well as a regular battery.
Clear view with shade adjustments.
Auto-darkening feature responds immediately.
Lightweight.
Cons
Viewing window is a bit small.
Not suitable for heavy-duty welding.
Bottom Line:
If you're looking for a best budget-friendly auto welding helmet, then this gear by Miller will prove to be a worthy investment. Its rugged and lightweight structuring with complete adjustments for fit and lens shade make it a trustworthy assistant for beginners, metal work in a garage, or workshop.
Instapark ADF Series Welding Helmet Under $100, GX990T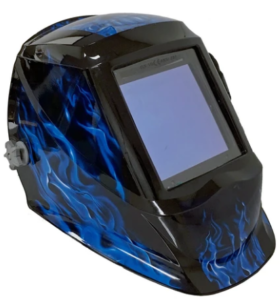 This welding hood comes with a single aim of lifting your blue workenvironment with a little blue colour. Its fiery blue background along with affordable price might be the first thing to capture your interest, but the overall unyielding construction and impressive functioning can equally set the world on fire.
Much of the credit for its flawless performance goes to its extra tall viewing window with highly active auto-dulling feature. However, an actual glorifying characteristic is its easy-to-access adjustment settings for sensitivity, delay and darkening. Such extent of manual adjustments and that also without requiring to take off the hood really gives it an edge. On top of that, allowing you to select a shade from a range of 5 – 13 gives you an opportunity to successfully accomplish metal work in almost any complex lighting environment.
The gear is ruggedly built to withstand work uncertainties, but nowhere near it's as heavy as a brick. Also, with its ratchet headband and padded interior, getting a comfortable fit will no longer be impossible. To leave you completely fascinated, it employs a battery-powered mechanism along with solar technology due to which you'll have longer runtime to finish a project in one go.
Pros
Solid construction in a lightweight framing.
Extra tall viewing window with wide range of shade adjustments.
Boosts productivity with a double power source.
Ratchet-style headband with padded interiors offer comfortable wearing.
Cons
Darkening shade sometimes becomes unresponsive when working continuously.
Adjustment knobs are somewhat small.
Bottom Line:
Although this welding gear has a few limitations, overall it's one of the best budget welding helmets under $100. Its larger extra large viewing screen with auto-darkening action and broad range of shade adjustments are its strongest suits.
Tanox Welding Helmet Under $100, ADF-206S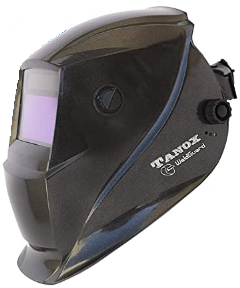 Sometimes simplicity is all you want during welding and at that timenothing will please you more than this inexpensive headgear by Tanox. The simplicity of design and operation make it a strong contender for beginners and hobbyists. Now, that doesn't mean it's a flimsy piece of equipment; it's quite the opposite actually. For an inexpensive model, it comes with quite a muscled build and strength to last for a long time.
Moreover, with lighter structure and comfortable headband, wearing it on for long hours doesn't result in a fatigued neck. Viewing screen is of decent size, not as large as our previous model, but its superfast auto-darkening feature and clear viewing at every angle silences you before you even form a coherent complaint about the viewing port.
Although it's a simple design aimed for occasional DIYers and hobbyists, the presence of sensitivity knobs and automatic power on/off for grinding, welding, and plasma cutting projects have the potential to satisfy demands of more professional users too.
What really seals the deal is how seriously it takes user's safety. So far we've been looking at eye protection from UV and IR radiations, but this gem goes one step further by including a pair of welding gloves in the package too.
Pros
Strong and lightweight build.
Quick auto-darkening action with sensitivity adjustments.
Clear viewing at every angle.
Comfortable and completely safe.
Suitable for grinding, welding and plasma cutting.
Cons
Replacing batteries is a tad bit difficult.
Viewing screen is comparatively smaller.
Bottom Line:
This budget-friendly auto welding hood comes with minimal features and simple design to please DIYers and hobbyists. However, its optical clarity, higher level of protection and strong build make it an equally strong contender for more professional welding.