There's a ton of metal repair work around the house or in your small garage that can be done only when you have the right tool at hand: the best welder for home use. The emphasis is on "home use" because you don't need a commercial-grade deluxe machine entailing an extravagant amount of money. A nice-looking, compact and decently-powered machine will do just fine, provided that it actually does what it's intended to do.
Top 10 Best Welder for Home Use Reviews of 2023
Here we have assembled a list of 10 best welders for home use that come with the capacity and strength to undertake almost any welding procedure that you have planned to perform. Since they're intended to meet the needs of DIYers and hobbyists mostly, so of course, the pricing and operating mechanism are also at par with their welding prowess. Take a look and decide which one of them is worthy of becoming your future welding companion.
Lincoln Electric K2278-1Handy Core
The Handy Core K2278-1 by Lincoln Electric grabs all the attention in a room full of welders due to its compactness, trouble-free use and modest pricing. With its capacity to weld up to a 1/8-inch thick sheet of mild steel and innate ability to plug into 115V household power outlets, the handyman in you will have a field day since these variables are perfect for small scale hobby projects in a domestic setting. 
Its output range of 35-88 amps isn't the most impressive that you could find but the range diversity will be sufficient considering the minor welding chores that you want to undertake at home. 
Besides, you can weld right out of the box because of the beginner-friendly setup although, at 45 pounds, it seems bulkier than what you initially anticipated from its lightweight and compact build. But hey, the thing imparts smooth welds so no complaints here. 
Pros
Compact and quality build.

Easy mechanism.

Welds up to 1/8-gauge thick mild steel.

Plugs into household 115V socket. 

Affordable. 
Cons
Not suitable for demanding structural work.

Heavier for a lightweight welder.
Bottom Line:
Lincoln Electric K2278-1 Handy Core has a few limitations, yet it is regarded as the best economical welder for home use due to its undemanding operating mechanism and neat welds on thin metal sheets.
Forney Easy Weld 140 MP
Forney Easy Weld 140 MP is the gem you need to adorn your garage or work shed with when you're looking for a balance between shoddy low-end welder and a top-notch premium one. Though the unit costs a lot more than our previous model but the long list of projects it can undertake leaves you with little to no gripes. 
The unit can be termed as a "jack of all trades" with its multi-process structure. So, what we are saying here is, you can dabble in almost any welding task be it related to MIG, Stick or TIG. The catch here is its DC output because it prevents this beast from welding aluminium. Keeping aside that eyesore factor, its easy-to-access 3-position knob along with infinite voltage and wire feed speed warrants perfection. Just switch to the maximum amperage of 140 and let it deliver flawless stainless steel and mild steel welded articles as long as you're mindful of its capacity: it can weld up to 1/4-inch thick sheet in one pass. 
However, trouble in paradise comes when you have to spend extra bucks on accessories like a torch, hose and regulator appropriate for specific welding task since it doesn't come equipped with these. Rest assured, its the best welder for home use under $500. 
Pros
Rugged and lightweight construction.

Multi-talented: capable of MIG, Stick and TIG welding. 

Easy-to-access 3-position knob. 

Fluidly welds up to ¼-gauge thick material in a single pass at 140-amp.
Cons
DC output prevents it from TIG welding aluminium. 

Costs extra on welding accessories.
Bottom Line:
When you're looking for a multifunctioning welder, for light-duty welding assignments, that's neither too cheap nor too expensive, Forney Easy Weld 140 MP is the name to go after. Its DC output takes TIG aluminium weld off the table, but the tough build and promise of impeccable welds make up for the loss.
Amico TIG-160 DC Welder
You call it impeccable craftsmanship, we equate it with the Amico TIG-160 DC welder. Whether it's a challenging TIG process or relatively easier arc and stick procedures, this is your guy. Its 2-in-1 body will outperform your competitors. Anything from stainless steel to mild steel to alloy steel to copper to carbon and chrome is a game for it, considering it is within the thickness capacity of 3/8".  
The incorporation of advanced inverter technology together with arc stability allows you to exercise optimum control over welding arc to receive the kind of weld you desire while keeping the spatter and post-weld remnants to a bare minimum. 
Besides, its dual-voltage (110/230V) compatibility is another feature that makes it very dear to DIYers and hobbyists. Home, workshop or any other worksite, it can be plugged anywhere. 
With an amperage range of 20-160A and 60% duty cycle at maximum power, it boasts of pristine welds without disruption.
The only thing that rubs up the welders the wrong way is the absence of TIG control pedal and gas regulator. However, it includes a TIG torch gun, electrode holder and work clamp. In short, all remains well in your welding arena. 
Pros
Lightweight and

portable.
Easy usage with dual-voltage input.

Capable of welding a wide variety of materials of up to 3/8" thickness.

Advanced inverter technology and arc stability enhance efficiency.

TIG torch electrode holder and clamp are included.
Cons
TIG control pedal and gas regulator are absent.

Not ideal for pro-grade heavy-duty welding.
Bottom Line:
Amico TIG-160 DC despite its shortcomings will prove to be an asset for handymen because of its long-lasting and portable construction. Also, its impressive amperage span, duty cycle, flexibility and dual-voltage functioning further make it an irresistible purchase.
PRIMEWELD TIG225X Welder
PRIMEWELD TIG225X is the new synonym for best reasonably priced TIG/Stick welder. However, since seeing is believing, so see you shall. It comes in a beefy body so hauling it around will require you to pack a few muscles or have a cart at hand. At the same time, it implies, the unit can undergo vigorous usage without crumbling apart. 
As for the functioning, the presence of 225A for both AC/DC power coupled with a stick welding setting offers spotless application, including aluminium welding. Following the principle of "the more the merrier", it incorporates IGBT inverter technology with a pulse setting and CK17 flex torch to make sure you've got the flexibility and versatility required for imparting flawless welds on aluminium, stainless steel and other thinner metals. 
Moreover, featuring dual-voltage capability and a well-constructed foot pedal further remove hindrances that can cause nuisance during work. 
We called it the best welder, not 100% faultless. So, like any manmade thing, this gem also has some pitfalls. First, the torch gets heated during intense welding. Second, foot pedal control and other settings aren't beginner-friendly. Overall, it delivers what the name promises: PRIME WELD! 
Pros
Well-built structure.

Pulse setting, CK flex torch and foot pedal boost welding productivity.

Dual-voltage input and AC/DC mode add to flexibility and ease-of-use.

Flawlessly welds a variety of materials including aluminium articles.

Modest pricing with a 3-year warranty.
Cons
Heavy.

Learning curve lacks beginner-friendliness.

Torch heats up when undertaking intense welding.
Bottom Line:
Regardless of the above-mentioned flaws, Primeweld TIG225X is considered as one of the best TIG/Stick welders for home use because of its hard-to-break, beefy construction and impressive flexibility and versatility. 
Hobart 500559 Handler 140 MIG
src="https://welderingo.com/wp-content/uploads/2020/12/5-hobart-300×230.jpg" alt="" width="300″ height="230″ />Hobart 500559 Handler 140 MIG is a worthy candidate for a thrilling, high-octane welding session at home. Wondering how? Take a look at the brute-like construction which promises years of service with unflinching determination. The downside of the beefy body is the restricted portability. But, that can be resolved if you've got a cart stored in your house. 
Coming towards the high-octane session part, the unit features a 5-position voltage control switch that allows user to receive a stable and concentrated arc to weld an article with professional-like finesse regardless of the thickness of the piece. You have a wide amperage of 20-140A to play around with to make sure the welded material comes out nothing but perfect. For your assurance, anything made of mild steel with a thickness of 1/4" is a cinch for this beast. 
Calling it the best MIG welder for home use is an apt description since it employs a single 115V input. Plug it in any household power socket and you're good to go. The functionality is limited but the loss has been compensated with its whopping wire feed speed range of 40-700IPM that comes with a promise of a tremendous surge in productivity. In end, it's worth your money because it comes with a 5-year warranty to vouch for it. 
Pros
Strong construction.

5-position voltage control offers stable and concentrated arc.

Wide amperage and wire feed speed range boost productivity. 

It can weld 1/4" thick mild steel. 

Comes with a 5-year warranty.
Cons
Bulky.

Single voltage input (115V) has restricted its functionality.
Bottom Line:
Hobart 500559 Handler 140 MIG is another attempt of the famous manufacturer to impress the audience with its artistry. The unit has packed incredible strength and versatility to accept any welding challenge thrown its way.
Pro-Series MMIG125 Fluxcore Welder Kit
If you're off to a good start, you're more likely to excel in your welding career. That's why we included Pro-Series MMIG125 Fluxcore Welder in this list. The unit is strong and sturdy enough to accomplish small to medium-scale light-duty welding tasks around one's house, shed or farm. 
What topped the chart for me, and will do for the majority of DIYers, hobbyists and beginners as well, is the safety of use that comes with its thermal overload protection. That being said, you can weld anything composed of carbon steel with 18 gauge (3/16") without any fear because this loyal friend has got your back. It features a 2-stage voltage adjustment button that can go from minimum to maximum with just a push to let you power through some tough materials. 
Furthermore, it operates on a 120v household outlet. So, find yourself a comfy corner in your home near a power source, plug it in and be on your merry way to creating finely welded pieces. 
At approximately 10lbs, the unit weighs almost like a feather, considering the strong punch it packs. It's a good thing though since you'll be able to easily relocate it to even the smallest and tightest spots and work with ease.  
Pros
Lightweight and rugged.

Safe and easy to use.

2-stage voltage setting enhance performance.

Smoothly welds 18-gauge carbon steel. 

Affordable. 
Cons
Its use is limited to only small to medium-scale tasks.

Welding aluminium with this unit is tricky.
Bottom Line:
Pro-Series MMIG125 is one of the best welders for beginners. The machine is incredibly light and portable yet packs a powerful punch and can weld a huge amount of materials. The price is also very budget-friendly.
Everlast Welders Canada 2020 PowerArc 140ST
Nothing lasts forever…so when a welder namely Everlast Welder 2020 PowerArc 140ST boasts of lasting welds, it's a hail moment for welders. Not to mention a green signal for them to go for it. 
The unit features both Stick and DC Lift TIG competency and the arc quality is compatible with that of the commercial-standard machines. So you'll get shoddy welds only when hell freezes over. That means, NEVER! 
Besides, the employment of IGBT inverter technology and both adjustable hot start and arc force control ensure your welding skill reaches near seasoned-like proficiency. More impressive is that it can be operated both on 110v and 220v with 10-140amp range. Meaning, you can get on with work virtually anywhere with a stable power source and weld almost any metal material.
The only worth-mentioning inconvenience is that you'll have to purchase an Argon regulator if TIG weld is included in your plans. Don't linger on that because there are few good things yet to be mentioned. 
One, it's quite compact and portable and comes with a carrying case. Finally, the price is also within the affordability range. In short, a complete package of irresistibility! 
Pros
Durable and portable.

Multifunctioning with IGBT technology.

Auto and adjustable hot arc start.

Dual-voltage boosts functionality. 

10-140amp radius is sufficient for welding a wide variety of metals. 

Accessories are included along with torch gun and carrying bag.
Cons
Extra cost on Argon regulator for TIG welding.

Doesn't deliver ideal results on heavier welds.
Bottom Line:
Everlast Welder 2020 PowerArc 140ST is a highly recommended candidate when you want greater bang for the bucks. The unit might not deliver ideal welds on heavy-duty tasks, but when it comes to welding tasks around the house or garage, it's a charmer.
Mophorn 250 Amp 3-in-1 Welder
We believe in diversity. So, here's a welder that might not be as famous as some of the names discussed above but trust me when I say, it's worth your money and time nonetheless. 
Considering your beginner-friendly criterion, Mophorn 250amp 3-in-1 checks in all the relevant variables: durability, reliability and affordability. 
I would say it offers more than what you planned to sign up for. The multifunctioning workhorse is well-endowed to tackle almost any kind of welding procedures you plan on taking, be it MIG, MMA or TIG. 
Also, voltage and current adjustments along with high-quality wire feeder and powerful motor ensure your welding outcome is nothing less than perfection and that also without any hassle. You can weld thin steel and iron with it like a pro anywhere, courtesy of dual-voltage mechanism. Meaning, a light-duty home DIY project or a regular repair assignment, the dude is up for the task. 
It's not that heavy either, so you'll not have any trouble carrying it around to different job sites. What else could you ask for at such a price, right? 
Pros
Study and compact build.

Easy to use and carry around.

Multifunctioning welder with easy-to-switch modes.

Comes with additional welding accessories.

Reasonable price.
Cons
Some minor issues with the ground clamp.

Needs a separate regulator and a tank for tig. 
Bottom Line:
Brushing aside the minor pitfalls, the overall build and performance of Mophorn 250amp 3-in-1 welder are solid and worth lauding. The unit can handle a vast variety of home DIY assignments and general repairing tasks. It's a great value for the price.
2020 Weldpro Digital TIG 200GD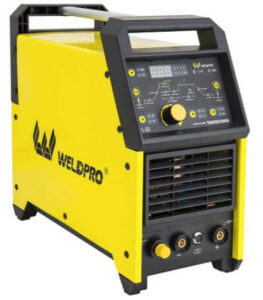 I have included this higher-end welder because some of you might want to play in the big leagues. The price rise will not bother you much when taken into consideration the reward i.e. hard-to-break, beastly body and digital controls. 
The unit comes loaded with a TIG function in digitalized mode and with 200A to ensure welding process runs smoothly on materials like aluminum and steel. Worry not of shoddy welds because this has a rocker-style pedal that adds to the stable amperage output to ensure flawless end product. 
Forget what the name says, MMA stick welding is also on the menu. The CK flex torch 17 with complete pulse adjustment that comes with it will enable you to get perfect beads. A yay moment for regular welders and hobbyists as it brings you several steps closer to getting being acknowledged for your welding prowess. 
Furthermore, dual-voltage input and AC/DC adaptation capability make it worth spending a fortune for, which you'll do considering its price of well over half grand. But, you get a chance to plug it virtually anywhere you want to work. And honestly, this wide field of play makes it worth every penny, doesn't it? 
Pros
Superior quality build. 

Impeccable TIG welding.

Comes equipped with a CK Flex torch 17 and MMA stick welding function.

Operates on both dual voltage and AC/DC. 

Easy operation.
Cons
Expensive. 

Performance is compromised on 110v. 
Bottom Line:
When it's the matter of taking the mantle of best TIG welder, rarely any other machine can do a job better than 2020 Weldpro Digital 200A. The unit will burn a hole through your pocket but its lasting build and spotless welding capacity make it worth the fortune.
C.M.T Pitbull Ultra-Portable Welder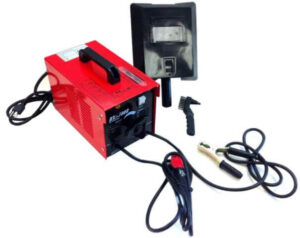 Since our previous product gave you a minor heart attack, we thought it would be better to end the show on a friendly, I mean budget-friendly, note. Beginners and occasional welders are going to be hooked with the ultra-compact structure and ridiculously low price of the machine. 
Before you form any opinion, this is a little monster with the strength of a pit bull, as the namesake. So, the lightweight body is basically a boon for DIYers and hobbyists as they could easily take it to the different project sites. 
The unit runs on a 110v voltage input which, again, makes it a perfect weapon for domestic assignments. Besides, the 45-100 amperage control range highlights the power this little gem has in store for you, which in my opinion is quite sufficient for small welding chores around the house. The machine is capable of welding mild steel of 1/4" thickness rapidly.
What makes it more appealing is the simple usage that's been designed to ensure novice users aren't overwhelmed with unnecessary intricacies. Easy, peasy! 
Pros
Lightweight and sturdy construction.

Beginner-friendly setup and use. 

Versatile. 

Smoothly welds mild steel of 1/4" thickness. 

Inexpensive. 
Cons
Limited power and duty cycle.

Not capable of heavy-duty welding.
Bottom Line:
Weldpro has introduced the best flux core and MIG welder under $500 in the shape of Mig155GSV. The unit has a portable structure with smaller footprint yet its strength and versatility is larger than some well-reputed names.