Like almost any other job, welding also can be done using various techniques. Hoarding different welding machines each for a separate process seems a perfect solution, but it actually requires extra money, labor and space. A budget-friendlier and space-efficient alternative is to invest in a best multi-process welder. That's how you kill two birds with one stone.
As the name indicates, these machines have infused multiple welding procedures in a single box with a simple switch to jump from one process to another without hassle. While they're a bit costlier than regular welders, they still save you extra bucks. The body is sturdier yet not as heavily built to compromise portability, in many cases. 
Top 10 Best Multi-Process Welder Reviews  of 2023
We have assembled a list of top 10 best multifunctioning welders all of which are fully endowed with the ability to perform MIG, TIG and Stick techniques with equal finesse. Go through them to find one that is worth your money.
LOTOS LTPDC2000D 3-in-1 Combo
We will not beat around the bush and start directly with the best multi-process welder namely, LOTOS LTPDC2000D. This beast has not a single imperfect cell in the entire structure, which I guess is evident from over half a grand price it entails. 
In its defense, the unit can perform almost any welding surgery, TIG, Stick welding as well as plasma cutting, with remarkable neatness. Using its plasma cutter mode, you can slice through a metal piece of half an inch thick fluidly. As for the welding applications, again, it promises perfection. 
Add a whopping amperage scale of 15-200A to the mix and you discover the reason behind its award-worthy performance. However, there's a downside. The unit doesn't feature a foot pedal for Tig nor is it capable of Tig aluminum welding. Bummer! 
But, it will make you fall for it again with the flawlessness with which achieves MMA/Stick welds, an attribute of its stable arc. 
Besides, you'll not be restricted to a particular location to do the job because the integration of dual-voltage mechanism (110/220V) will make sure that you set up welding sanctuary wherever you want. Just a warning though, you'll need to purchase a 50-amp breaker for household use. 
Pros
Impressive build.

Capable of cutting through half-inch thick metal fluidly.

Stable welding arc enhances performance.

Presents a vast amperage range of 15-200A.

Operates on dual-voltage.
Cons
Costly.

Foot pedal compatible with Tig isn't included.

Cannot perform aluminium Tig technique. 
Bottom Line:
LOTOS LTPDC2000D is a go-to choice of seasoned welders because the unit is both, best welding machine and best plasma cutter. It has a few limitations in regards to Tig application, but its rock-solid body and tremendous performance ensure it retains the position among top-end models.
Lincoln Electric Powermig 210 MP, K3963-1
If mind-blowing perfection had a face, it would resemble this welder machine (model: K3963-1) by Lincoln Electric. It's not for the faint-hearted users, considering the hefty price. However, those willing to go big to spend a fortune will have a field day with this little monster.
For the power it has stored, 40lbs weight seems like a joke, but its heavy for a lightweight and portable model that will need you to flex some muscles for carrying it around. Good thing though, it can be run practically anywhere with a power source because of the incorporation of double-voltage compatibility. 
The welding outcome will give you the desired pat-on-shoulder indicating you made the right investment because it undoubtedly welds 100 times better than most of the high-end rivals. Finally, thanks to a clear screen with intuitive digital controls, tuning it up to the required adjustments won't be a challenge. 
Pros
Lightweight and long-lasting manufacturing.

Easy setup and use. 

Runs on dual voltage.

Fuses metal and steel pieces together flawlessly. 
Cons
Exorbitant price.

Bit heavier for a lightweight model.
Bottom Line:
Lincoln Electric 210 MP (K3963-1) is an excellent choice for those welders who can afford to purchase a top-of-the-line welding machine. The machine promises decades of longevity and joyful welding sessions, courtesy of its impeccable build and undemanding use.
2020 Weldpro 200 Amp
Are you planning to take your welding game up a notch, become close in line with the pros? There's rarely anyone that will take you on the upward trajectory better than a pro itself named, 2020 Weldpro 200Amp, one of the best multi process welder that money could buy. 
Hinting at the title, it will allow you to unleash your inner welding guru with its multifunctioning capability. This small, space-saving model can tackle Tig, Mig, Stick and Flux-Core applications without difficulty, including aluminum welding with the right spool gun, provided that the material thickness doesn't go beyond 1/4".
What further puts a seal on the deal is the variable amperage range and innate double-voltage connectivity. Together they ensure you are unstoppable in your pursuit: accomplish welding projects with absolute finesse virtually anywhere. Moreover, the inclusion of an easy-to-read dual digital display paired with user-friendly adjustments for wire speed and amperage along with built-in protection mechanisms completely eliminate any hindrance that could prevent you from receiving perfectly-crafted metal pieces. 
Pros
Premium quality.

Flexible and versatile machine.

Fuse together any material including aluminum of up to 1/4" thickness. 

Digital displays with easy amperage and wire speed adjustments.

Space-saving and safety-inducted feature machine. 
Cons
Expensive. 

Requires a bit of a practice to get a ahng of its operation.
Bottom Line:
This welder comes neck-to-neck with the best high-end multifunctioning welders. It might be a bit expensive but the manufacturer has put together a quality package, including necessary accessories, at a competitive price. Its sturdy body can weld continuously for hours without hiccup.
Forney Easy Weld 140 MP
After back-to-back high-end products, the next name on our list is Forney Easy Weld 140 MP, a balance between too cheap and too costly welder. Regardless of the cut in price, this is a stellar of a welder that can carry on a diverse range of welding applications involving TIG, MIG and Stick technique with professional-like flair. 
The only potential quibble that you might have is its failure to perform TIG aluminum weld because of the machine's DC output. However, it will instantly be forgiven and forgotten about due to the convenience offered through a 3-position knob. Move to any type of welding among the three with just a click. 
Forney Easy Weld makes reaching higher level of proficiency in welding as easy as a piece of cake, compliment of the availability of infinite voltage and wire feeding speed. In other terms, you have got the strength and adjustments required to put together materials as thick as 1/4" with almost negligible amount of imperfection. 
The less ideal part of the deal is that extra bucks will be needed to spend on torch gun, regulator and hose appropriate for particular kind of welding technique, which makes the whole package a bit expensive.
Pros
Solid steel build.

Portable. 

Easy-to-access 3-position switch for converting to required welding process. 

Maximum welding thickness is 1/4".
Cons
Extra expenditure on accessories makes it relatively costly.

DC output doesn't allow to TIG weld aluminium.
Bottom Line:
Forney Easy Weld 140 MP can safely earn a place among the top multiprocess welders due to its strength-pack lightweight body and user-friendly variable settings. The only quibble is the absence of welding-related essentials that increase the cost and make it borderline expensive.
MTS-205 MIG/TIG-Torch/Stick Combo Welder
You might find the best of the best if you just dare to look past the famous brands. MTS-205 combo welder machine belongs to the less-known category as well as pricier, but the feature-packed unit is worth the risk and money. 
Almost any kind of steel material, aluminium, alloy, copper and cast iron with half an inch thickness is a cinch for this multi-talented hunk. Put Tig torch and Stick function along with Mig, and you have got a jack-of-all-trades kind of welding pundit that will fuse together metal pieces as effectively as a welding master. Thanks to advanced IGBT technology supplemented by innate mechanisms for keeping voltage and current flow stable, you will not find a single weld out of place. "Perfecto!"
Besides, the easy arc ignition and arc ending paired with automated protection against over-voltage, over-current and temperature control not only result in faultless crafts but also extend machine's lifespan and ensure user's safety. 
What works as icing on the cake is the machine's ability to run on both 110/230V power sources. Add lightweight body to the equation and the deal is sealed. 
Pros
Lightweight and dependable structuring.

Precisely welds aluminium, steel and other materials of 1/2-gauge.

Automated mechanisms for current and voltage fluctuation and temperature control.

Runs on 110/230V. 

Suitable for DIYer fanatics and some light-duty contractors' work.

Comes packed with all the essentials.
Cons
Relatively costly.

Figuring out the required settings initially is a bit tricky.
Bottom Line:
MTS-205 Combo Welder isn't a Hobart or Miller, but the multifunctioning machine performs as good as a top brand for a fraction of a price. The unit is capable of undertaking hobbyists' as well as some light-duty contractors' assignments without any qualms.
HITBOX MIG250 3-in-1 Welder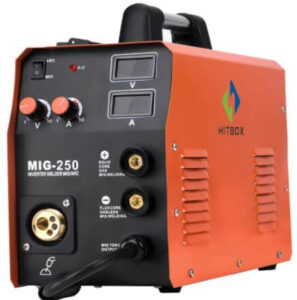 HITBOX MIG250 is a present for those who want to have a best multifunctioning welding machine at an affordable price. You will be pleased to know that regardless of the power of the three welders, MIG, TIG and Arc, combined in one body, the machine is super lightweight and portable. 
Flux-cored wiring allow you to weld steel pieces without the hassle of gas. Another appealing factor is that it's a 220V DC inverter, which means the unit provides ideal strength to accomplish welding tasks anywhere outdoors. 
Moreover, the voltage and current adjustments on the front allow user to easilydial in the perfect settings to ensure the end product always comes out to be impeccable. 
Whats more impressive is that it comes ready to be used out of the box, carrying all the necessary accessories. All in all, it's a steal!
Pros
Super portable.

Economical.

Flux-cored wiring for gasless MIG welding.

User-friendly design and controls.

Stable arc delivers neat welds.
Cons
Runs only on 220V DC.

Figuring out voltage and amperage combination takes time.

Not a hobby welder.
Bottom Line:
HITBOX MIG250 has got everything that an on-budget welder would like to see in a welding machine, the bargained price, simple design and easy mechanism. Regardless of the budgeted price, the machine is made of high quality material and can tackle MIG, TIG and Arc welding better than you would expect.
Miller 907693 Multimatic 215
Miller 907693 Multimatic 215 is the embodiment of perfection. Its eyes-popping giant price tag takes it out of the league of on-budget users. But, all good things come with a price, don't they? So, the rockhard body with eternal-like longevity and amazing welding performance make it a fair deal. 
Unlike other feature-packed upscale machines, this one is laden with easy-to-use controls that will enable less-experienced welders to polish thei skills. The machine connects to both 120V and 240V thereby finding the appropriate power source won't be a problem. 
More impressive is that the switching from one welding process to another barely takes a second. On top of that, it employs an angled drive system that helps user to rapidly switch to either a solid wire or flux-cored wire, whatever is needed for the welding assignment at hand. However, know that it's only DC, which means it doesn't TIG weld aluminium. 
Moving back to the good parts, the machine is capable of fusing together mild steel pieces of 3/8" thickness without batting an eye. Its not even that heavy; so there goes the last of your worries out of the window too. 
Pros
High-quality, everlasting build. 

Welds steel and aluminium of up to 3/8-gauge. 

Intuitive and user-friendly settings.

Multi-voltage plug runs on both 120V and 240V.

3-year warranty.
Cons
Exorbitant price.

It is only DC. 

Additional cost on spool gun. 
Bottom Line:
Miller Multimatic 215 is the best multi-process welder under $2000. To justify the surge in price, the machine comes in a premium construction laden with special features and trouble-free switching between multiple welding processes. It has a few limitations but the overall smooth welding sets the bar really high for competitors.
PRIMEWELD TIG225X Tig/Stick Welder
PRIMEWELD TIG225X is the epitome of immaculate craftsmanship. It's dependability is evident from the machine's rock-solid body that looks like a force to be reckoned with, literally. This beast of a machine will literally require you to gain pounds of muscles to carry it around. 
No complaints though, since the beefy construction supplemented with 225A of AC/DC power means it has the strength to carry out a diverse range of welding surgeries including Tig and Stick applications. The inclusion of IGBT inverter technology further boosts efficiency.
To give you almost-unlimited versatility and flexibility, it comes with a CK17 flex torch along with a pulse function. Meaning, flawless welding is right in your hand. Thinner metals, aluminium or stainless substance, nothing is too much for it.
To seal the deal, it employs dual-voltage compatibility and a well-constructed foot pedal, removing almost all hindrances out of your way. 
Pros
Rock-solid build.

Versatile and easy to use.

Can carry out a variety of welding surgeries on different materials

Pulse function and a CK17 flex torch make welding convenient.

Competitive price along with a 3-year warranty.
Cons
Heavy body.

Not capable of heavy-duty, demanding welding.

Learning curve isn't beginner-friendly.
Bottom Line:
If you are a bit low on budget yet want a multi-talented wedding machine that can come neck-and-toe with a few upscale models, PRIMEWELD TIG225X is the name that can take up the challenge. Its beefy construction and 3-year long warranty assure that its a solid deal.
ESAB EMP215IC MIG/TIG/Stick Welder
This is those rare products where one glance at the machine and price confirm that it's a solid deal. Every inch of its rugged construction and the welding results declare that this is the best professional-grade welder under $2000. 
Apart from the obvious – its ability to handle MIG/TIG/Stick applications with professional efficacy – another wow feature is the large display screen with high pixels. You get a clear view of the settings dialed in to eliminate any chance of mistake. 
Weld anywhere and anything. That's the promise that comes with its dual-voltage ability (120/230V) and advanced welding technology. If there are thicker aluminium, stainless steel and mild steel pieces waiting to be fixed, throw them at this powerhorse without hesitation. The result will leave you and your peers impressed.
Also, its a package designed to make it worth the splash of cash. Emphasis is on package which indicates it comes packed with vital accessories to ensure the stage is set for the job without delay.
Pros
Professional-grade quality.

Advanced technology to boost performance.

Easily readable display screen. 

Designed to undertake welding anywhere and anything.

Packed with required essentials.
Cons
Hefty price tag.

It's not the hobby machine. 

The machine is DC only.
Bottom Line:
ESAB EMP215IC will cost a fortune but in its defense, the rugged design and innovative welding technology incorporated in it make it one of the best heavy-duty welders. Its strength and versatility will satisfy the demands of professional welders, leaving them with almost nothing to quibble about.
2019 Everlast PowerMTS 211Si Welder
The lastproduct on our list is the one that can outclass some big names in the welding business. Fully digitalized DC design with inverter technology, the multifunctioning 2019 Everlast PowerMTS 211Si can take nearly any welding challenge head on. 
What's really surprising and probably the highlighting part of the whole construction is its lightweightedness and portability. For a machine of this cadre, one would think it would weigh like a brick. Relax your muscles because taking it to different jobsites will not be a sweat-breaking task.
Besides, learning its mechanism won't demand solving complex algorithms. The front panel is adorned with simple and intuitive settings for welding process selection and arc force controlling. A few taps of your finger on the desired features and you will be ready to bring the house down with your welding prowess. 
The presence of 200amp power assures you that you've got the right ammunition to weld a 3/8-gauge piece in a single pass. Last but not the least, it will not restrict you to one place. The machine features dual-voltage plugging, enabling you to make any place your crafting den. 
Pros
Sturdy and lightweight frame.

Super portable.

User-friendly digitalized control panel.

Flexible and versatile. 
Cons
DC design limits functionality.

Might be a bit expensive for some.

Minor issues with the hose.
Bottom Line:
Despite the few complaints stated, this is handsdown one of the greatest welders that money could buy. Its small body laden with intuitive controls and flexible design give welders liberty to take it anywhere without breaking a sweat. No matter how tough the welding project may seem like, it can accomplish the task better than your expectations.