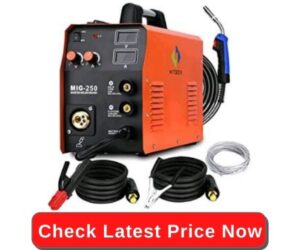 Not many people know that the Hitbox welder is exactly but weighs two to three times lesser, as compared to similar welding devices.
While the welder's compact design and lightweight ensure easy portability, it is also extremely durable and performance-oriented.
The MIG welder by HITBOX welder is powerful, versatile, and features a lighter design that will make it easier for home use.
Plus, if you are interested in a welding unit that can conveniently be transported from one workplace to another, then this one is the most suitable option.
As far as affordability is concerned, the price is quite reasonable, so it's considered the best choice for the professional welder without a budget constraint or the new starters who don't want to spend hundreds of dollars on an industrial welding machine.
We have examined this welding device in detail in order to help you in making your buying decision.
While going through this review, you would get enlightened with the amazing features and impressive capabilities of this welder.
Go through it till the end, to find out what makes this welder special and unique.
What makes this Hitbox MIG 250 Welder better than others?
The qualities of this welding unit are worth considering. First of all, it's a multi-function MIG WELDER 230A with MIG/ARC/LIFT TIG gas gasless and multi Function 220V DC inverter welder.
Plus, GAS and GASLESS available, 1kg/ 5kg 0.030 0.032 (0.8-1.0mm) solid wire with gas welding iron. 0.030 0.032 (0.8-1.0mm) flux-cored wire without gas welding carbon steel and stainless steel.
Its unique design makes it small, beautiful, lightweight, and easy to carry. It also comes with quality accessories which include MB15 MIG -gun, electrode holder, earth clamp, portable plug, gas tube, ready to use. Hitbox also offers a 1-year warranty and ease of customer service.
>> Click here to See Owner Reviews on Amazon
In-depth Hitbox MIG 250 Welder review
This welder is a multi-purpose machine that can handle MIG, TIG, and arc welding without any considerable issue. Apart from the fact that it is pretty affordable, this welding machine provides convenient and optimal welding to build beautiful DIYs. Most of the welders that come at the same price as this one, do not provide such versatile features and welding ease.
In order to meet your versatile welding requirements, you might need a multi-process welder. One can explore the features and capabilities of the Hitbox multi-function welder, which comes with TIG, MIG, and Arc welding processes. The 3-in-1 welder facilitates you with countless benefits, which can only be expected from an expensive welder.
Surprisingly, This is both gas and gasless welder, which is made in a quite straightforward design. The multi-process Hitbox welder is a smart and small-size unit that has easy-carry simplifications and is low-weight.
Furthermore, all the required accessories are bundled with the package. As it comes with prime accessories, it is ready to use instantly just after you receive the product delivery.
The Hitbox 220V welder provides enhanced customer satisfaction by offering a full one-year warranty. In case you face any problems, You can connect with the quick-response customer service to get a solution to your problems instantly.
It is difficult to find a welder that is capable of doing some serious welding jobs and is not insanely expensive, but the case is different here.
For DIY and high workloads, the Hitbox multi-function welding machine is well preferred. Remarkably, the welding device is undoubtedly perfect for both hobbyists and experienced welders.
Without any ambiguity, you can buy this Hitbox welding machine to meet your multiple welding demands. This 3 in 1 welding unit can be operated with gas or without gas. In order to use the MIG function, you can easily use the optional solid wire or flux-cored. 
Moreover, this welding machine is naturally very performative because it enables you to perform TIG, MIG, and Arc welding functions with a maximum 4.0MM welding diameter.
To ease your extended flexibility, the Hitbox machine is generator friendly, which is also good to operate by a beginner or a new hobbyist.
Usability
The best thing about this Hitbox 3-in-one welder is its instruction manual that provides detailed information about the usage of different controls and features of this machine. It's also quite easy to follow.
As assembly instructions are not included in the manual, beginners may find it problematic to assemble this product initially. But Once the installation is done, this product is suited for any user, whether beginner or advanced.
Safety
In order to ensure the overall safety of this welding unit, all the parts of this machine are handmade and prepared with premium quality material. Plus, the selectable MIG further guarantees the safety of its users, and the dustproof panel of the welding device is for the protection of its users.
With the knobs for Amperage and voltage control, one can easily set up the power supply as per their requirement. The motor of this welding machine avoids excessive heating. Plus, It has an auto-cut phenomenon that saves electricity. Such specialties also help to circumvent any short-circuit in the device.
Transport ease and Accessories
To avail the ease of the comfort of portability, this welding device has a very compact design that reduces its weight to just 19.4 pounds. With 4 different kinds of MIG, which also includes a gasless MIG, a gas MIG, Lift TIG, and an ARC which ensures the multi-functionality of this product.
Pros
Smooth weld

Easy to set up

Lightweight and compact

Affordable

versatile 
Cons
Difficult to understand amp combination and voltage

Lack of proper information
Why should you buy Hitbox MIG 250 Welder?
The versatile capabilities and impressive range of features make it difficult for many people to let it go. It is neither expensive nor heavy, therefore best for all types of welders, from beginners to professionals. Although it has some issues the benefits are just much more convincing.
Final thoughts
For a budget-friendly MIG welding device, it is a surprising fact that it's better than the average overall power, duty cycle, and its ability to create solid, clean, and pro-quality welds. However, it can easily handle smaller jobs on the worksite and it's perfect for around the home use as well.