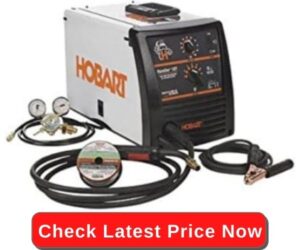 Since the introduction of the MIG welder in the early nineteenth century, they have developed into the widely-used and most sought-after welding machines in the industry.
Most people agree that they are by far the easiest to use, and while they are not capable of the most attractive welds like TIG machines, they provide ease by speeding up complex jobs to make fabrication more affordable.
Due to these impressive facts, it's not considerably a surprising element that they are the most common welder found online. Furthermore, there is easily a number of welding machines to choose from, and with a wide range of choices, there is more confusion.
Now, the thing is that how do you know which one to buy? a well-experienced welder who's tried multiple different types of MIG welding machines, then the task is relatively easier; but for most people, especially beginners, it's more like a guessing game without spending hours in research.
In order to provide you ease in understanding this welder in detail, we have examined all the essential features and capabilities of this welding unit in this review.
You would be in a better position to decide whether to buy this welder or not, after reading this article.
What makes Hobart Handler 187 Welder better than others?
This welding machine is unique and special in many aspects. It Operates on 230-volt power, and with a 25-180 amp range; 30% duty cycle @ 130 amps 20 volts. It has 7 output voltage settings and comes with a wire feed tracking for convenience & quick adjustment and one purge setting. This welder is also capable of Welding 24 gauge up through 5/16. 
This unit is packed with many impressive features, from safety to performance, it takes care of everything. Plus its built-in contactor & self-resetting thermal overload protection features just makes it worth buying.
>> Click here to See Owner Reviews on Amazon
In-depth Hobart Handler 187 Welder review
The Hobart Handler® in 187 Flux-Cored/MIG Welder is a portable and powerful wire-feed flux-cored and MIG welder designed to weld flux-cored steel, mild steel, aluminum, and stainless steel. The generous operating parameters enable you to weld 24 ga. to 5/16 in. steel in a single pass.
Furthermore, it is an extremely versatile and the perfect choice for the welder who has plans to work on household repairs, auto body, or even heavier farm projects that require extra power.
With an impressive arsenal of standard features such as 7 output voltage settings and a dual-groove quick-change drive roll, the Handler 187 is considered as versatile as it is powerful.
One of the best overall MIG welders available online is the Hobart Handler 187 welder. It offers a good mix of amperage range, affordability, and high-quality components.
It would not be considered wise to confuse it with one of the lowest-priced welding machines in the market, as it performs the maximum for its price and has a good reputation for reliability.
It has a quite good range of amperage settings and an even larger range of different wire speeds. This ensures that you would have complete control over dialing in your preferred setup for each work. This welding machine by Hobart doesn't take much skill to set up and run.
It is designed considering the impact of various environments, including industrial welding shops, but it's also easily used by beginners who are looking forward to learning the basics.
If you are willing to buy a welder with a high output duty cycle, you must not miss this one. Surprisingly, With 25–180 Amperage output and a 30% duty cycle @ 130 Amps, you get the maximum power and welding performance that is required to make your efforts more productive.
This welding unit will be more suitable for beginners who are wanting a top-quality machine to learn basics on, or for fabrication shop owners looking for an affordable and reliable machine that can be trusted.
It is a favorite for many keen welders all over the world and will most likely provide you ease with everything you need for a machine with 180 amps of power.
Easy setup
You would be amazed to know that although it looks like a complicated machine that is difficult to set up, in reality, setup is a breeze with this unit, and once you're ready to go, the Handler 187 is capable of running solid, flux core steel, and aluminum wire, a versatility that's hard to find in most of the welding machines that comes in the same price range.
Adjustable settings
This Hobart 187 welder provides you ease by offering to choose from 7 different voltage settings and then take benefit of infinite wire feed speed control and enhanced magnetics.
The most convenient part is that you will end up with good output control that further results in improved arc performance with less spatter, and surely that means great-looking beads with less cleanup.
Ease in Aluminium welding
It comes along with an Integrated spool gun control circuitry which is standard with this welder, so no additional adapter or control box is required to connect the optional SpoolRunner 100 spool gun.
This easy-to-setup spool gun improves wire feed ability and manages to reduce the hassles and frustrations of bird-nesting that are quite common with soft aluminum wires.
Safety measures
Hobart handler 187 welders come with built-in safety features, its self-resetting thermal overload system is capable of protecting the unit in the toughest applications, whereas short circuit protection guards against current overload.
Plus, you also get self-resetting motor protection, which protects against wire feed overload.This helps to effectively eliminate the need to change fuses or reset circuit breaker buttons.
Why should you buy Hobart Handler 187 Welder?
The Hobart Handler 187 230-Volt 25-to-180 Amp Gas/Metal/Arc Single-Phase Wire Welding Package is well-prepared to weld with or without shielding gas.
This MIG welder holds the capability to handle a wide variety of solid, stainless, or mild steel, flux-cored & aluminum wires. With such an impressive welding profile and an impressive range of advanced features, this welder deserves a try.
Final thoughts
This Hobart welder is quite a reasonable machine for minor and some major welding jobs. People who have used it give positive feedback on its performance, reliability, and durability. It's neither very expensive nor extremely cheap, but it's a solid welder that is worth buying because of its outstanding features and versatility.
You May Like to Explore Other Hobart Models: