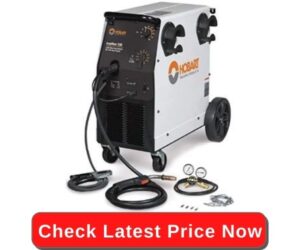 Hobart 500536 Ironman 230 radiates power, power and some more power.
Meaning, this isn't a puny hobby welder. Instead, this unit has a heavy-duty rugged construction that will be hardly impaired even after a decade of relentless use.
Its voltage, duty cycle, arc quality and power output further drives the message home that this welder is designed to tackle large-scale tougher welding jobs.
Another thing that makes this welder special is the inclusion of welding-related gears, built-in wheels and cylinder rack to make the heftiness of weight and price tag manageable.
In this article, you will get an elaborate review of this device to see all those traits that enable Hobart Ironman 230 to top this game.
This heavy-duty welder will surely leave you several hundred bucks poorer, but the richness of strength and performance makes it worth the cost.
In short, buy it if you want to acquire professional-like flair and flamboyance in demanding welding projects.
What Makes Hobart Ironman 230 Stand Out?
Hobart Ironman 230 is undoubtedly one of the most rugged and high-performing welders available at this price. The unit possesses a mighty amperage range and settings that enable welders to deliver such high-quality beautiful welds that others of this clan fail to deliver.
>> Click here to See Owner Reviews on Amazon
Our Hobart Ironman 230 Review
Hobart Ironman 230 (500536) has the power and capacity to solve your welding-related issues as quickly and effectively as the superhero Ironman saves the day. This is one of the most durable and top-performing welders not just among Hobart's collection, but also in the entire market.
Considering the 220-something pounds weight, you can easily decipher that this big bad guy is designed to lend award-worthy services for years on end. This mountainous weight doesn't prove to be a hindrance because Hobart has installed wheels for hassle-free movement and a cylinder rack to keep accessories organized, not to mention within reach.
Professionals refer to this unit as a beast that can release powerful gusts of amperage, ranging from 30amp to 250amp. This is more than sufficient power to weld up to 1/2" steel and aluminum pieces in a single pass. If still not impressed then the availability of a 12-tap voltage dial is definitely going to do the trick.
This huge adjustment range not only allows you to maintain arc stability and quality to deliver professional-like pristine and flawless welds but also keeps the nuisance of spatter and post-weld cleanup to almost non-existent.
It's a full-fledged heavy-duty welder designed for professional job sites and large workshops, which is why it only accepts 230V power input, a testament telling that it's not for home use.
The unit tilts more towards the pricier side of the cost spectrum, which is another proof of it being a premium quality MIG welder designed to quench the needs of seasoned welders. However, it comes equipped with accessories to retain cost-effectiveness and greatness of value.
All said and done, if you want a top-shelve welder for large-scale welding with professional efficacy, buying Hobart Ironman 230 is the way to do it.
Weight
This welder is build to last, which explains its massive 224-pound weight. Hobart doesn't let you fret much over its impaired portability and mobility. It has solved this predicament by giving rugged wheels to this unit that enable users to move it from one corner to another within a workshop without breaking a sweat.
The emphasis is on "within a workshop or garage" because these wheels don't glide smoothly over rough and bumpy grounds, meaning it's not ideal for outdoor sites.
Power
Hobart Ironman 230 oozes unadulterated power. The magnanimous power flow of 30-250amp makes it adequate for a range of tasks including hobbyists projects, construction work, fabrication, repair and other professional-grade demanding assignments. Another proof of its beastly strength is the fantastic duty cycle of 60% at 175amp, indicating that it truly is one of the best MIG welders present in the market.
To power up this workhorse, you need a high power input of 230V, which inadvertently hints at it being more of an industrial-grade welder rather than the one designed for home use.
Settings
Another highlighting aspect of Hobart Ironman 230 is the diverse range of adjustabilities. The unit features a 12-tap easy-to-control voltage selector and infinite wire feed speed mechanism to help you deliver top-notch stable arc and performance.
The advantage of such a vast range of adjustments is that the unit smoothly fuses up to 1/2" thick materials including steel and aluminum without the bane of spatter and post-weld cleanup.
Pros
Superb quality.
Built-in wheels for hassle-free movement.
30-250amp makes it appropriate for light-duty professional welding, fabrication, construction, repair etc.
12-position voltage control helps maintain arc stability to flawlessly weld 1/2" thick materials including aluminum.
Convenient setup and operating mechanism.
Cons
Despite the wheels, its portability and mobility are bridled due to massive weight.
Quite expensive.
High power input makes it unsuitable for household use.
Why Should You Buy It?
Hobart Ironman 230 (500536) is one of the most durable and powerful welders that you can get at this price. Moreover, its massive operating range of 30-150amp with an incredible duty cycle makes it a well-prepared soldier for professional-scale welding projects.
Surprising as it may seem, its use is quite safe and simple, which means the hobbyist can also handle it pretty nicely.
Conclusion
Hobart Ironman 230 has the built and price that makes it more appropriate for professional welders. However, its use is quite simple to make sure the hobbyists can also handle it well. This heavy-duty welder with giant-like size and power is recommended for those welders who are either professionals or aspiring to acquire professional-like finesse and accuracy in welding projects.
Its portability and functionality are quite restricted, but the consistency and quality of performance make it worth acquiring regardless. All in all, buy it if quality and precision are more important to you than money.
You May Like to Explore Other Hobart Models: