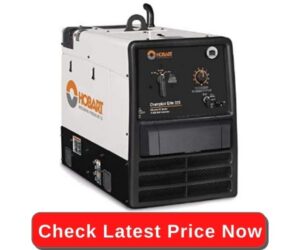 The Hobart Corporation, a 120+ years old company is known for bringing up quality products (welding products mainly) with innovation and elegant designs to compete in the market.
The Hobart Champion Elite is another big name in heavy duty welding units particularly designed to perform heavy duty welding operations in all kinds of situations.
When we say "In All Kinds of Situations" for this welding machine, we definitely mean it as this welding machine contains built-in electric generators to perform welding tasks in remote areas or abundant places where electricity is unavailable or no other source is available for power supply.
In a nutshell, it is a superhero for professional welders who used to do hefty tasks.
Hence we can derive from here that it is a "must-have" machine for all sorts of welders.
Constructed with thick hard metals to boost endurance and to avoid unnecessary wear and tear, this machine is a true champ as its name reflects.
What Makes Hobart Champion Elite Stand Out?
The latest OHV Kohler engine with the fuel carrying capacity of upto 45.4 litres, is enough for the 11000- watt built-in generator. Besides this, it also welds at 225 Amps which is quite impressive. These major and most recognizable characteristics of this machine refers to its advanced capabilities making it stand out in the welder's market.
To understand its abilities more clearly, we are providing you our neutral review of this welding unit in the user's perspective.
>> Click here to See Owner Reviews on Amazon
Our Hobart Champion Elite Review
Alongside its welding ability, its generator is so powerful that it can even run other electrical appliances like small electric water-pumps and grinders at your home. You can also light up a number of bulbs and charge small appliances like mobile phones and torches etc.. This is a two-in-one multifunctional electric machine which definitely adds value to your work.
If you are out-side in the woods and building something then at those moments this machine will show you its true capability when you put it through tough conditions. This machine out performs its other adversaries in the market when it comes to low-cost maintenance and quality output. The ease of handling with a hassle-free control panel adds-up to its smoother experience.
Having weight upto 490lb (222.26kg), your physical strength might not be enough to carry it with your hands (you can try if you have health insurance). Therefore it is recommended to buy a suitable welding cart or truck to move it.
Some of its variants are also coming with default tyres providing lift-eye standard portability. We can clearly see that the agility is something which is quite low in this machine however it can be increased to some extent with additional accessories ( a mid-sized trolley or cart etc).
Power
This machine works flawlessly on both AC and DC inputs with a rated output amperage range of 40-225 amps. This heavy-weight fighter has a 100% duty cycle and capability to go for long and hard hours of work on thicker metals. The single-phase generator can provide 9500 W of continuous power and has a peak of 11000 W.
Performance
The 23 horsepower gasoline based Kohler engine has a constant speed of 2400r rpms and 3600 rpms weld speed. This welding unit stands out as one of the best stick-welders available in the market.
Not only it performs better than many of its rivals in the household repairings but also in the maintenance of hard and complex metal structures and frames which demand heavy duty life cycle from the welding unit.
Accessories
Hobart's protective cover is an additional safety coating to Champion Elite Welding machine as it is water resistant and protects it from mildew as well. The number 4 stick cable set contains electrode cable and holder and 15 feet long work cable with clamp allowing up to 225 amps of electric current to pass through.
After Sale Services
The company provides a huage 3 years warranty for this big beast and alongside, some reliable customer care services like online guidance, help and assistance to their customers. This factor including its other performance attributes is what makes this machine more adaptable and worth buying.
Pros
Outstanding performance in stick welding

A two-in-one solution for professional welders

Works better even on denser metal sheets

The built-in generator can also be used to provide power to other small and mid level appliances

Best suitable to perform welding tasks in remote or abundant areas where there is no source of electricity

Self-dependent machine

Perfect for almost all kinds of situations

Efficient energy use

Immense fuel carrying capacity with a large tank

Supports AC/DC input

A decent warranty period of 3 years
Cons
Mobility is a bit challenging

It costs more on maintenance as compared to lightweight welders

The fuel might cost you more than electricity in some areas

Unable to provide more than one welding modes

To beginners, it feels little hefty
Why Should You Buy It?
This machine is optimized to work in harder scenarios as it is equipped with all sorts of essential tools. From lighter to heavier, this machine is truly capable of performing all kinds of welding tasks efficiently and effectively. Moreover, compared to other machines of this category it provides you serene maintenance in less amount of money.
Sometimes when there is an electricity issue at your home or farmhouse, it can provide you with sufficient electric power to turn on lights and to run other necessary electrical gadgets of daily use including ceiling fans, tube lights, smartphone laptop etc.. However it is recommended to run as many appliances as it can run with ease.
Conclusion
The availability of a machine and its ability to perform your desired tasks is the key point for its purchase. So if you are a professional welder who likes to work on big projects in complex situations then this machine is your perfect match. Regardless of being less agile, this machine is quite capable of working at such a location where you have to switch your position again and again.
You May Like to Explore Other Hobart Models: