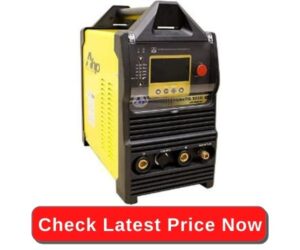 The most essential tool in a welder's arsenal is a welding machine.
These machines work as the backbone of your project and if the machine is not good enough to fulfill the requirements of the project, it can ruin your hard work.
As there is not a single machine that is considered best for all types of projects.
Finding the right model that fulfills the project requirement is not that easy.
You will find a number of brands in the market that claim that their welding machines are the best for you.
However, after conducting proper testing sessions and consulting reviews from other users, we strongly believed that the AHP AlphaTIG 200X welder is one of the best you can buy today.
2018 AHP AlphaTIG 200X welder is a welding machine from AHP.
We will examine the features and important aspects of this machine in-depth in this review in order to help you understand its pros and cons.
Read further to know what makes this welding machine different from other machines. 
What makes AHP AlphaTIG 200X Welder better than others?
It comes with a fully controlled LCD screen, this is something that makes AlphaTIG 200X by AHP better than other welding machine models. Plus, The stick mode in AlphaTIG is the best and considered the smoothest one in the industry. The convincing factor is that its parts are quite cheap and it comes at a pretty reasonable price.
>> Click here to See Owner Reviews on Amazon
In-Depth AHP AlphaTIG 200X Welder Review
The AlphaTIG 200X enhances the customer experience by facilitating with a superior inverter technology which is a result of a combination between PMW and IGBT. You can easily use it on metal or aluminum materials with full confidence as 200X claims to benefit users with remarkable success in using it on such materials.
The most attractive aspect of AlphaTIG 200X is that it comes in a portable and compact design that allows users to carry it from place to place without any inconvenience.
As far as modern technology is concerned, it includes AC frequency control and pulse width modulated inverter. This welding machine will do 1/4″ aluminum and 3/8″ mild steel and 110/220 volts, plus it is capable of welding 7018, 6013.
It facilitates quality TIG welding on steel, aluminum, or stainless and precise welding of thin-gauge materials. The foot pedal is something appreciated by many users as it enables great tig welding control and operation. 
Moreover, If you are a professional who works in a commercial capacity or a DIY enthusiast, you would enjoy this welding machine. The best aspect of this welding machine is its sturdy and durable design that keeps the machine protected from external damage.
Many people complain about the delay in starting the machine, but the case is different in AlphaTIG 200X as it facilitates a convenient start. it does not take much time for the machine to start and be ready to use.
The features that this welding machine offers are worth considering. A few of the essential features of AlphaTIG 200X includes 22" x 20" x 9" Dimension, A duty cycle of 35% at 155A for stick and 60% at 200A for TIG welding, 50 pounds of weight, 110/220V input voltage, stick and TIG process type.
Usability
Another important thing to know about AlphaTIG 200X is that it is considered a tungsten-inert gas welder. As a result, it delivers exceptional results when used on different variety of materials. Some of the best materials to use it on are mentioned below;
Stainless steel

Alloy steel

Thin-gauge materials

Alumunium
Unlike previous models, AlphaTIG 200X comes with a pulse feature. This function is specifically useful for welding. It allows users to adjust the amount of heat generated.
Hence, it is now possible to weld thin materials which get destroyed by large amounts of heat with ease. Plus, it is possible to use the welding machine in DC or AC mode and it could also be used as a stick welder.
Versatility
Although the AlphaTIG 200X is primarily considered a TIG welder, as the name implies, it is still a versatile welding machine that can be used for other welding modes. You can easily stick weld with it whenever it is required.
For instance, you might have to work outdoors, or the unique quality being obtained from TIG welding might not be of your use. Moreover, when used as a stick welder, the arc produced is exceptionally smooth, and there is very little splatter.
Design
Most welding devices are not good looking when it comes to its design, as it has a basic design and structure, but a fully controlled LCD screen is something that enhances its overall look. Like most of the welding machines, AlphaTIG 200X also comes in a rectangular shape and stands tall in the workshop.
It is manufactured considering the long-lasting aspect more closely. The life of this welding device is much better than other welding machines. It is made of metal parts and hard plastic, hence it will survive bumps and drops.
Portability
One of the most important factors that should be considered while choosing a welder is portability. This TIG welder weighs only 50 pounds. Hence it is considered a lightweight machine, as it is not too heavy to be carried around. Aside from the lightweight feature of this machine, it is not difficult to carry around since it is a 110V machine.
Pros
Highly versatile and flexible welding machine

Easy to switch on and off

Relatively quiet performance 

Can be used for hours without overheating

DC and AC capability is convenient
Cons
The regulator is not well calibrated

Misleading display screen, especially with regards to amperage
Why should you buy AHP AlphaTIG 200X Welder?
There are a few amazing features and aspects of this welding device that are convincing enough to make a purchase. A fully-controlled LCD screen and a 3-year warranty make it the best option. Its highly versatile nature and the stick mode make it worth buying. The accessories that come along with the unit are pretty good as well.
Final thoughts
This device would be most suitable for you if you work in a small workshop or garage, as it is relatively easy to carry around. If the project you are working on requires moving the welder, you would probably appreciate the lightweight nature of this welder. Plus, it is suitable for both, amateur and professional users as it is a dual-purpose welder.