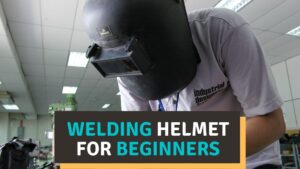 As a beginner, you might not have an actual idea of the extent of dangers involved in welding work which means you'll need more safety and assistance.
The best welding helmet for a beginner will give you complete protection from spatters and harmful radiations without letting you get tangled up in a myriad of features and advanced functions that will not let you focus on the actual welding process.
You need to get introduced to the welding realm with baby steps and that's what the best welding hood for beginners does.
Unlike more advanced models loaded with cutting edge technology and features, models designed for novice users and hobbyists utilize minimal features. That doesn't mean they are flimsy gears made only for pomp and show. The construction and design come with enough brawn to handle basic and even some demanding welding processes without making the unit weigh like a rock.
A decently sized screen comes paired with highly responsive arc sensors, auto-dimming of shade, and user-friendly personalized settings to make it completely safe and welcoming for use, not to mention highly adaptable to different work environments.
Best Welding Helmet for Beginners Reviews in 2021
We know finding beginner-friendly gear and that also at a pocket-friendly price can be like looking for a needle in a haystack. We don't want you to waste time searching for a headgear that's why we have come up with a list of possible best welding helmets for beginners. You'll be able to find a model that attracts you enough to let you start your welding journey with its assistance.
YESWELDER Welding Helmet for Beginners, LYG-L500A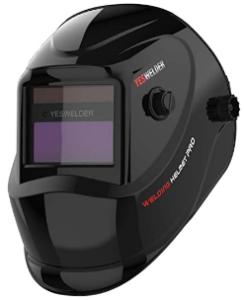 We picked this welding hood because it really fits the criteria of whata beginner would need at the very start of his journey as a welder. Its extremely cheap price causes alarm bells to go off, but one reason for selecting this one was to show that it's not a stereotypical cheap hood. The gear is durable and lighter in weight and fully capable of doing its job in the best possible manner.
It's an auto-darkening hood which in my opinion is a crucial feature for beginners because it will help them position their welding gun correctly when starting welding. You'll be able to create a neat welded piece because it boasts of amazing optical clarity with clear screen and original-color viewing.
On top of that, you can customize the shade range from 9-13, adjust sensitivity and delay for sensors for getting an uncluttered view regardless of the lighting and work environment you're working in.
The only serious drawback is the absence of grinding mode, but at such price, you have to compromise on a thing or two. Overall I don't think it gives you much to complain about.
Pros
Reliable construction.
Auto-dimming hood with shade, sensitivity and delay adjustments.
Clear viewing in real colors.
Lightweight.
Cons
Grinding mode is absent.
Plastic shield might not endure stick welding.
Bottom Line:
This is one of the best value welding helmets for beginners with a quick auto-darkening feature and amazing optical clarity. It has a few limitations but overall its very functional and comfortable hood that provides decent protection for small scale general welding projects.
DekoPro Welding Helmet for Beginners, Orange Black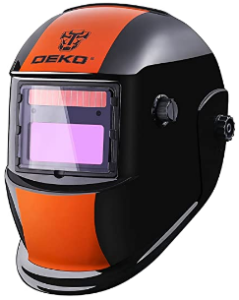 DekoPro never seizes to amaze its audience, and we believe this creationwill be no exception. A significant plunge in price and attractive appearance alone charm you enough to consider it. But, what will probably interest you the most is its well-balanced, lightweight design with fully adjusting headgear that allows it to sit comfortably and securely on your head.
As a beginner you'll appreciate its quick-responding auto-dimming feature paired with sensitivity adjustments, angle differences and ability to filter out harmful UV and IR radiations more because they help the unit adapt to any complex lighting worksite to reward you with a clear field of view at any angle.
You get complete peace of mind with its battery-powered solar technology because it's a surety of longer runtime and boost in productivity.
Pros
Portable and comfortable headgear.
Variety of manual adjustments.
Clear viewing at any angle.
Longer runtime with battery-powered solar technology.
Can handle a wide range of working environments.
Cons
Complaints about inconsistent auto-darkening feature.
Not suitable for demanding welding projects.
Bottom Line:
This welding hood offers great value with its well-balanced comfortable structure coupled with shade adjustments and highly responsive auto-darkening feature. For the price, it's a steal as you'll get a highly functional and flexible gear for basic welding tasks.
Antra AH6-260-0000 Welding Helmet for Beginners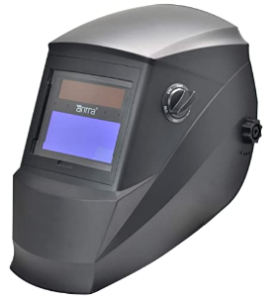 Whether you're looking for the best lightweight hood; the best budget-friendly model; or in the present case best welding helmet for a beginner, Antra AH6-260 is bound to make an appearance. This alone tells that it has everything to offer that you expect from an auto hood.
Instead of two, this one employs four arc sensors that activate the lens in a flash. Also, with shade adjustment along with sensitivity and reaction time adjustments, you can enhance its practicality to almost any work condition with a peace of mind that it will fully protect your peepers from any unwelcoming lighting.
Its replaceable batteries and grinding mode further add to its attraction because they will help you work more efficiently and effectively, boosting productivity substantially.
As mentioned earlier, it's ultralightweight. This can be a blessing and curse, depending on how you look at it. Lightweight build with adjustable strap keeps it comfortable sitting around your head and neck for prolonged hours, but lightweight also underlines that thin plastic material cannot last for many years. However, for a low price you cannot expect it to come with invincible build. Overall, it's quite sturdy and reliable to be used for both DIY and industrial-scale welding projects.
Pros
Ultralight and comfortable.
Grinding mode and multiple adjustment settings.
Highly reactive auto-dimming shutter with effective shielding for eyes.
Suitable for both, small scale beginner projects and lighter industrial use.
Cons
Thin plastic composition.
Welding spark starts melting it through after prolonged use for heavy-duty welding.
Bottom Line:
Antra AH6-260 offers excellent value for money and houses everything that you can expect from a reliable headgear. Despite the limitations, its lightweight composition together with effective auto-darkening shade and additional lens protection covers make it a diamond in the rough.
Hobart 770890 Auto Welding Helmet for Beginners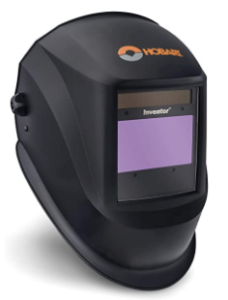 If you can afford to spend a few extra bucks, then taking assistance from Hobart 770890 welding hood will be the wisest and safest way of getting introduced to the welding world. It's not an exaggeration when I say that this is one of the best welding helmets under $100 bucks because it's "houseful" on its own. In other words, it's impact- an spark-resistant brawny construction with nifty features will make sure you don't feel the need for an upgraded model after some time.
Having auto-darkening feature makes it a lifesaver for beginners, but it's highly responsive nature along with user-friendly control dials are the real reason for the unit's wide appreciation. Speaking of user-friendliness, its battery is also conveniently accessible and easily replaceable. Plus, with the presence of grinding mode, you'll really come up short of arguments for why you shouldn't give it a shot.
The unit regardless of its thin composition seems a bulky gear, but in its defence, the bulkiness is the result of a large viewing window with adjustment keys. Improved visibility and well-balanced design doesn't give you a chance to complain about anything related to heaviness.
Pros
Awesome build with fully adjustable design.
Auto-darkening filter with four arc sensors.
User-friendly controls with separate grinding mode.
Improved viewing due to the large screen.
Reasonable price.
Cons
Hood seems bulky.
Other budgeted models are much cheaper.
Bottom Line:
This welding hood is the best and most practical solution for those seasoned and least experienced welders who cannot afford to invest in a top of the line headgear. Its improved visibility and user-friendly controls help the beginners feel at ease while getting introduced to real welding tasks.
Instapark ADF Series GX990T Welding Helmet for Beginners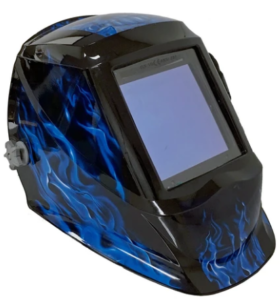 It's good to play safe, but this welding helmet with its fiery blue appearance forces you to let go of your inhibitions and trust that not every bargain model is junk. Its dare devilish look comes with an implicit message of unyielding build and impressive performance. Both of these can be proved when it's put to test with any kind of welding (stick welding, MIG and TIG).
As expected of a best beginner-friendly gear, this one has a larger viewing screen with easily accessible sensitivity and delay controls for auto-darkening feature. Its wide range of shade adjustments give you a better platform to improve your welding skills by accommodating to the work environment.
I would recommend this as a reliable alternative of premium-grade gear because it has a rugged build without the bane of weighing like a rock. Moreover, employing ratchet-style headband and padded interior help you get a secure fit that will not become uncomfortable even after sitting on your head continuously for hours. Finally, battery-powered and solar panel technology combination will give you more hours to practice for polishing your welding skills.
Pros
Fully adjustable rugged construction.
Unimpeded, sharp viewing in any lighting environment.
Instantly-responding auto-dimming feature with user-friendly controls.
Dual power mechanism offers hours of uninterrupted performance.
Cons
Smaller adjustments knobs are troubling.
Complaints about inconsistency of darkening shade.
Bottom Line:
If you brush off its less ideal aspects, then overall this is one of the best budget-friendly welding helmets for beginners. For the price, it offers more than expected with its top-notch optical clarity, enhanced protection and flawless performance.
Bobco Rose Auto-Darkening Welding Helmet for Beginners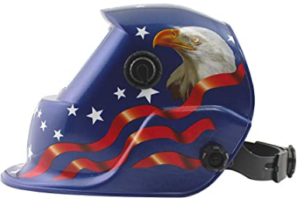 We have found another best welding helmet under $100 for beginners that boasts of Eagle-like sharp visibility, as the printed appearance suggests. To stand true to its promise, it comes equipped with a decent size viewing visor with active auto-dimming quality and manual adjustments for sensitivity and delay time – helping it to successfully adapt to various work environments.
At 3-pounds, the gear seems somewhat heavier than some other models on the list, but that's mainly due to sturdy construction which houses remarkable strength to endure any kind of welding application without breaking apart. However, the good thing is that it has an adjustable headgear that will help you achieve a comfortable fit.
It needs to be mentioned that this one has a grinding setting with a convenient external control knob. It broadens the gear's field of usage as usually budgeted models are devoid of grind mode. Meaning, as a beginner you can broaden your horizon by experimenting welding, grinding and even plasma cutting with this on. In short, this is what money well spent actually looks like.
Pros
Solid gear at an affordable price.
Fast auto-dimming lens with convenient adjustment knobs.
Grind setting with external knob.
Suitable for a variety of welding and grinding applications.
Cons
Somewhat heavier.
Plastic material cannot stand continuous spark during demanding welding projects.
Bottom Line:
We recommend this welding helmet for beginners and occasional DIYers because of its strong build and attractive appearance loaded with active lens darkening feature and easily accessible adjustment knobs. Besides, the inclusion of grind mode gives it an edge over many budgeted headgears.
TOOLIOM Auto-Darkening Welding Helmet for Beginners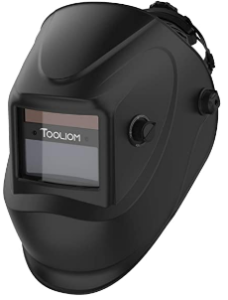 A simple description for this welding helmet would be, a diamond in the rough. For mere peanuts, it offers more durability and functionality than what you expected.Its lightweight thin construction doesn't come at the expense of overall durability. Even more impressive is the rounded shell-like structure equipped with a wide range of adjustments available to help you achieve personalized comfort setting.
Its screen and viewing is the most mesmerizing feature. I called it mesmerizing because for a low-costing auto helmet with two arc sensors, this one has a really quick darkening action. Besides, the presence of a clear viewing visor with true colour filter reward you with crystal clear visibility of work. On top of that, delay and sensitivity settings help it adapt to various work environments.
Novice doesn't mean you cannot practice other than basic welding. Its grinding mode means you can easily switch from welding to grinding when needed. It further implies that the gear can be used for wide applications which means it can satisfy hobbyists and passionate handymen as well.
In the end, with a solar battery system and low battery alarm you'll not have to worry about it leaving you in a lurch while welding.
Pros
Lightweight design with personalized settings for comfortable fit.
Clear viewing with true colour filter.
Complete protection with fast auto-dulling action.
Easy switching from welding to grinding mode.
Low battery indication.
Cons
Removing the battery is difficult.
Thinner construction.
Bottom Line:
As an amateur welder you'll find it remarkable due to sturdy build and multiple adjustments for comfort at an insanely cheap price. Its auto-darkening feature with crystal clear viewing and complete eye protection make it a great value option as compared to expensive models.
DESOON Auto-Darkening Welding Helmet for Beginners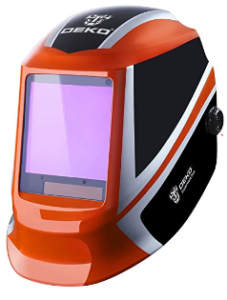 A unit that is nip and tuck to well-known names like Hobart and Yeswelder means it can be safely placed under the category of best welding helmet for beginners. I would also call it one of the best welding helmets under $100 because regardless of inexpensive price, the unit has a sturdy framing loaded with some innovative features like instant auto-dimming action with a long lasting battery paired with solar panel technology..
Experienced or least experienced welder, its ultralight design with adjustable headgear will turn every welding session into a joyful experience because you'll have optimal protection and assistance for hours without feeling an ounce of fatiguing.
Things get more comfortable with its clear viewing visor that filters out any unwelcoming light to provide you with an unimpeded bright view at any angle while welding. More noteworthy is that you can manually adjust sensitivity and delay sensor's reaction time and control lens shade to meet demands of various work conditions.
Pros
Solid and light construction with adjustable headgear.
Superior visibility at any angle.
Manual adjustment settings for lens shade, sensitivity and delay.
Cost-effective unit suitable for a wide range of work environments.
Cons
Hard plastic feels a little uncomfortable.
Not suitable for excessive professional welding.
Bottom Line:
This is the hands-down best cheap welding helmet for beginners that comes in a rugged and pleasantly lighter construction. Its large viewing window boasts of crisp and comfortable view while adjustable headgear allow you to tailor settings to get your preferred fitting.
Auto-Darkening Welding Helmet for Beginners by Beskar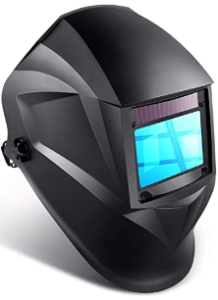 Beskar isn't as famous as Hobart or Miller, but that doesn't mean it's any less reliable. For beginners and on-budget welders, this provides a silver lining with its combination of affordability, durability and, of course, incredible functionality.
The unit has a double-layered auto-darkening filter that darkens the shade in a flash to provide foolproof protection to your eyes against welding sparks and harmful light emissions.
As a beginner you don't not have to envy the welding work of other welders because you can now create near-faultless metal work with the help of its extra-large viewing screen and clarity of vision at any angle.
Much of optical clarity is attributed to its highly responsive four arc sensors which block sunlight and other complex lighting in the workplace to effectively respond to welding arc within seconds.
Since it has big brands to compete with, the unit employs adjustability settings for arc sensitivity and delay. These combined with solar energy consumption technology enable the unit to assist you in any welding application. Lastly, easy-to-switch grinding mode improves its functionality substantially.
Pros
Solid build at an affordable price.
Four arc sensors with adjustments for sensitivity and delay.
Grinding mode with easy-to-access external switch.
A double-layered auto-dimming filter is highly responsive and 100% safe.
Cons
Headgear seems somewhat flimsy.
Not suitable for seasoned welders.
Bottom Line:
If you're a beginner or hobbyist looking for a budget-friendly yet reliable welding helmet suitable for intermittent use, then this model is a worthy contender. Its super large viewing screen with multiple adjustments and highly responsive auto-dimming filter make it a great value option.
Bibowa Auto-Darkening Welding Helmet for Beginners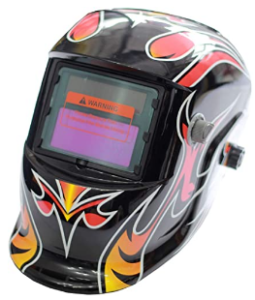 This is the last name on our list but it's no less attractive than well-known names on our list. Including it for the purpose of proving it to you that inexpensive price andless-popular names can equally prove of great value. Its tough yet lightweight build will surely be appreciated by your neck and head, exceeding all your expectations of a low-priced gear. What will really seal the deal for you is the amount of convenience that comes with its auto switching of light and shade. It's worth mentioning because this small nifty feature relieves users of the constant trouble of lifting the mask.
A welding hood with full face to neck coverage from spatters and harmful radiants along with responsive auto-dimming ability means you will be guarded by a shield that's equally committed to your comfort. Adjustable headband promises you a comfortable and secure fit without much struggle.
If you're still doubting its lightweight build, then its ability to handle industrial use for plasma cutting, welding and grinding processes is the trump card that will probably win its case.
Pros
Strong and lightweight body.
Automatic switching of light and shade.
Comfortable to wear with an adjustable headband.
Versatile design can handle industrial use of plasma cutting, welding and grinding.
Cons
Viewing at different angles during welding might not be clear.
Plastic material seems a bit flimsy for frequent handling of demanding welding projects.
Bottom Line:
This welding helmet is very comfortable and user-friendly. Despite the few limitations, it's a great value alternative for expensive models that can equally meet the demands of novice and more serious welders.