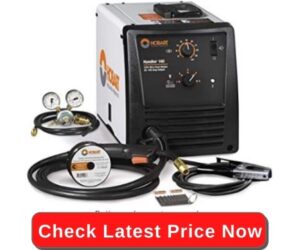 There's hardly any manufacturer that gives you a sturdy welder at an affordable price as Hobart does.
Its Handler 140 welder is very famous among both amateurs and seasoned welders for its solid build, pocket-friendly price and simplicity.
The unit is a bit bulkier for a typical portable welder, still lightweight enough to not bridle mobility.
For home use and beginner-friendly welder, it is well-endowed with advanced technology to carry out an endless list of welding projects without a hiccup.
Whether you want to use MIG welding or Flux Core process on aluminium and steel workpieces, this welder has the capacity to tackle both with equal proficiency and efficiency.
Our review below will elaborate on the facts that make Hobart Handler 140 the best welder for the money.
Buy it if you want a beast-like tough welder for repair and maintenance projects and light-duty DIYer assignments at a reasonable price.
What Makes Hobart Handler 140 Stand Out?
Hobart Handler 140 is an anomaly among typical inexpensive welders because the unit has an unyielding hard-to-break construction without the expensive price tag. Also, the unit possesses remarkable versatility, yet its operation is totally fuss-free.
>> Click here to See Owner Reviews on Amazon
Our Hobart Handler 140 Review
Hobart Handler 140 is a portable welder, but the brute-like hard-to-beat build with 57-pounds weight says otherwise. It simply shows that this little badass machine will stay in your workshed or garage for a long time, unless, of course, abused beyond the rated capacity.
Amateurs and hobbyist have a strong affinity for this unit because, despite the industrial strength, the price is still within affordability bounds.
This 140Amp welding beast is full of surprises, one of which is its 20% duty cycle when cranked up to 90amp. Apparently, that's more than sufficient for regular household metal fixing chores and repair projects.
Besides, you have a decent playing field of 25-140amp range combined with a multi-position voltage selector and a superb wire feed speed span of 40-700IPM. It doesn't involve any rocket science to know that this is beyond ordinary versatility.
This is indirectly a promise of high-octane welding sessions because you will have the power to keep arc stable and intense to mend from 24-gauge to 1/4" thin aluminium and steel pieces with utmost perfection.
You are on a roll! That's what welders say about its tendency to undertake the MIG and flux-core techniques. Tap into the flux core procedure when you have thicker steel objects to weld. In any case, the welds are exquisite.
The unit runs on a standard household input source of 115V, making it ironclad that this definitely is the best welder for home use. Any other lingering doubts will flow out the window with its shocking 5-year warranty.
In short, buy this gem of a welder if you want a magnificent welder for small-scale domestic repairs, maintenance jobs, farm use or metalwork projects in a workshop at a fraction of a price.
Durability
Every product bearing Hobart's insignia symbolizes hard-to-beat durability, but their Handler 140 welder is a unique gem in a sense that it offers decades-long heavy-duty durability without a price tag. At 57-pounds weight, the unit isn't one of the most lightweight and portable models.
However, hauling it and taking it to different job locations won't pose much of a challenge if you've got a work cart or truck around.
MIG/Flux-Core Processes
The description says it's a MIG welder. In reality, it's more than that. Its a combination of MIG and Flux Core techniques fused in a single body. That's called a double treat! The simplicity of design makes it all the more appealing to beginners, hobbyists and hardcore DIYers.
It barely takes a few seconds of your precious time and taps of your fingers to switch to the required process. After that, it's just you and a day-long of thrilling welding session.
Performance
Take any review, and you will find mostly good things about Hobart Handler 140's performance. This squeaky clean reputation is mainly because of its decent operating range of 25-140amp with a decent duty cycle of 20% @90amp power output.
On decoding this jargon what you get is a workhorse of a welder that can fix anything composed of aluminium or steel, provided that it stays within the limit of 24-gauge to 1/4" thickness. Whether it is in the hands of an amateur, intermediate tinkerer, DIY enthusiast or an experienced welder, the welds produced are of exquisite nature.
It is simply because the unit has integrated a 5-position voltage selector and an incredible wire feed speed range of 40-700IPM. With such flexibility at hand, producing a steady arc for delivering strong welds becomes extraordinarily easy. This, in other words, is a recipe for receiving beautifully welded pieces.
Pros
Heavy-duty construction.
Capable of MIG and Flux Core welding.
Amperage range of 25-140amp and a decent duty cycle allows to weld 1/4" thin aluminium and stainless steel articles.
Multiple user-friendly settings for wire feeding speed and voltage control improve arc stability.
Affordable.
Superb warranty of 5 years.
Cons
Transporting it around without a cart is laborious.
115V input puts a limit to its usage.
It is not capable of tackling heavy-duty, tough welding.
Why Should You Buy It?
This is a portable welder with Hobart's signature heavy-duty construction without the bane of costly price. Besides, an impressive 5-year warranty further highlights its unyielding durability and longevity.
Secondly, the ability to perform MIG and Flux Core processes with equal expertise and no-frill setup make it an irresistible weapon for experienced and first-timers alike.
Conclusion
Hobart Handler 140 is the best inexpensive welder for small-scale welding projects because of its unflinching tough construction and simplicity of use. The unit has a versatility that promises to weld of an endless number of objects composed of aluminum and stainless steel with perfection.
Those welders who want a durable and cost-effective welder with a super-duper versatility and warranty, this is your chance to buy it and commence an exciting welding session.
You May Like to Explore Other Hobart Models: