MIG welding is easier to learn and perform but the welded materials are prone to contamination such as oxidation, not to mention it's a slightly expensive and upscale alternative, especially for beginners, DIY and small workshops projects. Having a best flux core welder at hand not only provides an easier and far superior alternative to MIG welding but it's also a more pocket-friendly option.
This inexpensive alternative has almost equal strength like a MIG welder to fuse together metal sheets and steel plates with efficacy. Its simpler setup makes it a more cost-effective and time-efficient option for DIY tasks, hobbyists projects and small workshop and home repair jobs. Besides, the low learning curve provides an affable and approachable course of action for beginners and amateurs.
The reason for putting together detailed reviews of 10 best flux core welders is to ease the burden of those welders who're looking for a reliable welding machine at a pocket-friendly price. The article sheds light on strengths and weaknesses of all the models to ensure you're fully aware of what you will get in return for money.
Top 10 Best Flux Core Welder Reviews of 2023
With that being said, we've done our part now it's time for you to proceed further and decide which unit will work best for you.
Weldpro MIG155GSV Welder
When you are on a budget, getting a professional grade welder seems like a far-fetched dream. This theory is valid until you come across Weldpro Mig155GSV welder which, true to its name, introduces you to a pro-level machine for under $500.
It astonishes you with the amount of strength and versatility it is harboring in a pretty compact and portable body. Whether it's beginner-friendly flux core application or more skilled MIG and ARC techniques, this little workhorse will deliver results with remarkable efficiency. You can further expand its versatility by switching it to MMA mode – it will convert it into a scratch arc TIG when provided appropriate accessories. Very peachy, right?
Welders have hots for it because whether plugged into a standard household power input or 220V, it welds mild steel of upto ¼" without compromising the quality of job, not to mention the dual voltage functionality provides convenient plugging almost anywhere.
Besides, the presence of IGBT inverter technology complemented with overheat and overcurrent protection mechanisms not only enhance performance but also the lifespan of the welder. To fully sell you on the idea, the machine also features a special 2T/4T switch which proves very helpful when you're planning long welds.
Pros
Robust and compact built.
Versatile welder is capable of flux core, MIG and Stick welding.
Dual voltage input allows it to be plugged anywhere.
4T switch permits long welds.
Reasonable price.
Cons
Amperage output is low.
Leads aren't long.
Bottom Line:
Weldpro has introduced the best flux core and MIG welder under $500 in the shape of Mig155GSV. The unit has a portable structure with smaller footprint yet its strength and versatility is larger than some well-reputed names.
VIVOHOME Flux Core130 Welder
VIVOHOME Flux Core MIG 130 has stirred up a wide population of hobbyists and novice welders with its inexpensive cost and diverse nature. The unit makes use of flux core wiring to enable you to complete welding assignments without the fuss of gas and contamination of welded metals.
It's pretty compact and portable in size and features an amperage output of 130amp which seems inadequate for heavy welding. However, this isn't a loss since the unit is basically designed keeping in mind needs of household repair welding and light-duty beginner projects. This means it has enough strength in-stored to fuse together metal pieces of thinner gauge.
We can see the wheels turning in your head and before you reach a faulty conclusion let me make it clear that this is a beginner-friendly unit but that doesn't mean it is completely bland. By inserting variable settings of current flow and wire feed speed it lets you exercise a significant amount of control to achieve desired welds with as much perfection as possible.
Pros
Durable and portable construction.
Cheaply-priced.
Perfectly welds thin metal pieces.
Designed for light-duty household repair and hobbyists' projects.
Cons
Shoddy welding of thicker metal sheets.
Features only DC welding.
Bottom Line:
VIVOHOME Flux Core welder possesses the durability and strength required for meeting demands of hobbyists and enthusiast handymen without upsetting their budget. Also, it has a decent number of handy features to ensure you get the best monetary value.
Super Deal MIG 130 Flux Core Welder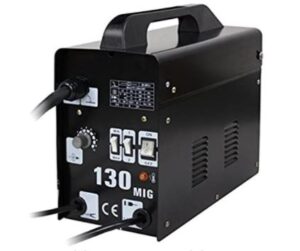 MIG 130 flux core welder by Super Deal with its solid composition, diverse nature and inexpensive price hold tongues of all those people who dub every low-costing product as shoddy without giving it a chance first.
It comes in near-industrial grade quality to ensure you throw any household repair or small workshop welding task at it with confidence. Despite muscly built, the unit is still pretty lightweight thereby causing no hassle when moved around.
Since it's a flux core welder therefore you don't have to worry about gas backup and oxidation of metal during welding. It's quite competitive in nature and to ensure no other model of the same category beats it at offering super deals, this one contains multiple adjustments for speed and current flow. This on one hand gives the unit an edge over its rivals and on the other hand allows welders, whether amateur or a passionate DIY, to weld thin metal sheets with precision.
Beginners have a special affinity with this model because its setup and operating mechanism is so simple that it hardly takes an hour to learn the ins and outs of the machine and then it's smooth sailing throughout.
Pros
Lightweight and portable.
Low price.
User-friendly setup and operating process.
Multiple adjustment settings enable welders to precisely weld thin metal.
Ideal for home use.
Cons
Flux core wire is pretty thin.
It cannot withstand heavy-duty welding.
Bottom Line:
Regardless of a few limitations, Super Deal MIG 130 is the best value flux core welder designed to meet the requirements of light-duty household repair projects. Its inexpensive price and user-friendly set up makes it a top choice of budget-conscious beginners and hobbyists.
SUNGOLDPOWER MIG 150A Flux Core Welder
SUNGOLDPOWER 150A Flux Core welder comes with everything that can turn your every welding session into sunshines and rainbows. Wondering how? Affordable price point alone attracts novice welders and DIY fanatics like moths to a flame. However, it also brings durability and reliability to the table. This provides such a lethal combination that resisting it becomes really hard.
Like above mentioned models, this one also features flux core wiring but what gives it an edge over such rivals is the wide amperage range (80-150 amp) that it offers. This enables the machine to shoot the amount of current output adequate for finely welding non-ferrous metals, iron and mild steel.
What really allows welders to hold it in high esteem, regardless of being a low-end model, is the peace of mind that this brings to each welding session. Thanks to heat adjustment settings and built-in thermal protection, welders complete projects without any unpleasant interruption and accident.
Finally, 110V input allows it to run on standard household power which is a blessing for DIYers and handymen but a curse for workshop owners.
Pros
Pocket-friendly.
Durable and lightweight structure.
Adjustable amperage output allows for efficient welding of iron, mild steel and metals.
Safe to use.
Ideal for home use.
Cons
Single power input (110V) limits its functionality.
Incapable of MIG aluminum welding.
Cannot uphold itself against demanding welding.
Bottom Line:
This welding machine is not strong enough to withstand heavy-duty welding. However, in a small scale household welding project there's hardly any bargain model that surpasses it in performance. That's why it deserves to be called the best value flux core welder for home use.
HITBOX MIG200A Flux-Cored Welder
HITBOX MIG200A is regarded as the deluxe model among affordable welder machines. The unit has almost double the price than some of the above names, still lies within affordability range, but so is its versatility. This small multi-talented beast is the solution to all your welding problems because it is housing 4-in-1 welding techniques.
Whether its gasless MIG by use of flux-cored wire, MIG gas, Arc function or Lift Tig, the machine will not shy away from undertaking the challenge. However, you'll have to insert argon gas and purchase a separate torch for using the TIG function.
It's a 220V DC welder that also features IGBT inverter technology so you can be assured of its high efficiency while welding stainless steel and iron materials. When seeing so much potential and versatility one naturally expects the machine to be giant like both in strength and size.
Well, you can be right about the giant-like strength part but the size will surprise you. It's pretty lightweight and compact which if on one hand is quite surprising then on other hand is a source of joy. I said joy because the lighter weight will enable you to carry it to any work location without flexing muscles.
Finally, its 1-year warranty isn't the most ideal one but manufacturers of HITBOX have a strong trust in their product to not disappoint the customers.
Pros
Sturdy and lightweight machine.
4-in-1 welder machine.
Can weld iron and stainless steel rods flawlessly.
Excellent value.
Cons
Only 1-year warranty.
Doesn't include essential accessories for TIG function.
There's no control for adjusting wire feed speed.
Bottom Line:
There are a few shortcomings in the HITBOX MIG200A model but overall it's a great value welder for the price. Its lightweight structure and diverse nature allow it top slots among the best portable and diverse welders under $500.
Forney Easy Weld 299 125FC Welder
Unlike the above HITBOX model, Forney Easy Weld 299 isn't a multi-talented machine. Still it's the best value welder machine because it is great at what it is intended to do i.e. gasless flux core welding. The machine claims to weld metals of ¼" thickness with precision.
However, there are a few complaints regarding the truthfulness of this claim so it will be better to not stretch the unit to its limit and restrict it to 3/16" or thinner sheets. While some think of it to be a put off, we think it's a blessing in disguise for beginners. Amateurs will practice lighter welds first to polish their craft.
The machine can hold 2 and 10 pound spools and can run like a gazelle on a 0.03" wire. Not only this but by dialing in the right setting it will deliver some really neat small welds. Speaking of small, the machine is small in size and lighter in weight which makes it a reliable companion for light-duty outdoor jobs or home projects. 120V input makes things convenient because finding a standard power source isn't much of a challenge.
In short, it's a great deal for light-duty welding projects at such an affordable price.
Pros
Compact and small.
Runs on standard 120V input.
125amp output is sufficient for light welding tasks.
Ideal for beginners and light-duty basic welding at home.
Affordable.
Cons
Only 6-month warranty.
Shoddy welds on ¼" thick metal.
Bottom Line:
Forney Easy Weld 299 is a great value flux core welder because at a low price it features everything that can perform light-duty welding applications with perfection. It's not a multi-talented diverse machine but for beginners it is an easy way to learn basic welding.
SUNCOO 130 MIG Flux Core Welder
SUNCOO 130 MIG Flux Core welder is like that back-bencher silent student in a class who comes in the limelight after getting A-class results in exams. This lesser-known welder will also outshine some famous names once given a chance.
Its low cost deceives people into brushing it off as an inferior machine but in reality its steel built is housing sufficient resilience and strength to prove that it's no quitter. Meaning, it can resist rust and wear to ensure the unit lends you services for a long time.
The machine is designed to hold 0.6-0.9mm flux-cored wire which enables it for mig welding without requiring gas backup. This not only makes its use convenient but also prevents contamination of the workpiece at hand.
Welders, especially hobbyists and passionate handymen, love this model because it puts them on the driver's seat to direct the machine to gain desired results. This maximum control is attributed to 4-level current flow adjustments and variable wire feed speed control with a 10-position knob. All you have to do is dial in the setting to get welding of your choice.
Its heavy-duty steel built again misguides buyers into taking it to be a brawny thing. In reality it's lightweight and portable thereby you would be able to take it to any workplace.
Pros
Long-lasting lightweight construction.
Flux-cored wire allows mig welding without gas backup.
Variable adjustments help you produce welds of your choice.
Inexpensive.
Cons
Instruction manual lacks necessary information.
Only suitable for small DIY assignments around the house.
Bottom Line:
This is undoubtedly the best cheap flux core welder for home use because it features a long-lasting portable body and multiple settings to facilitate small welding projects around the house.
Hobart 500599 Handler 140
Hobart is famous for introducing exquisite products with lasting builds and we agree with that after taking a look at Hobart-500599 Handler 140 MIG Welder. The jump in price further confirms the fact that this is a premium pick; which is also quite bulky.
Putting it together is fuss-free – peachy for beginners especially. For a flux-cored gasless MIG, it welds with remarkable flawlessness. However, you'll have to tinker a bit with a multi-position voltage control selector to reach the appropriate setting required for a stable arc.
It allows you to expand your creativity horizon. Simply put, you can dial in the settings to perform MIG welding with equal proficiency. Whether you want to fuse together steel pieces or metal including aluminum sheets, Handler has the potential to handle them all.
The 5-year warranty isn't just a showy move to attract buyers. Rather, it underscores manufacturers confidence in their product so you can also invest in it with confidence.
Pros
Premium quality welder.
Multi-talented machine.
Fuses together metal pieces including aluminum.
Multi-position voltage control selector for enhanced results.
5-year warranty.
Cons
Relatively expensive.
A bit heavy.
Welding chart is a bit faulty.
Bottom Line:
Hobart Handler 140 MIG is the best premium welder under $500. Its bulky construction promises lasting quality while nifty features and in-stored strength make it a very reliable choice for hobbyists and light-duty workshop projects.
Goplus MIG 130 Flux Core Welding Machine
Have you seen a diamond in the rough? If not then here's a welder machine by Goplus at a very bargained price to elaborate what the term actually means. Apart from price, the structure is also very compact and small to ensure your muscles don't undergo torture while transporting it around.
Don't let its infant-like size fool you because the mini body has strength of a giant which will allow you to perform welding surgeries at home without crumbling apart. DIY fanatics and hobbyists get attracted to this like a kid to an ice cream because the unit features variable speed settings – welding speed and feeding speed of wire – to enable them to exercise maximum control in order to attain desired output.
The machine, despite what the advertisement says, is not MIG. Instead it's a flux core welder designed for welding thin metal items, good for those who're looking for a great value flux core welder.
Last but not the least, it is a bargained model but unlike typical cheap products this one will remain in its prime condition for an extendable period of time, courtesy of thermal protection and heat dissipation mechanisms.
Pros
Long-lasting rugged build.
Portable.
Superior performance due to multiple speed adjustments.
Inexpensive.
Cons
Erratic wire feed speed.
Not real MIG welding.
Bottom Line:
]If you're a perfectionist looking for a sturdy welder machine capable of executing flawless welds on thin materials at home or in your crafting den, then go for Goplus 130 MIG flux core welder. It will give you everything that you need at a budgeted price.
LOTOS MIG 140 Flux Core Welder
If there's anyone that can compete neck and neck with a welding giant like Hobart Handler 140, it's the equally famous Lotos MIG 140. It beats Hobart in value as this one with a relatively reasonable price has greater value but it lags behind Hobart in duty cycle.
The competitive nature of Lotos is highlighted through integration of premium quality aluminum wire feeder. This has enabled it to turn the game in its favour as the durable wire feeder provides stable welding experience.
The machine has a huge pool of utility ranging from fusing together majority of non-ferrous metals including aluminum to steel articles. In fact, a vast population of welders buy it specifically for its ability of MIG welding aluminum. However, the appropriate spool gun needs to be purchased separately. Not so cool!
You know what's cool about this model? It comes equipped with dual digital displays showcasing welding amperage and wire feed speed. You can accurately tune in to desired settings to receive welds of your choice.
Final and arguably the most glorifying feature is the special 2T/4T switch. This semi-automatic setting enables welders to run longer welds without continually holding the trigger. Peachy!
Pros
Premium quality at competitive price.
Superior quality aluminum wire feeder.
Welds any metal object including aluminum.
Amperage and wire feed speed adjustments with digital display.
Runs longer beads without holding the trigger.
Cons
Fire feed issues.
Earmarked only for small to medium scale welding projects.
Bottom Line:
Lotos MIG 140 Flux Core Welder is among the premium choices with an added advantage of a competitive price. Due to superior quality aluminum wire feeder, this model is also dubbed as one of the best aluminum welding machines.