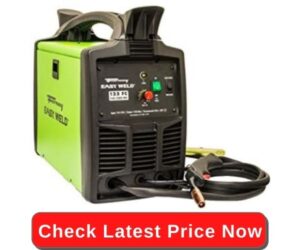 Forney 299 125fc is presented by a company that has almost 80 years of experience in the welding industry.
They've managed to maintain a good reputation for their products and the Forney 299 is one of the welders that stand out in their product line.
It's a flux-core welder that is primarily designed for beginners and semi-professionals that need the exact tool for light to medium tasks.
Forney Industries started its operations in 1932, since then they have been manufacturing a wide range of high-quality metalworking products.
The company is primarily based in Colorado, where they also design their products.
However, the manufacturing process takes place in Italy.
For the first time, The Forney 299 model was introduced on the market in 2015.
In this review, the pros and cons of this welder and its major features will be discussed in order to help you understand how efficient this welder actually is.
As you will go through this article, you would be in a better position to decide whether this welding machine is suitable for you or not.
Continue reading the article to know what makes this welder better than others.
What makes Forney Easy Weld 299 Welder better than others?
This welder by Forney is best for Gasless flux-core welding only. It holds the capability of welding 24 gauge up to ¼ inch. It has 125 amp output and 120-volt input. Most importantly, it accepts 2 and 10 pound spools.
Plus, this welder comes with impressive features and components that are hard to find in an affordable welding machine. You would also be provided with a 6 months warranty against any defects.
>> Click here to See Owner Reviews on Amazon
Forney Easy Weld 299 125FC Flux Core Welder Review
Those welding professionals who work remotely are very much concerned about the weight of the welder. This flux core welder weighs just 42.5 pounds, so it's not much bulky.
It can be easily transported between your welding projects. Moreover, It also features a durable handle on the unit in order to make it easier for the user moving it around.
Another very significant aspect to note is that The Forney Easy Weld is specifically designed only for flux core wire welding. Unlike other welding units that come with a gas option, this one has no gas option. So you can weld mild steel with it easily but it is not possible to weld stainless steel with this welder.
This welder facilitates with two voltage settings which are rarely found in most quality welders. You can easily switch between a setting (lower) for sheet metal and can also set (higher) for thin plate welding.
Additionally, On the inside of the cabinet, you will see a quick reference chart where you can check the appropriate wire feed speed and power setting for the thickness of steel you'll be welding.
This flux-cored welder can be easily used with 0.03-inch wire. As for the spools, it accepts 2 and 10-pound ones only. The welding unit comes with a 6-month warranty, which covers defects in manufacturing and workmanship. Don't forget, it is important to claim for the warranty must be made within 90 days after the date of purchase.
Different welders have different input voltages so they might not be compatible with the electrical outlet where you are welding. Most welders are either 110/115/120V or 220/225/230V, whereas some have the capability for both.
The Forney's easy Weld uses a standard 120V household outlet and holds the capability of generating up to 125 amps. You can also easily power it using a generator, but before that, make sure that it provides an appropriate power supply.
Duty cycle
The performance of the welder is examined by its duty cycle capacity. When it comes to the duty cycle of this welder, it is rated for 20% at 80 amps. So you can only weld for 2 minutes and then the welder needs to rest for almost 8 minutes. This prevents the machine from overheating. 
Safety 
As far as the safety of the machine is concerned, Forney 299 125 FC flux core welder comes along with an internal thermal protection feature. This safety feature prevents the welder from damage by automatically shutting off in case the unit starts overheating. It resets the tool until it's cool enough to be started again.
Good build quality
The quality of the material used in the manufacturing of a welder matters a lot. welders with good build quality are much better in performance and last longer than other cheap quality welders.
Forney 299 125fc flux core welder is made from high-quality thin gauged metal and durable plastic. This ensures that the welder will not deteriorate early and would not need repair for a long time.
Pros
A good welding unit for beginners

Durable construction

Can easily weld materials 24 gauge and up to ¼ inch

A 20% duty cycle is best for semi-professional work
Cons
It is specifically designed for light to medium-duty jobs only

Only the flux-cored wire option can be limiting for some people
Why should you buy Forney Easy Weld 299 Welder?
Plus, it's simple, consistent, and reliable so it'd make a great tool for hobbyists or anyone not interested in any heavy-duty production work. The Forney 299 125fc welder is smart, affordable, and easy to set up and use. It is worth buying if you are looking for a welder that you can practice on or for minor welding works.
The Forney 299 125 FC is a strong machine that is capable of welding 1/8″ steel. Secondly, the plug can be 15 amps but the breaker should be 20 amps. Plus, the power cord uses a 15 amp cord. This welder is not good enough for high-end welding projects but is best for hobbyists and beginners.
Final thoughts
Forney 299 125fc Easy Weld is undoubtedly a great entry-level welder. It comes with a reasonable price tag, has impressive features, and has lots of other advantages. Moreover, it provides ease of use and maintenance. So if you're an inexperienced welder, this product could be a great tool to practice your welds and polish your welding skills.
You May Like to Explore Other Forney Models: