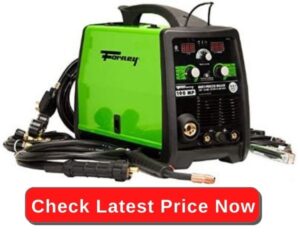 It's not a hidden fact that different jobs require different welding disciplines.
For home-based welders, purchasing 2 or 3 different welders may not be within the budget.
The Forney 324 190-amp welder makes it very easy to TIG, MIG, or stick weld with relative comfort and save space in your garage or shop at the same time.
This welding device will smoothly perform gas or flux-cored MIG welding in addition to the stick and TIG welding that is included.
You will also receive a flow meter and gas hose in the box with this welder.
This welder accepts electrode diameters of 1/8-inch, and some 5/32-inch diameters are also compatible with the equipment.
In this review, you would find relevant information regarding this welder, as we have examined almost all the minor and major aspects of this welder in detail.
Go through the article to know what this 3 in one welder has to offer.
What makes Forney 324 Welder better than others?
This welder by Forney is not just a generic MIG welder, it comes with an all-in-one package and delivers outstanding performance. If you are curious to know whether it has something special to offer or not, you would not be disappointed to know that it is 3 in 1 Stick welder, TIG welder, and MIG welder.
This welding unit has a three-position switch that allows you to change the process quickly. You can control this welder by moving at the right speed that fits your need and the flow meter supplies a correct regulation of gas using a single-stage piston. With all these impressive features and versatility, this welder is one of the best in its category.
>> Click here to See Owner Reviews on Amazon
In-depth Forney 324 Welder Review
This machine is a DC-only TIG welder, so it is important to know that you would not be able to weld aluminum with it. Still, you can do so in a limited fashion if you make use of the MIG gun instead.
Out of the box, it's just a MIG welder only. It sets up really quickly and accepts spool sizes of 4-inches or 8-inches and with also acceptable wire diameters up to .035.
Like other well-reputed welder brands, this one also offers a 5/3/1 warranty, though some of its components do not have labor covered as part of the warranty process. Plus, Input power is 120V or 230V and 1-phase and the maximum output is 190 amps.
Forney 324 welder also has a rated duty cycle of 20% at the maximum rated output. This enables you to get a good bead with the welder, especially with the MIG settings.
If one does invest to upgrade to the stick or TIG components, you will realize that the welder is adequate in what it can do. To be honest, the quality of the work isn't going to blow you away, but those professionals who are familiar with welding are going to be able to produce a precise and clean weld.
Warranty
The best thing is that Forney stands behind the quality of all of its products and provides satisfactory service to its customers. Surprisingly, there is 5-year parts-and-labor or replacement coverage on the transformer, 3 years on all other parts inside the welder or the battery charger, and 1 year on external parts of the welder like cables.
However, if you intend to use the welder for industrial purposes, the external parts only cover 90 days. Customer service is quite impressive as well, and they are always ready to help, whether you need information or require repairs to your welding unit. If they fail to repair the issue, Forney will promptly replace the defective units.
Versatility 
The ability of a welder to change between welding styles is its greatest advantage and the strongest selling point. The versatility it offers is just too good to pass up, and any welder worth his salt will be in ultimate comfort while using this welding unit.
The fact that this welder can switch from one welding style to another with such convenience and ease is certainly very welcome, as it enables you to adjust to the material in the middle of a job.
Power
Another amazing thing about the Forney 324 is its power. With 120/220V input and 190 amps output, this welding unit has the power that is required to complete heavy-duty jobs. As you might already know, TIG welding requires low amperage, and this device can certainly go that low. 
But don't forget that it is the heavy-duty jobs where this machine thrives most. Welding stainless steel requires an immense amount of power, and the Forney 324 can certainly deliver it.
Furthermore, the Forney 324 is quite compact for the amount of work it can do. The machine is not bulky nor overly heavy and is easily portable as well.
Pros
Flexible enough for various types of welding

Variable working style

Impressive control features

Easy to set up and use

Multi-functional
Cons
Not as powerful as advertised

Low-quality wire-feed speed knob
Why should you buy Forney 324 Welder?
If your budget allows you to spend a little more on better machines, then you would not mind buying this one. Not only because it's a multi-process welder, but because of its other impressive features and capabilities, this welding unit by Forney is worth buying. Although this welder demands you to buy some extra accessories in order to take the full benefit of it. 
Final thoughts
Realistically, the primary strength of the Forney 324 Multi-Process Welder is in its MIG welding capabilities. Obviously, We're not a big fan of spending money on upgrades that are needed to use the stick and TIG welding capabilities of this unit, especially with its price already. 
If you prefer to do spring for the upgrades, you'll be able to improve your TIG skills and weld in relatively difficult locations with ultimate ease. The fact is that It has a few faults as well, but overall, this is a pretty solid and decent welder.
You May Like to Explore Other Forney Models: