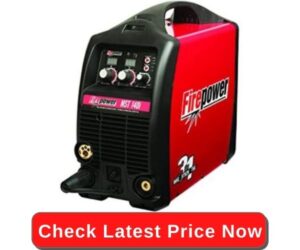 It does not matter whether you are a professional in metal cutting or a newbie, this Firepower Welder has everything you need for the best welding experience.
And why not? The design of the welder focuses on its welding ease and user-friendliness. Again, the welder itself supports  MIG, Stick, and TIG processes. 
Hence, you also get versatility with the performance. Furthermore, the light body and the compact shape make it easy and simple to use. In total, the welder comes with a complete package itself for your workshop.
But Still, before you spend money on it, you deserve to know what features and capabilities it has to provide you.
Therefore, we have examined all the features of this product in detail, along with its pros and cons.
Read the article further to know what this firepower welder has different and special to offer.
What makes Firepower MST 140i Welder better than others?
This welder by firefox is beyond an ordinary welder, as it comes with Stick, MIG, and TIG processes in a machine that only weighs 33 pounds. Plus, this welding device is best for Farms/Ranches, auto-applications, or on-site repair.
Unlike generic welders, this one Uses 115VAC and has a maximum output of 140 Amps. Not only that, the Wire Feed speed range is 90-390 IPM with a Maximum plate thickness is 3/16 inches.
>> Click here to See Owner Reviews on Amazon
Firepower MST 140i Multi-Process Welder Review
Firepower is one of the leading brands in the welding and metal cutting industry. They manufacture machines for professional and commercial applications with over 100 years of history and proven performance.
They have a wide range of features and capabilities to offer like Oxy torch tools, plasma metal cutters, MIG, TIG, and ARC welders as well. 
Not only that they are also well-known also providing all of the necessary consumables for every application. Moreover, their welders provide a diverse range of capabilities, allowing cutting from 1/8″ up to 2-inch metal welding, including galvanized, steel, steel, and aluminum uses. The fact is, that it's hard to find such an amazing welder, Nobody offers more options at such an affordable cost.
Thermal Arc, Thermal Dynamics, and Firepower, (All three are Thermadyne companies) are industry leaders with impressive innovative design and years of experience.
They manufacture a complete range of welding and cutting products and have an authentic proven record of performance and dependability. Furthermore, note that there's the strength that comes from Thermadyne, the world's leading manufacturer of products for safety needs and metalworking.
The Firepower 3-in-1 welder comes complete with all the necessary Stick and MIG components which gives even a beginner the capability to weld instantly, right out of the box.
This machine features Stick, MIG, and TIG processes in a welding unit that does not weigh more than 33 pounds. on-site repair work, farms/Ranches, or auto-applications are just some of the many things that this machine can do with ease and convenience. Plus, this MST 140i comes with a Quick Start guide which helps you to go through the machine set-up in four simple steps.
The MST 140i by firefox uses 115VAC and has the capability of a maximum output of 140 Amps. With the MST 140i, you can be welding like a pro in no time and with ultimate ease. Furthermore, MIG (GMAW/FCAW) has 140 Amps with 19 Volts at a 15% duty cycle. Its welding output at 104 degrees Fahrenheit has 90 Amps with 18.5 Volts at 20% duty cycle.
Power
Also, note that STICK (SMAW) has 90 Amps with 23 Volts at 15% duty cycle and a welding output at 104 degrees Fahrenheit has 80 Amps with 23.2 Volts at 35% duty cycle.
As far as the TIG welding system is concerned, TIG (GMAW) has 140 Amps with 15.6 Volts at 15% duty cycle and welding output at 104 degrees Fahrenheit has 100 Amps with 14 Volts at 20% duty cycle. Its wire feed speed range is 90-390 IPM and the maximum plate thickness is 3/16 inches.
Maintenance
A highly efficient and effective solution for maintenance and repair professionals, automotive repair technicians, mechanical contractors, and farmers and ranchers. The Firepower MST 140i, 3-In-One MIG, Stick, and TIG Welder allows you to pick the right process for your specific needs and application.
Performance
As you might already know, the MIG process makes your shop as productive as possible, while the Stick process is considered best when it comes to welding in outdoor environments.
The TIG process, for its part, is specially designed for those welding applications that need an elevated level of control and precision. Additionally, the Firepower MST 140i is also a spool gun which enables you to use it for all aluminum MIG welding applications.
Pros
Fastest welding speed

Great for both professionals and rookies

Power does not fluctuate

Comes in decent size and easy to carry

Provides a durable steel body
Cons
Takes a little while to figure out

Need some changes in the polarity
Why should you buy Firepower MST 140i Multi-Process Welder?
This welding unit by firepower is more than just an ordinary machine, as it is capable of multiple welding styles MIG, Stick, and TIG. Being a 3-in-one welding device, most people expect such machines to be extremely expensive. Fortunately, this one comes at a quite reasonable price. 
Secondly, it is a perfect welding machine for outdoor projects as it only weighs 33 pounds. Due to its compact and portable shape, it has become one of the most efficient welders in its category.
You Must consider this firepower welder if you are looking for a machine that is durable enough. It is a suitable welding unit for both professionals and hobbyists. Plus it could be used for outdoor and as well as for indoor welding work.
Final thoughts
Firepower welders are quite popular for durability and performance. The benefits of these products outweigh their drawbacks, therefore, it would be a wise decision to spend money on this welder. Overall, it's a decent welding unit with benefits like a 3-in-one welding system, compactness, and lightweight.