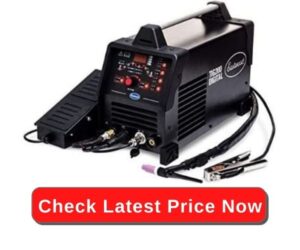 The Eastwood 200 Amp Digital TIG welder is packed with all the features of a professional machine but at a reasonable price range.
In the welding industry, TIG welding is primarily performed by experienced metalworkers, and with this unit, you can easily perform the most advanced welds with a clean finish.
This Eastwood TIG welder is designed in such a way that it gives a look of generic welder that does not have enough to offer and would not last long, but it is also a suitable choice for longtime workers who are looking for a little more out of their welder.
While considering a well-manufactured welding unit, beware of lesser units that have digital controls but do not have pro features like Frequency Control and Pulse that are important for you to become a better welder.
In this review, you would be enlightened with all the major aspects and amazing features of this Eastwood TIG 200 welder.
We have analyzed the distinctive qualities of this machine in detail, you will be in a better position to make your buying decision after going through this article.
What makes Eastwood TIG 200 AC/DC Welder better than others?
Eastwood TIG welder has almost all the essential features and components that a welder expects from a good welding machine. It has Pulse Feature On Ac And Dc, 10-200 Amp Welding Range. 
Plus, it can easily Weld Steel And Aluminum. The digital display is something that makes it special, as there are not many welders in the market that have a digital display. It is also equipped with Rocker Style Foot Pedal, Gas Flow Meter, and Wp-17 Flex Head Torch.
>> Click here to See Owner Reviews on Amazon
In-depth Eastwood TIG 200 AC/DC Welder review
To weld aluminum, the Eastwood TIG Welder 200 Amp AC/DC welder has the high-frequency AC setting that is required to properly weld aluminum. TIG Welding is considered the most efficient, controllable, and versatile method of welding many metals including stainless steel, steel, and more.
This TIG 200 DC WELDER with High-Frequency Inverter Technology is capable enough of welding heavy or thin gauge steel with precision and ease. 
Furthermore, The voltage self-sensing circuitry automatically detects a power source range of 110 to 240 volts and efficiently delivers from 10 up to 200 Amps DC. Plus, The included foot pedal facilitates the operator with the precise amperage control required while welding.
A high-frequency start feature is quite impressive that makes an instant arc strike with no tungsten contamination. Mastering the TIG welding technique without the right tool that enables you to perform accurate welds is difficult since numerous TIG welding units are only capable of modest performances.
Eastwood's TIG 200  AC/DC welder enables you to weld stainless steel and aluminum which makes this tool suitable for auto repair work or different DIY home projects. Moreover, this tool supports 240V input so that you do not have to worry about the duty cycle while performing complex welding tasks.
Fine tune
This Inverter technology-based machine by Eastwood features AC TIG welding for DC welding and aluminum, for steel or stainless steel. Plus, Both modes will join metals up to ¼-inch thick using 220VAC power. You can also do pulse TIG welding of aluminum or stainless steel as well using a special setting that enables you to reduce warping. 
Its 2T/4T finger control modes are specifically for using the torch to adjust the amperage as you work. The AC frequency control provides you ease in fine-tuning the cone width of the arc while a spot timer will perform small welds for a preset amount of time. If you want to do stick welding on old or rusty metal, just simply switch to manual ARC mode.
Convenient to set up and use
Eastwood TIG welder comes with a gas flow meter, Flex Head 17 torch, gas hose, rocker-style foot pedal, and all consumables needed to get started. It also has five preset functions from the factory and at least 15 more to customize, providing you 20 settings in all for different materials.
For versatility and ultimate value from this machine, Don't forget to order the Eastwood Electrode Holder with Cable. You would be glad to know that all Eastwood welders have a 3-year manufacturer's warranty with no-hassle returns.
Duty cycle
You would probably know that the rated Duty cycle indicates the amount of welding that can be done within an amount of time. The Eastwood TIG 200 TIG AC DC welder has a duty cycle of 25% at 200 Amps.
It is quite easy to look at your welding time in blocks of 10 Minutes. If you are welding at 200 Amps with a 25% Duty Cycle, within a 10-minute block of time you can easily weld for 2 Minutes.
If the Duty Cycle exceeds the limit, the Welding unit will automatically shut off. However, the fan will continue working to cool the internal components. When a  welder reaches the safe temperature, the Welder will automatically switch the Welder output back on accordingly. If you want to increase the duty cycle, turn down the Amperage Output control.
Pros
Pulse feature on DC and AC

Affordable

Easy to use controls

Amperage adjustment ease

Different welding techniques
Cons
No stick weld torch

Only 220V
Why should you buy it?
This welding unit is best for hobbyists and beginners, it's a decent welder with impressive features. It does not even cost too much, as most of the welders that have the same features are expensive.
It is very easy to operate and control, you will not get in trouble while using this machine if you are a beginner. Its benefits dominate the drawbacks and that's why it is worth buying. 
Final thoughts
This welder is good enough to take care of minor welding works. It is not perfect for big projects, but still could be used for some major welding jobs. The front control panel of this welder is just outstanding as it shows welding modes, welding functions, and Arc start, local/remote control. Above all, its digital display provides ease in handling the welder conveniently.
You May Like: