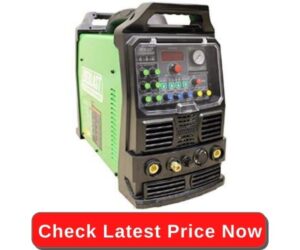 Everlast's PowerPro 256Si TIG and Plasma Cutter is a dual power mode welder.
The PowerPro series were designed especially keeping in mind the demand for quality and durability amongst maintenance enthusiasts.
The AC/DC TIG Welder operates on upto 250 amps, with upto 200 amps for Stick Welding, making it the ideal machine to handle any welding task that comes its way. 
The IGBT inverter design maximises its power and performance making it the best suited for all welding jobs as well as reliable.
Moreover its lightweight body makes it the best choice for doing work at different sites. Everlast is the classic welding equipment for professionals and hobbyists for a variety of maintenance work. 
We will review every crucial aspect of the Everlast 256 Welder to assure you of all its benefits and drawbacks.
You will see what makes it better than most of its competition and why it is worthy of your investment and trust. 
How Everlast PowerPro 205Si Outshining all Competitors?
Its unique IGBT inverter technology gives it great digital control that helps maximise power and utility, something not common for most welders of this magnitude.
For a machine with such a variety of functions it really sets the tone with its lightweightness and postability.Everlast clearly focused on their products' durability and reliability for all professional workers and enthusiasts looking to learn a new skill.
>> Click here to See Owner Reviews on Amazon
Everlast PowerPro 205Si Review
The Everlast 256 PowerPro is a 250 amp AC/DC Welder with TIG and Plasma Cutting functions all in one piece of equipment. These multi process welding options make it a dynamic and versatile machinery, ideal for professional and small scale maintenance work. 
It has a special IGBT Inverter technology that gives it the feature of digital control, with all readings present right in front of users eye its operation is more reliable and accurate.
The controls are fairly easy and simple with just one touch pad for the control process and selecting features. Its light and compact body makes it the right fit for maintenance and repair works, weighing at just 60 pounds. 
The welder can work for upto 250 amps at TIG mode and at 200 amps while on the Stick Welding mode. The Plasma Cutter with its PT/iPT 60 torch can work up to 60 amps as well. The interface makes it easy to switch torches from TIG to Stick to Plasma Cutting by just a touch. You can easily cut steel upto ⅝ with a maximum thickness of ¾ with the best clean cut. 
All these features clearly show how this Everlast Welder is ideal for repair and maintenance work effortlessly. The entire kit comes ready to use with all the key components in one complete package.
The kit includes a water-cooled TIG torch with DINSE connectors, the Stick electrode holder has a 10ft flexible cable as well as DINSE 35 connectors. The plasma torch too comes with DINSE connectors and a work clamp with 10 ft cable. 
Moreover an Argon Regulator comes included in the kit to keep check of TIG as well as air pressure regulator for Plasma Cutting. Lastly foot pedals and starter kits for TIG and Plasma all come included in one complete kit.
How to Set-up the Equipment
As established the kit comes ready to use with all the possibly needed components to get right to work. Once the main interface is connected to a power source all that needs to be done is connecting the desired torch (either TIG, Stick or Plasma) depending on the nature of the welding that needs to be done. 
The digital interface will keep you updated to all to the performance and power usage of the machine at all times. The interface has clear signs to report any rise in temperature or current as well as if the machine is on/off.
In every phase you can stay in touch with how well the machine is performing and easily adjust the current flow at any given time. Owing to its lightness and solid body it should not be a difficult task moving the equipment around for all kinds of repair and maintenance work. 
Performance Evaluation
To truly get to the depth of any product at only first glance, a pros and cons list is the way to go. We have reviewed all the possible advantages and drawbacks to investing into the Everlast 256 PowerPro.
Pros
IGBT digital control
Versatile phases
Easy to control
Quick change in phases
5 year guarantee 
Cons
Only for small scale use
Complex interface
No protective kit
Is Everlast PowerPro 205Si An Ideal Investment?
A look at the pros and cons list would draw anyone towards buying into this welding equipment. For small scale use and the price it comes at is definitely value for money. The IGBT inverter along with the multi phases it powers at makes it an ideal all in one machine that any professional or enthusiast would have a good and easy time operating. 
The different phases allow you to weld in different ways and in different materials by a single machine. The interface lays out all the different modes you can operate and also keep a check at its operation.
The elaborate interface covers every aspect of the machine to alert you whenever the temperatures rise or if it's not getting enough power. Such machinery is an excellent investment as it takes a load off of its user. 
The 5 year guarantee it comes with shows how Everlast truly builds a relationship of trust and security with its customers and you can have your equipment repaired or exchanged in any event based on this promise. 
Final Remarks 
Everlast clearly seems to have come up with a timeless equipment unlike any in its competition. It shows versatility, durability, and reliability. For such a good price and the accompanying 5 year guarantee it is definitely an offer simply too good to pass up on. For such a wide range of services and features from a single machine is definitely value for money.
You May Like to Explore Other Everlast Models: