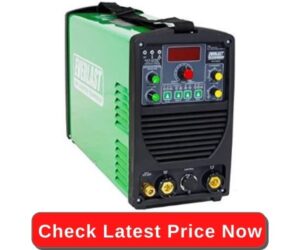 Everlast 185 TIG Welder has proved to be an excellent choice for a TIG welder because of its guarantee of durability.
This equipment can work on both AC and DC power sources, has a money back guarantee and comes in a complete ready to use kit. 
It is a 110/120 V inverter based dual voltage machinery that is lightweight as well as solid.
It can weld ¼ on a single pass for alloys and ⅝ for steel. The entire kit comes ready to use with all the key components and with a 5 year money back guarantee for parts and labor. 
This limited introduction doesn't do justice to all that the Everlast 185 TIG Welder has to offer.
We will review all the possible features and services of this welder for the ease of any likely buyer.
Looking at what makes it different from other common welders and its pros and cons will show you how fruitful an investment this welder can be. 
Everlast PowerTIG 185 DV Welder Standing Tall Between Competition 
When compared to similar welders in the competition, most don't live up to the standard of this lightweight durable welder. Its duty cycle remains unmatched to most of its competition and has the utmost flexible adjustment for such a small compact welder.
>> Click here to See Owner Reviews on Amazon
Everlast PowerTIG 185 DV Welder Review
Even though the Everlast 185 is for small scale use only, it does an outstanding job at that. It is rare to find such a durable product that does not go faulty even after lengthy work. The 5-year guarantee and its affordable price make it amongst the most trustworthy products.
Features and Services
Everlast 185 is a TIG dual-powered welder, its settings offer one pulse per second or fifty. All you have to do is change the settings via the interface. Moreover, it can easily transform from TIG to Stick Welding from the interface controls. 
The interface or the digital compact inverter is the mastermind of the whole equipment. Made by silicon it is lightweight to carry and yet solid enough to withstand moving around constantly. This allows the machine to work with a smooth arc too. When it comes to welding materials it can easily weld ¼ inch of an alloy in a single pass and ⅝ of steel in a single pass too. 
Since it is termed a portable unit, its dual voltage capability comes in handy as it makes it work from any power outlet. The machinery has been updated to IGBT Infineon Modules that adds to its high powered capabilities.
You can operate it manually or automatically at the preflow interval, it only takes about 10 seconds to warm up either way making it easy to set up and operate. 
The torch switch and an additional foot pedal can be connected to ease your positioning whilst welding. The 2T function adds to its versatility as the product's capabilities are not limited by difficulty in usage. The kit also includes DINSE 20/50 connectors that make the setting up easy as well. 
Control and Layout 
Everlast is surprisingly easy to use equipment and well functioning too. You won't have to figure out any complicated or unnecessary switches or knobs to kickstart the machine. It has an automatic preflow system that turns it on within 10 seconds. You have to set it at the right amperage through the interface and watch the settings. 
Its adjustable features allow you to either use a torch switch or the pedal depending on the sensitivity of your work. Since it is very light and easily portable you can move it around to the nearest power source without any hassle.
All in all the entire welding kit comes ready to use and you won't have to invest any extra into completing all the components, once bought you can get right to work. 
Performance Analysis
No product review is satisfactory and complete without a researched and precise pros and cons list. Any potential buyer can easily analyze if the product fits their needs via the list. We have gathered all the possible advantages and disadvantages to buying an Everlast 185 TIG Welder. Here it goes:
Pros
User friendly 

Value for money

Comes ready to use

Plus additional accessories

Versatile features

5 year guarantee

Light and portable
Cons
Difficult to operate in AC mode

Foot pedal not included in kit

Settings can be too complexed for some

No protection kit included
A Worthy Investment for you
Everlast 185 TIG is definitely worth investing into for small scale projects around the house. Its variety of features make it a good fit for a number of tasks and you can easily depend on it to get the job done right. You can do minimal basic welding tasks with great precision and quality. 
It helps you cover a wide range of tasks since it can easily be moved around because of its light weight. Even though it can easily weld through most metals, it is ideal for stainless steel, nickel, titanium, and mild steel. You have an easy on the wallet machinery that can be a worthy investment for starters just learning the skill. 
Conclusion
Even though it is not made for large scale industrial work, it gets small scale welding done effortlessly with a very effective cost. For such a small machinery it definitely has a wide range of features, giving a high level of performance. 
Although the rest of the kit comes ready to use with all the necessary components, a foot pedal might be an extra purchase that could make operating the equipment much more easy. All in all it is definitely a must have for small scale workers or enthusiasts looking to learn a new skill.
You May Like to Explore Other Everlast Models: