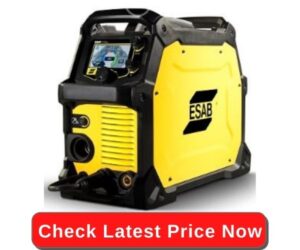 This welder by ESAB is the real deal multiprocess powered for TIG, MIG and Stick Welding.
It is perfectly suited for industrial-level welding and small domestic tasks around the house.
Its flexibility and versatility make it a must have for all maintenance enthusiasts looking to enhance their skill set. 
Operating on DC current you can easily weld through stainless steel, aluminum, and mild steel.
You can do TIG welding, stick welding and Flux-Cored MIG welding with this versatile equipment and do it from a single set of equipment too at the same time.
This smart welder tends to all your needs and self regulates and is user-friendly.
This review will go over all possible pros and cons of this welder and help prospective buyers understand what makes it different from other products in the market.
What makes ESAB Rebel EMP 215ic Welder better than its competition?
Most welder manufacturers try their best constantly to try and come up with multipurpose equipment that would boost their product demand, Rebel exceeds expectations in this area.
The Rebel EMP 215IC is an all in one multifaceted welder that allows you to weld a wide range of materials using a range of welding types. All these features come ready to use in a complete kit adding to its charm. Unlike other such products on the market you don't have to hunt for components to get the job done.
>> Click here to See Owner Reviews on Amazon
ESAB Rebel EMP 215ic Welder Review
As already established, the Rebel has three different phases for welding that can be used simultaneously through the same interface. All the components needed for TIG welding, Stick welding, or Flux-Cored MIG welding are included in the kit.
The kit also has Tweco Style Fusion MIG gun, electrode holder, Earth Clamp, TIG torch, and a gas regulator. TIG and Welding gloves come free in the package.  
The welder can easily weld through stainless steel, mild steel or aluminum. Since it is a DC only equipment, soft aluminums need to be welded through a spool gun to ensure quality. It has a complete stable duty cycle that varies for each phase. The different duty cycles are  20% at 130A for MIG, 40% at 90A for stick, and 40% at 130A for TIG.
The 12.5ft gas hose comes with a self regulator for the user to keep a constant check. All in all the interface is pretty user friendly and can be navigated easily. The person operating the equipment simply has to keep an eye on the monitoring screen on the interface and you'll know if there's an issue. 
Last but not the least the kit comes with a 3 year warranty and the torch is covered separately for a one year warranty. Such offers make room for consumer-business trust.
Understanding its Setup and Usage
The welders interface is self explanatory, anyone looking at the set up could easily figure out how to operate the equipment. All the components you could possibly need come in one single kit and it is all about connecting the cables to the right port.
Depending on the phase you want to operate you'll either connect the TIG or MIG cord you need, you must attach the gas regulator when needed to keep a check. You can easily adjust the gas intensity and amperage from the different knobs on the interface.
The sMIG or Smart Technology allows you the satisfaction that the equipment will pick up at your usual pace and the settings will remain constant till you wish to make a change. This results in a stable arc that shows consistency in your end result. 
Analyzing Features and Performance
A pros and cons list is the ultimate way to go before making any important decision. Buying a product is much easier when there's transparency in the benefits and drawbacks. We have concocted a list for all potential buyers looking to invest in Rebel Welders.
Pros
Welds variety of materials

Stable duty cycle

Versatile phases

Kit comes ready to use

Free protective gloves

3 year warranty – 1 year for torch
Cons
Not ideal for soft aluminum

Numerous features can be confusing

Slightly heavy weight
The list clearly suggests how you'll still end up on the beneficial end if you invest into ESABs welders. It is unlike any other welding equipment in its competition and will definitely give you value for money.
The Right Fit For You
Investing your money into welding equipment like this will definitely be worth it. Not only can you use this for large scale industrial projects it is a safe and steady machine for domestic use as well. You can enhance your skill set with such a reliable and durable product in your corner.
The greatest attraction is the complete ready to use kit, you need not waste extra time or resources gathering the right components to get the job done. Whatever functions this equipment can pull off, the components for it come along in the kit. Not only that but you have free access to protective gloves as well. 
The entire package is too good to pass on, anyone with a Rebel Welder would vouch for its durability, efficacy and reliability. 
Concluding Thought
The review has gone over every possible benefit and little drawbacks that come with the ESAB Rebel Welder, the benefits are more in favor of the use of this machinery. It is a versatile all rounder piece of equipment that is consistent in all 3 welding phases. You can easily enhance your skills and make your work much more efficient.