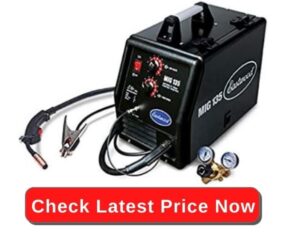 Generally, a basic MIG welder extends a small shop's capabilities instantly, and most of their jobs include dealing with stock less than 1/4 inch thick.
That means they do not require and often cannot afford a bigger industrial-rated machine.
Fortunately, today's market of welding machines offers all kinds of low-priced MIG welders for occasional use, such as the Eastwood MIG 135.
But the problem is that companies with unfamiliar names and few or no reviews sell many of these.
So, the real question is, are any of them worth it? In simple words, no.
Many are little more than toys that lack the needed capabilities and durability for even small shops.
So, buying a budget-priced MIG welder sometimes becomes a minefield, even for professional welders.
But some welding units deliver features and quality if you know which ones to consider.
For example, the Eastwood MIG 135 is one of the welding units you should have on your shortlist.
It's hard to find a better MIG welder that comes in the same price range like this one.
All the important aspects of this MIG welder are well explained in this review.
You would be able to decide whether it is worth spending money on this one or not after going through this article.
There is much more left to know about this welder, Read it further and make your mind accordingly.
What makes Eastwood MIG 135 Welder better than others?
If you are interested in buying a welding device that can weld well, you must consider Eastwood MIG 135 welder as it Welds Mild And Stainless Steel as thin as 24 Gauge, it also Welds up To 3/16″ With Solid Core Wire and Welds Up To 1/4″ With Flux Core Wire.  Its control panel is extremely simple to use.
There are very few welding brands that offer a 3 Year Warranty plus a 100% Customer Satisfaction Guarantee. Secondly, the most important aspect is free technical support which is something rare in welding products.
>> Click here to See Owner Reviews on Amazon
In-depth Eastwood MIG 135 Welder Review
This MIG welder comes with an easy-to-use Control Panel, 8 Ft Ground Cable And Clamp, a Tweco-Style Torch, and a 25-135 Amp Welding Range. It is powered by a standard 120V Household Current, which can also be used for Flux-Core Welding.
Plus, this welding unit is compatible with #20172 Spool Gun for efficient welding of aluminum and also Includes Gas regulators and Gauges.
It is important to note that this unit cannot MIG weld aluminum as the WFS is too slow, so you need to have a spool gun to weld aluminum. Fortunately, the Eastwood MIG 135 is spool gun-ready. The only issue is that the spool gun needs to be bought separately, an additional cost you may need to consider.
Plus, a knurled roller that is required to run flux-core wire is not included in the box of the MIG 135. So, you need to purchase some add-ons separately.
Plus, do not forget to pick up some flux-core wire while you are at it, because MIG 135 does not come with any. considering this welder, try to pick up all your consumables if you purchase this unit; it comes with very few in the box.
As far as torch and ground leads are considered, this might be considered a nitpick by some, but the leads are only 8 feet long on the Eastwood 135 welder. For most of the small shops, that length works fine. The issue is it will be too short for others, and you may need to replace the torch and/or ground cable, which is an additional expense to you.
Control
The 135 MIG welder offers small shops with many new abilities, but Eastwood always tries to keep the control panel simple. It has a voltage control knob, an on/off switch, and a WFS knob.
That is it. At this price range, it is very common to find a stepped voltage control selector switch. That means you usually get only four or five voltage settings to choose from, but the case is different with MIG 135.
Surprisingly, the voltage knob offers infinite control from the minimum to the maximum setting. For those welders who like to tweak the "heat," this is a good feature often found on more expensive welding units. Plus, the WFS knob also facilitates infinite control.
Duty cycle
As discussed earlier in the introduction to this article, the Eastwood MIG 135 should not be considered an industrial unit. That is because the 20% @ 90 A duty cycle is considered too low. But auto mechanics/restorers, DIYers, farmers/ranchers, handymen, and steel sculptors, will find this duty cycle adequate.
But if you wish to weld on a heavy, steady basis, this duty cycle will not work for you. (FYI – Duty cycle evaluates the welding time over a 10 minute period of time. This unit is almost rated at 20% and can weld well for 2 minutes at 90 amps. Then it needs to cool down for the other 8 minutes. So, the 20% rating.)
Quick set chart
The addition of a settings chart on the wire compartment door of the MIG 135 welder is handy. Eastwood realized the importance of having easy access to the settings chart while working in the shop, and they included one printed right on the unit's door.
Pros
Affordable for almost any shop

Infinite voltage (heat control)

Easy to find parts

3 years warranty

Weld up to 3/16 in. stainless steel solid wire.
Cons
20% duty cycle is quite low for constant, heavy use

Torch and ground leads are on the short side
Why should you buy Eastwood MIG 135 Welder?
 It has everything that you expect from a well-manufactured MIG welder. Some of its features and components are unique. It is lightweight and portable as well and could be carried easily. It offers a 3 years warranty like other well-known brands. If you are not conscious about the price and can easily afford this welding device, you should not miss this one.
Final thoughts
As consumers, it would not be wise to expect a budget welder to be perfect. The Eastwood MIG 135 welder should probably include a knurled flux-core roller in the box. Plus, Most importantly leads may be a bit short for some. Furthermore, those are issues that can be easily addressed if the need arises.
You May Like: