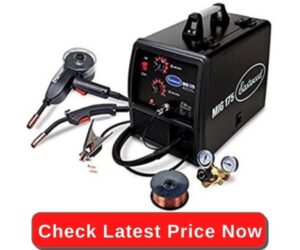 MIG welding is considered the most popular form of welding and it involves welding two or more metals using an electrode wire feed.
MIG welding can be applied in multiple welding situations, such as when you need to repair specific parts of a car or during the construction work of metallic structures.
However, it is difficult to achieve anything if you don't have a quality welding machine.
If you cannot afford an expensive welder and want to buy a machine that comes under your affordability.
You would be pleased to note that it is capable of providing similar results just like the top-rated welders from the U.S.A. 
In this review, we will be reviewing all the features and important components of Eastwood 175 MIG Welder that make it one of the best in its category and why you should have it for your projects.
Plus, also keep in mind that it is among the most affordable options available on the market.
What makes Eastwood 175 MIG Welder better than others?
The most classy thing about Eastwood 175 MIG is that it has a durable construction. This ensures that it can serve well for many years if timely maintained. All the parts are quality-focused to ensure that they will work as expected. 
You should also know that this welding unit comes with a 3 years warranty. It has everything that you expect from a well-constructed MIG welder, it is lightweight, portable, durable, easy-to-use, and one of the best as compared to other welders that come in the same price range.
>> Click here to See Owner Reviews on Amazon
In-depth Eastwood 175 MIG Welder Review
The Eastwood 175 MIG Welder is fully packed with innovative features. Be a DIY enthusiast or a professional one, this will help you in all your welding works conveniently. You might be aware of the fact that MIG welding is one of the easiest welding methods to perform.
The Eastwood 175 is a MIG welder that's capable of doing a wide variety of welding works in a jiffy. It will provide you ease in availing the best finish in the quickest amount of time.
You will probably find that most MIG welders are only compatible with specific metals. Therefore, it is vital to ensure that the one you have chosen is compatible with the different types of materials you work with on daily basis.
If you are finding a device that can be used for welding thick materials, you must look for one with a high voltage. This welding machine is very efficient and it also provides very clean and smooth welds as compared to those with a low voltage.
Eastwood 175 MIG welder can be powered by a 220 volts power output and it also has an amp rating of 175A. This ensures that you can use it confidently to weld different materials such as mild steel, stainless steel, aluminum, and others.
Another amazing thing that makes this machine to be so favorite among welders is the fact that it provides an amazing performance. You can conveniently use it to cut ½-inch welds with just two passes. It also works great on ¼-inch plates. Unlike other machines, this one provides very efficient and smooth welds.
Welders can also use this machine to weld 24 gauge to 5/16 inches of stainless steel. As far as aluminum is concerned, it can easily weld 4 gauge to ¼ inches when using a spool gun. Also, note that it also comes with a hose and a regulator to make sure that you get the best from it.
The Eastwood  175 MIG welder also comes with control knobs that enable you to adjust the amperage and output voltage. This further provides the required penetration. You can easily adjust the wire speed to achieve the correct wire fill.
Again, you can also handle the wire speed according to the task. The precision drive motor and the control make sure that you get better welds unlike when you are using cheaper models.
Accessories
In order to make sure that you get the best when using the machine, this welding unit comes with a hose, spool gun, and a regulator. In simple words, the unit comes with everything you would probably need to get started.
However, don't forget to note that it does not come with a gas cylinder. You can easily use it to weld 0.8mm up to 4mm which means that it is very powerful.
Precision Drove Motor
Eastwood 175 MIG welder comes with a precision drive motor that ensures flawless wire feed without slipping on the wire. Hence, it manages to provide very clean and solid welds since there is no need to revisit some spots. 
Duty Cycle
The duty cycle rating of this welding unit is 130A@30%. This feature is extremely important because it makes sure that the unit does not overheat. It also facilitates an automatic shut-off function which switches it off whenever it gets hot to prevent damages.
Spool Gun
One other amazing benefit of using this MIG welder is that it comes with a spool gun which makes it best for welding aluminum. The spool gun of this machine allows you to weld 14 gauge- ¼-inch aluminum
Pros
Long-lasting construction
Very versatile
Affordable
3 years warranty
Comes with important accessories
Cons
Short duty cycle life
Not best for heavy-duty welding works
Why should you buy Eastwood 175 MIG Welder? 
This MIG welder is worth buying as it offers amazing features and welds Aluminum, 14 Gauge To 1/4″ . Not only that it is also capable of welding Mild And Stainless Steel, 24 Gauge To 5/16″. Most Importantly, it comes with a Regulator And Hose For Optimum Mig Welding. You must consider this welding unit, as it can also be used for flux-core welding.
Final thoughts
Buying the most appropriate welder can be overwhelming, especially for beginners. The Eastwood 175 MIG Welder is undoubtedly one of the finest MIG welders out there. 
Eastwood 175 MIG welder is a great choice for beginners and also for professionals who are willing to buy a more compact model in their collection. The important thing is that there are not many setbacks with the device and it's a great machine in its price range.
You May Like: