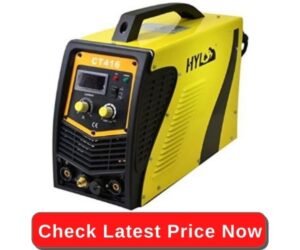 This HYL CT 416 Plasma Cutter Welder is the most vigorous industrial welder in the business.
Par excellence in quality and versatility it is a must have for maintenance enthusiasts.
It has a heavy duty cycle and a simple friendly support system making it the ideal equipment for long term industrial use. 
It comes in a 3 in 1 combo of Plasma Cutter, Tig Welder and Stick Welder in just one set of equipment.
Its versatility in services sets it apart from all competitive welding equipment.
The entire kit comes ready to use with all the components you might possibly need to successfully weld through your desired material.
A protective shield also comes included. 
We will review all aspects of this potent industrial welder to help all prospective buyers.
A close analysis of its features and what makes them unique from others will make your potential investment easier to decide.
What Sets CT 416 Welder Apart from Competition? 
This HYL Welder comes in a complete package of 3 in 1 services that is unheard of for most other welder manufacturers. The ready to use kit is complete with all the necessary components to do TIG welding, Stick welding and Plasma cutting. For a piece of equipment with such dynamic features, it is quite reliable and durable. 
As this review unfolds, a close look at all the features of this HYL Welder will speak for themselves in terms of what makes them truly unique. The guaranteed performance and durability make it stand apart from its competition.
>> Click here to See Owner Reviews on Amazon
Reviewing CT 416 Welder Services and Features
The CT 416 comes with 3 in 1 functions of TIG welding, Stick Welding and Plasma Cutting. These versatile features make it the ideal machinery for all sorts of metal fabrications and maintenance/repair work.
This professional grade welding equipment is most suited for industrial use that requires large scale welding. However, it's great capacity can also be put to use for domestic use. 
Operating on an input power voltage of 220-240V, and DC current type with input of 50-60 hz. The maximum and minimum voltage range differs when you use it in different phases of either TIG/Stick or Plasma Cutting. Each requires different input powers and operates with different strengths.
Its strong power can easily weld through materials such as stainless steel or alloys by all three phases available, as long as the material thickness isn't above 7/16". This heavy duty equipment ensures a complete safe duty cycle.
As for the wire sizes the minimum can be 1/16 ROD while the maximum is 5/32 ROD. The spool gun's diameter should be according to the thickness of the material to ensure it fully penetrates through for a strong weld. 
The equipment weighs around 27lbs and is relatively easy to move around considering its heavy scale use. It comes with a 2 year warranty from most of the sources that sell it from the manufacturer to the consumer. Any unexpected fault can be catered to in a 2 year time frame. 
Moreover the entire kit comes complete and ready to use. A 3M power cord with 220V power plug, Plasma/LG/TIG torches of varying lengths, Electrode holder with Dinse Connector, Ground Cable with Dinse Connector, and Gas flow meter. Not only these but also, Air Regulator gas needed for TIG (Argon) and other extra consumables that are crucial for industrial welding.
Effortless Operation and Set-Up
Since this equipment comes in three different phases for different materials/purposes, you must first choose the type of torch you wish to use. After connecting the interface to the main power source, you can easily figure out the settings from the interface.
All torches and their cords can be connected to the main setup from the portals on the interface. A knob can help you select the amperage and gas intensity you wish to work with, the tiny screen will constantly keep you updated on the current being input. A three phase button can be used to set the phase as either TIG/STICK/Plasma Cutter. 
All in all it is a simple and user friendly equipment that does not give users trouble in navigating. Since it is best intended for industrial use it will always be in the hands of professionals that will have absolutely no trouble with the operations. 
Assessing its Performance
The easiest way to reach consensus regarding a new product is to look at the pros and cons side by side. Knowing the benefits and drawbacks first hand helps you make a clear decision and any prospective buyer can decide whether it's worth investing in or not.
The following pros and cons list will make your decision easy after going through the review of this product:
Pros
2 year warranty

User friendly and good support

High duty cycle

Ideal for professional use

Versatile phases

Lightweight yet solid
Cons
Complex features

Not suited for domestic use

Not usually available in market

Parts available only in US
Worth Investing in CT 416 Welder?
Amongst a long line of welding equipment, the CT 416 is a lone dynamic welder that's suited for industrial use. With the rise of people using small scale maintenance equipment for domestic and office use, products such as this are rare and ideal for industrial use.
The simple use and complete kit that comes ready to use is a dream come true for any maintenance worker. The more hassle free such equipment is, the more they grow on users. This lightweight and solid welder is perfect for moving around and is cost effective too. 
Final Analysis
A look at all the key features and great benefits of the CT 416 make it a good fit for industrial maintenance work. The entire package comes ready to use and is lightweight to carry around – what more does one need? 
Investing into reliable and durable products such as this are a good bet and you will definitely have value for money. Any spare parts needed over time are available in the US market, from the looks of it it might not need much maintenance either.