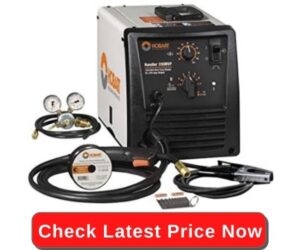 Hobart Handler 210 is the definition of "big blast in a small size".
There is no other way to define a welder that claims to be portable but at the same time contains a remarkable potential to blow an amperage of 210amp.
It is a one-for-all solution to speak simply. With this much at disposal, the unit can weld materials of considerable thickness without a hiccup.
This isn't just a good welder. It's a masterpiece of Hobart that costs a small fortune.
However, the heavy-duty build of the machine jam-packed with features, flexibility, and versatility make it a fair deal.
So, if you want a hulk of a welder to tackle a variety of light- to heavy-duty welding projects efficiently, Handler 210 MVP is the candidate to buy.
Proceed further to know all its strengths and weaknesses.
What Makes Hobart Handler 210 MVP Stand Out?
Having the ability to out-performing its rivals, The Hobart Handler 210 is one of the strongest and most powerful welders among Hobart's entire collection. Plus, compared to the strength, power and versatility of competitive models, the price is also very fair. This guy is also known as the "unbeatable beast" amongst professional welders.
>> Click here to See Owner Reviews on Amazon
Our Hobart Handler 210 MVP Review
Hobart Handler 210 MVP is power personified. The unit is among the top-tier creations of Hobart, which means it costs a small fortune. But, considering the decade-long hulk-like burly construction and performance grade advanced features, it seems fairly priced.
The compact structure of the unit is a pretense that it is portable because, at around 80lbs, it is anything but small and portable. However, it's not something that a good wheel cart cannot manage.
This brute-like fella enjoys immense popularity among seasoned welders because the massive, massive considering the size, output of 210amp make it one great heavy-duty MIG welder capable of tackling household repair, construction work and maintenance projects.
Besides, having a myriad of adjustabilities for wire feed speed and amperage lends you the kind of versatility and control that transforms into pristine welds on anything made of mild steel ranging from 1/4" to 3/8" thickness.
Its flexibility is also equally awe-inspiring. The unit's ability to accept power input from 110/115/120V to 220/230/240V gives a new meaning to the term dual voltage compatibility. A domestic setting, a commercial environment, garage or a workshop, the list is endless because it can be plugged anywhere.
The biggest of all shock comes with the simplicity of the design, so simple that an entry- and average-level welder can also use it conveniently. Lastly, Hobart gives a 3-year warranty to douse all your fears and worries. All in all, buy it if you want a heavy-duty, super-powerful welder with unrivaled flexibility.
Construction
Handler 210 MVP is one of Hobart's toughest welders. This heavy-duty MIG welder weighs around 80lbs, which, on one hand, gives it the kind of resilience that can survive years of use. On the other hand, it makes it appear like a hulk in miniature – a beefy welder that requires a work truck or a wheeled cart for effortless transportation.
Furthermore, the heavy-duty build also implies that this brute can tackle all kinds of work demands, household repair and maintenance, construction, auto repair, workshop use, fabrication work or projects lying in a work den of a hobbyist.
Performance
When it comes to welding, Hobart Handler 210 MVP is an all-time favorite of experienced welders. The unit, though small, shoots a 210amp big blast to mend 1/4" to 3/8" thick mild steel pieces. Execution of longer and more complex welds is made relatively easier because of the integration of miscellaneous settings for wire feed speed and amperage output.
This also shows that the unit has improved arc stability to keep the spatter and post-welding cleanup to the minimum. Surprising as it might be the use is still very simple, safe and beginner-friendly.
In more technical terms, the wire stays electrically cold as long as you do not press the trigger. Plus, it comes fully stocked with all the welding-related essentials to allow you to get to work right away.
Flexibility
This unit has a kind of flexibility that will instantly make you purchase it. The welder supports dual voltage (110/115/120V to 220/230/240V). This simply signifies that there's hardly any place in the world where this will not work.
From home to garage to farm to a workshop to any commercial site anywhere in the world, you have a vast horizon to choose from. Simply put, this will run like a champ in any part of the world where electricity is available.
Pros
Heavy-duty construction offers lasting durability.
210amp output makes it exceptionally powerful to smoothly fuse mild steel articles ranging from 1/4" to 3/8" thickness.
Features multiple adjustments for amperage and wire feed speed to improve arc stability and reduce spatter.
Its use is safe and simple.
Unmatchable flexibility with dual voltage input.
Ideal for seasoned welders and beginners alike.
3-years warranty.
Cons
Its heavy build restricts mobility.
Expensive.
Spool gun costs extra bucks.
Why You Should Buy It?
Hobart Handler 210 MVP has a remarkable heavy-duty construction that offers years of relentless performance without flinching. The ferocity and flexibility of the structure promise to meet the demands of all kinds of work environments. Also, its use is so simple and hassle-free that anyone can handle it, be it a beginner or a seasoned welder.
Conclusion
The simplest description for Hobart Handler 210 MVP is that its as tough and powerful as a brute with a simple mechanism to keep welders of any expertise level at ease – whether they are entry-level welders or professionals. The maximum operating limit of 210amp coupled with plenty of settings for amperage and wire feed speed enables users to keep arc stable to weld thicker mild steel pieces efficiently.
It's not one of the most affordable models by Hobart, but the rock-solid build stocked with welding accessories and a 3-years warranty make it worth the fortune.
You May Like to Explore Other Hobart Models: