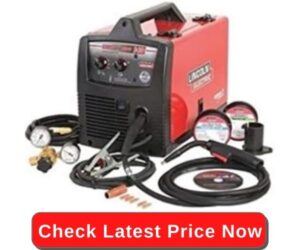 When it comes to options, "The Lincoln Electric Company" is the name of diversity and provides a range of products to choose from.
The predecessor of Lincoln 180 MIG welder (Lincoln 140 MIG welder) is not any less than its successor.
With the price starting from 770 USDs, this machine is truly economical alongside cost-efficiency.
The price tag represents its potential, as it can compete with its rivals in a budget friendly way but at the cost of a slight disadvantage over Lincoln 180 MIG welders which is its duty cycle which might hurt you but overall this little dude is perfect for low cost MIG/Flux-Core welding without any compromise on quality.
Equally capable just like its adversaries yet costs very low with the ability of having dual modes of welding. The performance in flux-core and MIG welding shows its effectiveness and potential to meet the current circumstance and the challenges imposed in the near future as well (a perfect example of  "Don't Judge a Book by its Cover" ).
What Makes Lincoln 140 MIG Welder Stand Out?
The batter control over your work implies productivity as it contains both nozzles for flux-cored and MIG welding. The other thing which is worth noticing is its dial controls for polarity and speed adjustments. The low weight and tough metal (Cast-Aluminum) is used to make it less heavier, yet it weighs 22 kg+ making it lite-weighted than many others of its competitors.
>> Click here to See Owner Reviews on Amazon
Our Lincoln 140 MIG Welder Review
Just like Lincoln MIG 180, the handling and operating of this old guy is damn impressive and alongside, contains "Heavy Duty Wire-Drive" technology to avoid wires from being tangled and from compression. The conductivity feels better due to "Brass-to-Brass" gun connection which is certainly an addition to its stability and buttery-smooth experience.
Although nozzle switching feels irritating, yet the overall experience negates its effects of being unpleasant to new users but it doesn't feel complex to the professionals who used similar welding machines before. High performance under diverse circumstances is one of the key-points of Lincoln 140 MIG Welder.
The key-elements mentioned above, provide solid reasons to us, for picking-up this machine as one of the best welding units. Moreover, the power adjustment gives you desired output that means you can variate and control output as you desire.
Power
120 volts AC provides a "level playing field" to this fella which shows significant performance boost in all scenarios. At an input of 120V it gives 30 Amps to 140 Amps output at 20% of duty cycle. So after 2 minutes of use you have to cool it down (put it in rest) for 6 to 8 minutes before starting the next duty cycle.
Accessories
Surely, accessories are part and parcel of any machine and you should get them if they don't come with the machine as free. So the full potential of the appliance can be achieved with its performance enhancements or accessories.
Lincoln 140 MIG does depend on its accessories to perform better.The tool-box is available as a bonus with it and the rest of attachments, you can buy them as you wish.
The red tool-box made-up of cast-aluminum adds value to the overall maneuverability of the welding unit. As it contains special pockets particularly made for a specific tool and hence you don't have to spend your time on managing and organizing your tools now. In the long run, it saves you from being frustrated and losing your time.
K520 Utility Cart and K2275-1 Welding Cart are pretty suitable with it as the Lincoln 140 MIG welder is not a lite-weight welding unit. Both of these carts provide better productivity and added torque to move the welding unit. It is, therefore, recommended for you to buy a cart to make the turn rate efficient ( or else, do your full-body workout at home ).
The red canvas cover is not only attractive but also it has "flame-retardant", mildew repellent and water resistance properties. It certainly provides an extra layer of security to your machine when it is not in use. You can buy KH495 Canvas-Cover from any of the Lincoln Electrics' stores or can order it from any online-shopping platform.
Pros
Pretty economical

Gives quality output at low cost

Better performance than many of its rivals

Supports both FCAW and MIG welding

Eliminated "Wire-Tangling".

Works better with branded consumables

Gives enhanced performance with accessories

An all-in-one solution for beginners and hobbyists

Free toolbox included

Both nozzles for MIG and flux-core arc welding is a bonus

Has a 3 year warranty for all customers

Contains extra 2 years warranty for Canadian and US' customers

Classy choice regarding easy handling
Cons
Movement without cart is a bit harder

Only 2 minutes of duty cycle (slightly frustrating)

Supports only single input

Uses only common 120 volts AC

Low performance without branded consumables

Only 3 years warranty for customers outside US and Canada

Lack of performance without use of accessories.
Why Should You Buy It?
This is the perfect economical choice if you are a beginner as it performs and gives you the same output as other heavy duty wire drive machines provide. Environment friendly as arc spatter is minimal with quality inert gas. The grip and handling of the Magnum 100SG spool gun is impressively smooth alongside the ability of feeding aluminum's SuperGlaze MIG wire of 0.030 inch.
This old and experienced veteran is quite capable of providing you desired results with elegance and durability. The new ones in the field of welding and the hobbyists should start with this machine as it is better to understand if and buts of this field with a Low-Cost machine before making a transition to a heavy one. 
Conclusion
No doubt, there are a lot of advanced machines in the market nowadays yet the major thing to understand is that you may not be able to make such an adaptation before learning the working of a welding machine. So, it is recommended to begin with a basic dual mode welding machine and for this, the first name which comes to mind is Lincoln MIG 140 welder.
You May Like to Explore Other Lincoln Models: