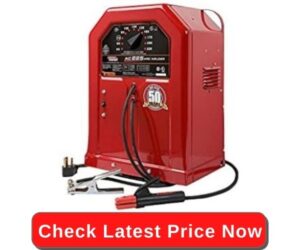 In the world of welding, it's almost a fact that Whether you are searching for a top-quality welder you can use for home use, farm, or industrial applications, stick welders are the best.
Many welding professionals believe that these welding machines provide stronger welds as compared to other welding processes such as TIG and MIG.
Plus, they are also capable of welding thicker materials which makes them better than MIG welders.
If you are a Pro welder, you might already know that stick welding has been around for several years, and gas welding has particularly reduced its popularity especially in places where electricity isn't reliable enough.
So, it is complicated to both learn and use, especially when it comes to maintaining and monitoring the right arc temperature for every metal.
Well, It is easy to learn by anyone, including new, hobbyists, and expert welders who want to take their metal welding to a new level.
Now, Lincoln Electric AC 225 Arc Welder is commonly used mainly for stick welding.
The best thing is that stick welding uses electricity across a welding stick, or in some cases, filter wire called an arc welding electrode to create a smooth arc that can deliver up to 6000 oC.
However, finding a reasonable stick welder is not very easy especially if you do not have a specific model in consideration.
We have examined all the possible capabilities and features in this Lincoln AC 225 review.
Undoundelty, this welding device is among the most preferred models on the market.
Read the article till the end in order to know about this welder in detail.
What makes Lincoln AC 225 Welder better than others?
The versatility and simplicity of the stick welder make it special and unique. One thing is almost sure that a stick welder can get the work done while other welders might not perform that well. The reason behind this is that a stick welder does not concentrate on the outlook of the welding instead it focuses on fine craftsmanship.
Furthermore, its smooth AC Arc can be used with a wide variety of metals, including cast iron, steel, and stainless steel. The AC-225 welder comes with a 3-year warranty on labor and parts. Plus, it is manufactured under a quality system certified to ISO 9001 requirements.
>> Click here to See Owner Reviews on Amazon
In-depth Lincoln AC 225 Welder review
This Welding unit is one of the most used machines that offer a 60Hz Arc welder, with a broad welding amperage range of 40A to 225A, facilitates versatile use, well-designed for operation with metals 16-gauge &  powerful, heavier welder. 
The Lincoln AC 225 is quite famous for creating a benchmark in the stick welder's business. For 40 straight years, surprisingly, this has been in this same model. So, this is probably in a way forever, because most of the welders have had newer models integrated every now and then. 
One of the most impressive features you will love about this machine is that it is extremely powerful. Unlike other welders, you can easily use it to weld even thicker metals than 16 gauge.
As a result, it is an appropriate machine for heavy-duty welding tasks. If you are looking for a welding unit that you can use to weld thick pipes, Lincoln AC 225 welder will be the best choice to consider.
Thermal protection
Moreover, one little security concern to consider while welding is that the device can get pretty warm. In most welding devices, sometimes overheating can cause the devices to wear out or can even blast to the abyss and cause massive destruction. It's dangerous as people can get hurt. 
This usually happens when the device doesn't have a proper cooling system. Mostly, cheap unknown brands have a problem like this. But Lincoln will not disappoint you for sure. This usually happens when the device doesn't have a proper cooling system. 
Mostly, cheap unknown brands have a problem like this. But the Lincoln will not disappoint you for sure. It is equipped with external thermal protection that keeps the device temperature down for a certain period of time delivering more work time.
Long cord power
Some might think that having a long power cord is really a normal feature. But the fact is that most of the welding machines out there don't have long power cords therefore people have to buy them externally.
But as far as Lincoln 225 is concerned, you don't need to spend money on any external power cord. Some welders might wonder why we need an external power cord. Well, the thing is, a power cord helps to maintain a safe distance. It's very important to be safe while welding as it's really dangerous work.
Warranty
One more important aspect that you need to consider about this welding machine is that it comes with a 3 years warranty. This indicates that it is among the most durable and reliable stick welding machines on the market.The warranty claim ensures that any manufacturing defects which might cause harm would be catered to by the company.
Design
While searching for a welding machine, It is important to look for a portable welder especially if you are planning to use it remotely.  Lincoln AC 225 welder is among the most portable units in the market. Besides the fact that it has 11 settings which vary from 40A-225A.
Pros
Great welding amperage

Portable size

CAn weld Stainless steel and iron

Efficient workability 
Cons
A little bit expensive

Only AC capabilities
Why should you buy Lincoln AC 225 Welder?
Lincoln AC 225 welder is one of the most preferred stick welders since it is capable of providing exceptional performance as compared to other cheap units.  It is also efficient, versatile, durable, and easy to use. Due to this, you can easily use it for normal repairs and maintenance tasks and also for simple fabrication projects.
Final thoughts
Stick welders are considered great machines for those who deal with complex tasks like pipelines, building bridges, or construction projects.  Therefore, This AC 225 welder is the best option to consider is stick welding devices.  You can also use it for small-scale projects such as welding gardening tools and some other simple tasks.
You May Like to Explore Other Lincoln Models: