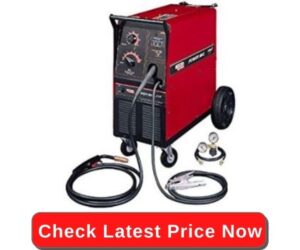 Usually, some DIY home repairs involve welding work, and while it may be a complex skill to learn, you can easily save a lot of money if you know how to weld things yourself.
According to most welding experts, welding types other than MIG are challenging. Only MIG type of welding is relatively easy to learn.
Unlike other welding types, MIG welding involves a reasonably smooth and standard welding process, especially for beginners in the welding space.
It is considered an arc welding process where a continuous solid wire electrode is fed via a welding gun and into the weld pool, then joins the two materials.
You might probably know that there are several brands offering MIG welders, and it gets difficult to choose among them.
In this review, we have examined this MIG welder by Lincoln in detail, all of its features and welding capabilities are mentioned in this article which would help you in your buying decision.
After you read this review, you would probably be in a position to decide whether this welder fulfills your requirements or not?
What makes Lincoln 215 Mig Welder better than others?
This welder might look like a simple machine which is only good for simple welding work. Don't go on its simplicity, this welder has amazing welding capabilities and is durable enough to be used in different situations. It's easy to operate for both professionals and newbies. Lincoln 215 MIG welder is equipped with advanced diamond core technology.
It has a patented choke design and delivers a forgiving arc, even with large stick-out changes. Plus it is considered excellent out-of-position arc action. It comes with a wide voltage sweet spot at a given wire feed speed for stainless steel, steel, or aluminum and low splatter.
>> Click here to See Owner Reviews on Amazon
In-depth Lincoln 215 Mig Welder review
When you decide to buy a welder, you probably want to know the reputation of the brand you are buying it from. What makes welders of  Lincoln Electric the supplier the best choice for the many industries they serve? This company holds a proven track record and over a century of experience in comprehensive welding processes, cutting-edge products,  and automated solutions.
The Lincoln 215 MIG welder is a low-cost wire feed welder that performs just like other expensive American-made models. It is well-built considering the quality, great welding potential, and packs a huge punch when it comes to versatility.
Although it is not appropriate for tough welding jobs, it definitely makes a good choice for beginners, pros,  weekend enthusiasts, do-it-yourselfers, etc.
As MIG welding units have chemicals and fumes, It is important to make sure that the material quality is second to none. Plus, Metals cases with a powder coating finish preventing rust and corrosion are important to consider while buying a MIG welder.
Thankfully, Lincoln MIG welders use Quality metal cases in order to make sure that the machine remains durable and reliable for a longer period of time.
Considering the ease in carrying, the lightweight nature and small proportions of the Lincoln 215 MIG welder mean that you can easily pack it in and out of just about any environment with ease. Plus, even an inexperienced user who doesn't have a truck or proper vehicle to conveniently carry the welder could easily and safely stow on the floorboard of the passenger seat of their car.
Portability
Talking about the professional, this compact and light welding device can be taken into hard to reach areas where unexpected or unusual jobs need to be done. Just Imagine, trying to carry something larger into a cramped basement or crawl space and the value of its small size becomes instantly visible.
Durability 
Lincoln 215 MIG welder is one of the best options to consider when it comes to durability. The well-made sheet metal frame of this machine is firmly constructed with heavy-duty plastic reinforcement around all of the fittings and seams.
Plus, the way the casing is shaped contributes a lot to its durability and its ability to take a fair amount of rough treatment as users move it from place to place.
Furthermore, The substantial and sturdy hard plastic handle at the top makes it very easy to move around for almost anyone. The best thing to notice is that Lincoln Electric tests its welding machines rigorously to ensure longevity and durability.
The fact is that at pipeline work on the field, we torture these welders. We even sometimes drop them out of a truck or they were sitting uncovered in the rain or covered in the snow but still, they work like a clock.
Ease in use and setup
Lincoln's 215 MIG welder goes so far as to guide the inexperienced user, as well as those who might be unaware of Lincoln products, which is a huge plus, considering its price range.
Everything that could have been simplified is done accordingly. The color displays and Controls are extremely easy to use for professionals and beginners using simple push-and-turn controls. Plus, Advanced settings are also quite simple to access.
As a matter of fact, Most machines that are designed to cater to the beginner as much as this machine does would probably not stand up to the demands of experienced welders.
Surprisingly, the case is different with this machine. It easily plugs in anywhere from the common home outlet to the heavy-duty plugs fund on an industrial job site.
Pros
Comes in a reasonable price range

A wide voltage sweet spot

Portable

Durable
Cons
Not a perfect choice for professional welding

Lack of warranty claims
Why should you buy Lincoln 215 Mig Welder?
You should consider this welder if you are trying to get your hands on welding machines. It's not expensive and easy to handle as well. Although it does not have a wide range of features, it's a strong and reliable welding unit that will not deteriorate like other machines. Give this welder a chance if you are new to the welding business. This one will not disappoint you.
Final thoughts
Lincoln welders are considered one of the most durable, reliable, and excellent performing. If you are a professional who is into some big serious welding projects, then this MIG welder might not suit you well, but for beginners and inexperienced welders, this machine is suitable. Also keep in mind that this welder does offer a wide range of impressive features, but overall it's a decent welder.
You May Like to Explore Other Lincoln Models: