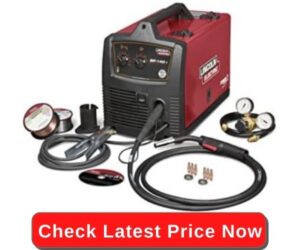 Welding is not considered an easy job.
Surely, It takes next-level effort to design,  fix, or repair a metallic structure or material, especially when it's old and thick.
But with a touch of dedication and passion, even some of the most difficult tasks seem light.
Well, things could take a wrong turn if the welding machine is off the mark.
It is important to know that the Lincoln SP 140t MIG is not another cheap toy welder.
The fact is that It's manufactured by a well-reputed welding equipment brand, Lincoln Electric.
This robust and reliable 140-amp tool gets real welding work done easily on 120-volt household power.
The Lincoln 140t MIG welder's appearance resembles the lower-priced retail welding machines, as do its specifications.
The best thing is that when you study this premium welder, you'll find out that this model of Lincoln comes with improved wire drive, power source, and voltage control.
In this review, We have examined this Lincoln 140t welder in detail in order to provide you ease in understanding this welding machine properly.
All the possible features and welding capabilities are well-explained in this article, Read it further to know what this welder has to offer.
What makes Lincoln SP-140t MIG Welder better than others?
It's a great little welder for serious projects and repair welding at home, on the farm, or in an auto body shop. This welding unit Requires common 120-volt input power, the SP-140T can be used almost anywhere with ease and convenience. 
Plus, with a simple two-knob tapped control, the machine is quite easy to set up for gasless flux-cored welding and for deep penetration on thicker steel or gas-shielded MIG welding on thin gauge stainless, steel, or aluminum.
Compare the rugged construction, precise drive, and full list of standard accessories, you will end up concluding that Lincoln SP-140T is an excellent choice for you.
>> Click here to See Owner Reviews on Amazon
Our Lincoln SP-140t MIG Welder Review
As Lincoln is a remarkable brand, and most of its tools have appreciable efficiency, the company still uses different technologies in every model. This could be considered as a good or bad sign, depending on the nature and application of jobs, but that's a whole lot of different debate. Let's concentrate on what this model is resourced with.
Surprisingly, Lincoln SP 140T has a 'Superior Arc Performance' technology that brings a forgiving arc that allows low-skilled operators to create spectacular welds. Furthermore, the technology simplifies the voltage control, enabling you to use the machine with ease. You can enjoy a smooth arc with a minimum spatter.
Overall, Lincoln Electric MIG 140t is one of the most accurate and reliable MIG welders. At such an affordable price range, it offers outstanding performance and delivers satisfactory results in less time. If you are interested in buying a powerful MIG welder for small metal fabrication projects, then this is the perfect machine for you.
Power
Lincoln Electric Easy MIG 140t MIG welder is considered one of the most versatile handheld tools with a maximum output power of 140A. It offers a 20% duty cycle at 90 amps and its feed speed control ranges from 50 to 500 IPM. Moreover, it's also capable of flux-cored welding. 
Lincoln Electric Easy MIG 140 can easily weld metals including stainless steel, mild steel, and aluminum. It's also capable of welding mild steel which varies from 24-gauge to 3/16 inches thick. This tool is ideal for home projects, rental shops, and small auto body workshops.
Wire feed
Lincoln Electric is well aware of the fact that a wire feed system can make or break a MIG welder. So, they do not take any chances with substandard drives in their 140 MIG welders.
Lincoln equipped both its 140t with sturdy metal wire feed drives infinitely and offers adjustable ease from 50 to 500 inches per minute. The specs are the same, but Lincoln uses a different drive in each model.
Portability
The Lincoln Electric MIG SP 140t weighs around 60 pounds only, which makes it quite lightweight and portable. It is considered an ideal choice for small-scale welders who need a powerful and portable MIG welder.
This welding unit can operate on an input power of 120V and can easily run on normal household power plugs. This enables you to use it almost anywhere. Do keep in mind that this tool is not compatible with generators, so it's not best for remote welding sites.
Warranty and affordability
Lincoln Electric MIG welder comes ready to use out of the box and it is quite affordable as well. For a high-quality welding machine like this, you will notice that the cost is comparatively low and it's a great advantage for you. At such a quite affordable rate, you get a powerful machine with dual-functionality.
The welder comes with a 3 years warranty. In case your machine encounters any technical defect during the warranty period, you can get a cost-free repairing service or a free replacement. You can also extend its warranty claim period up to 5 more years and enjoy prolonged benefits.
Pros
3 years lincoln warranty, 90 days on gun and cable assembly
Lightweight 
Best for small welding projects
Versatile
Cons
Not compatible with generators
Slightly expensive
Why should you buy Lincoln SP-140t MIG Welder?
This welding unit is not just a normal welding machine, it is well-equipped with impressive features. Its simple two-knob control system makes this tool easy to use, even for inexperienced welders. Nowadays, trends refer to the multi-function, therefore, the Lincolns Sp140t welder is Versatile due to dual-process functionality. 
Flux-cored is considered the best technique that can be used for penetrating thicker steel or stainless steel materials, while MIG welder is considered best for thin gauge or materials made from aluminum. further, its rugged construction facilitates maximum durability to the device.
Final thoughts
It is Easy-to-use and reliable at the same time, Lincoln 140 welder is ideal for hobbyists, small shops, homeowners, farms, and artists. This machine is considered best for those working mostly from one location with 120V power. You'll not regret buying it as it gets excellent results welding steel under 3/16″, and aluminum under 12-gauge.
You May Like to Explore Other Lincoln Models: