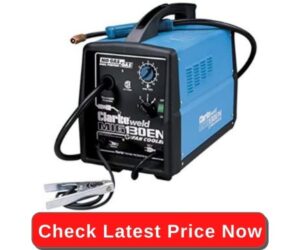 Clarke has definitely come up with a product that is par excellence in the list of welder manufacturers.
Their 130en MIG Welder is a 120 volt flux core/ MIG welder.
With a welding range that goes from 30 to 130 peak amps, it is a dynamic piece of equipment. 
You can weld through aluminum, stainless steel and cast iron effortlessly with this multifaceted equipment.
The Tweco type torch and the sturdy on/off switch are among the special features that make it a reliable and safe machine.
You can select from multitudes of power settings that suit the time of repair work you wish to do. 
There are many qualities in the Clarke MIG welder, thermal protection and control over gas supply being a few among them.
In this review we will help you assess whether or not you should invest into this product by Clarkes.
Our review will help you learn for yourself how easy it is to operate this device as well as what makes it stand apart in the manufacturing business. 
What Makes Clarke 130en MIG Welder Outshine Others? 
The Clarke 130 EN MIG Welder is a good choice for basic small scale work when it comes to other similar equipment. It smoothly welds into mild steel, stainless steel, aluminium and cast iron. The variety of materials that it can weld through makes it unique from most products that are expert in certain materials only. 
It is a lightweight and stable machine in terms of voltage use. The splendid safety features and its easy to learn interface make it a valuable part of your equipment. It has a multi power setting of 4 different ranges and an internal fan to cool down the equipment if need be. 
As we go about this review, you'll learn about the great many qualities of the Clarke MIG Welder that will help you see for yourself how unique this piece of equipment really is.
>> Click here to See Owner Reviews on Amazon
In-Depth Clarke 130en MIG Welder Review
The Clarke MIG Welder is an eccentric choice for beginners and looking forward to learning a new skill. Its easy going procedure and safety features make it a reliable choice for all. 
This equipment weighs around 50 lbs and has a solid yet lightweight structure. Its strong arc can weld into as thick as 3/16 in a single pass while operating on 30 to 130 peak amps. This gives the durable strength to weld through materials that are thick enough but not too thick. 
It can weld through a variety of materials such as aluminium, stainless steel, cast iron and mild steel. This adds to the versatility with which you can use this welder. It is easily operable with or without gas, you can switch the settings from the interface according to your desires. The convert or revert to the gas setting even with the absence of a gas regulator. 
The MIG welding function is desirable as it penetrates through metal with a lot more ease than say a TIG welder. The core is quite dependable as it is inexpensive and can work without a shielding gas supply. MIG welds are quite strong and do not break free easily or let water damage its roots.
The welding bow uses a Tweco type torch that is safe to use and can be turned on or off with ease at any time. This gives the user more control and trust in the equipment while they're still at their learning stage.
Heat Control System
In addition to these various features there is also an inbuilt fan that keeps the equipment safe from overheating. The thermal overload system is automatic and shuts down the machinery if it's too heated that it might be unsafe for the user. This makes the machine more durable as its own mechanisms are working to protect the machine from damage. 
Super Easy Setup and Use
The Clarke MIG Welder can be used on two different settings, with gases such as helium or argon or you can use it without gas as a simple electric welder. Since it does not come battery powered you can connect it to any direct supply line around the house as it will work between 30 to 130 amps. 
The interface is as simple as they come and you can make your way through the settings easily. You can then adjust the wire feed speed from the knob at the interface and the Tweco type torch will then be operable. The strength of the welder can easily weld through a range of different materials. 
Seamless and Versatile Performance
As promised,in our review we have put together a list of all the pros and cons of the Clarke MIG Welder that you should be aware of before buying this equipment.
All these features of the Clarke Welder will help you analyze whether or not this equipment suits your small scale repair work needs. The pros and cons go as:
Pros
Reliable for small projects

Multiple power settings

Simple interface

Convertible – MIG or gas

Flux core welder – no need for gas

Thermal power protection

Solid yet lightweight

Welds variety of materials 
Cons
Not for industrial use – only small scale

Issues with spare part availability 

Cannot weld into too thick materials

Interface settings can be complex

No protective equipment in kit

Company out of business – no product guarantee
Why Should You Buy Clarke 130en MIG Welder?
If you're looking for an easy going lightweight machine for small scale work around the house, Clarke might just be the perfect option for you. The review thus far and its pros and cons list clearly suggests that this piece of equipment is too good to pass on. 
It will definitely give you your money's worth and be a reliable part of your household equipment. The variety of materials it can weld for you shows that you probably would not need a second hand at any welding job – Clarke has got you covered. 
Small repair works around the house or your office perhaps means that you need repair equipment that is easily operable and reliable. Clarke Welders interface and the settings give you a range of options that can be adjusted to your liking. 
Final Thought
The Clarke 130 EN MIG Welder review we have presented does not shy away from asking you to take a leap of faith and jump at this product. A look at its features and the services it is capable of performing are a clear sign it is a must have for every repair enthusiast looking to invest into a good welding machine.
You May Like: