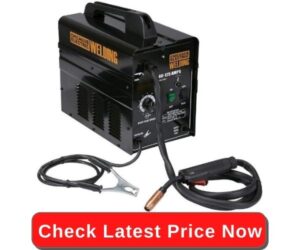 There are several different types of welders to choose to buy and each one is made for different types of welding.
There are welders for Gas Tungsten Arch Welding (GTAW), Gas Metal Arc Welding (GMAW), Tungsten Inert Gas welding (TIG), Flux-Cored Arc Welding (FCAW), Metal Inert Gas welding (MIG), and stick welding.
The type of welder you are willing to buy depends on two important factors, first the kind of metal to weld and how thick that metal is. Some of the significant factors in a welder that could possibly affect the quality of your welding are voltage, amperage, wire feed power, compatibility, etc.
The quality of the weld might vary depending on the prior experience users have with welding and if they know how to use the welder properly and safely.
If this is the first time you are using a welder, it is important to make sure that you learn some basic instruction or training from someone who knows it well, so that you can secure yourself from injury.
We have examined all major and minor aspects of this welding device in order to give you detailed information about this welding machine.
Go through the article to know the special features and specifications of this machine that would help you in buying the right welder for you.
What makes Chicago Electric Flux 125 Welder better than others?
This welder has something special to offer, as it is perfect for outdoor use and best for dirty metals. Chicago electric flux 125 welder is lightweight, compact, and portable. It enhances the customer experience by facilitating wire feed speed control for optimal welding performance. It comes with built-in overload protection to prevent overheating.
>> Click here to See Owner Reviews on Amazon
In-depth Chicago Electric Flux 125 Welder Review
This flux welder has an input voltage of 120 Volts and a 20% duty cycle at 90 Amps. Plus, the max Amp output is 125 and the minimum is 60 Amp. It is capable enough to weld 18 gauge (1/20th of an inch) to 3/16 inches thick.
The interesting thing is that shielding gas is not used for this type of welder because it is an FCAW welder and doesn't require much gas to function.
As the Flux 125 weighs only 38 lbs. (much lighter compared to most other welders), it can be conveniently stored or transported in a small space due to its considerably compact size and design.
It is also quite safe to use because of the amazing added safety features. It is equipped with a trigger-activated gun to prevent the occurrence of an accidental arc flash, as well as built-in overload protection.
Furthermore, The sizes of flux-cored wire that fit this welder are 0.030 in,(0.8 mm), or 0.035 in (0.9 mm) wire. Keep in mind that It only comes with a spool of wire when purchased, you need to buy additional wire separately.
Chicago Electric is considered one of the cheaper brands to buy from for air compressors, cordless power tools, welders, power inverters, including this one, and so on.
This specific flux welder is a great device to start with if you are not experienced enough or are just beginning to learn the basics, especially if you want one that is affordable. It is also good for some light welding on mild, low alloy steel.
The sort of tip that comes with this Chicago flux welder can sometimes make it difficult to see over when doing certain welding jobs. It works quite well for most projects, but if you are into a deep weld, it is recommended to buy a different tip to attach to, in order to avoid any issues.
The Chicago electric flux welder is great for small short-term DIY projects at home and minor repairs. Moreover, people that have tried using it on large projects consisting of thick metals or for long periods of time, came across problems with power or heat shortages.
If you have plans on doing big welding projects, a higher power welder will be more suitable for you as this welder is low-amperage but despite being a low-powered guy it out performs many big names in the market as it helps to complete our tasks with ease and swiftness.
Great for Light duty
This flux welder is considered the perfect welding machine for light metal or material as thick as the steel of a car door, then this works great. If you're into welding anything thicker than a quarter-inch plate then bid farewell to this welder.
Best for beginners
It is the most appropriate choice if you are an amateur welder and you can totally rely on Chicago electric flux 125 welders. It is a heaven-sent welder especially for beginners because dc is super friendly. You can easily run 3/32 rods throughout the day with this welder, and it welds very nicely.
Compact and lightweight 
It only weighs 38lbs and comes in a compact shape. Unlike other heavy welders, this one is lightweight enough to be stored and transported easily. It does not matter whether you are a professional or a beginner, its light and compact nature would benefit both.
Pros
Built-in overload protection to prevent overheating

Does not overheat 

Best to use outdoors

Compact and Lightweight

Shielding gas is not required
Cons
It requires maximum heat option to get the job done properly

Does not have an open circuit voltage

Creates splatter if you don't work close enough to the material
Why should you buy Chicago Electric Flux 125 Welder?
The Flux 125 Welder has hardly any issues at all. As long as you don't push it too hard, it works well. It is quite easy to use and is simple to set up when using it for the first time. Plus it comes with everything you need to start welding. It includes a flux core gun, a spool of flux-cored wire, ground clamp, spare contact tips,  wire brush, 6-foot cable, and face shield.
Final thoughts
Before buying the Chicago Flux 125 Welder, take into consideration all of the important issues mentioned earlier in this article.If you find out that you need to buy the extra materials and upgrades for it, it is possible that you might end up paying more in the end compared to just buying another welder. Although, if you are a beginner, you don't need to worry much about it.
You May Like to Explore Other Chicago Electric Models: