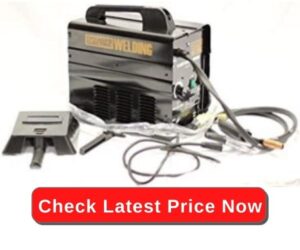 The Chicago Electric has a dynamic single phase 90 amp flux wire welder that is both reliable and cheap.
It is a 35 pound gas welder that operates on AC power source.
A portable lightweight unit that is ideal and reliable for small projects.
Its variable speed wire control and the temperature regulation and overload protection are among the number of things that make it unique and worth its cost.
It can easily weld through mild low alloy steel even if it's not the best choice for metals or stainless steel. 
This review will cover all the negative and positive aspects we believe you need to be aware of before investing into the Chicago Electric Flux Wire Welder.
You will learn what makes it different from other products in its competition and how to use it with ease.
By the end of our review you will definitely make up your mind in favor of this dynamic product.
What Makes Chicago Electric 90 amp Flux Wire Welder Stand Out?
The Chicago Electric 90 amp Wire Welder comes with a complete ready to use kit. Alongside all the necessary components for welding, protective instruments such a face shield are included in the kit. Most small scale welders with reasonable prices such as the Chicago Welder usually come in isolated components that need to be bought seperately. 
If you're looking to fulfill your small scale maintenance needs in a budget, while looking for guaranteed quality, Chicago Welder is the perfect choice. It is easy to use, with low input power and adjustable speed wire control. A compact package that comes at its price's worth. 
All these versatile qualities are not common for most welders in the manufacturing business making the Chicago Welder stand out among its competition.
>> Click here to See Owner Reviews on Amazon
In-Depth Chicago Electric 90 amp Flux Wire Welder Review 
The Chicago Electric 90 amp Welder is a multifaceted piece of equipment that is ideal for small scale use. It operates swiftly on a low input power of only 120 volts, the standard electric supply in domestic households and offices. The sturdy electrical cord makes it a stable connection without having to use extra extensions.  
The sophisticated interface makes it easy for you to easily adjust the speed wire control. This guarantees that the machine stays in control of the user and you can weld at an intensity that you're comfortable with. 
To guarantee user friendly use the machine is very light to carry, weighing only 36.5 pounds. You can easily carry it anywhere near an electric supply and get to work. It's easy use ensures that you will have a smooth run at it from the very first time.
It is most suitable for small scale projects as its function is to weld mild steel or low alloy steel. Stainless steel or aluminum materials go beyond this welders scope. Chicago Flux Wire Welder's greatest plus point is its thermal heat protection.
The system turns on an indicator light to inform the use of high internal temperature. Not only does it indicate the user, it shuts down itself and only restarts once it's cooled down. Its own protective mechanism keeps it safe from any internal damage as well as ensures user safety.
Budget Friendliness 
It comes at a budget friendly cost that suits its usage for domestic use. Most welders are not so cost effective if you're only looking to do small maintenance work or simply looking forward to learning a skill. Furthermore, it comes with a 1 year warrant that builds trust between buyer and manufacturer. 
The entire comes ready to use with all the key components you need to do small scale maintenance work. Alongside the necessary instruments, the kit includes a protective helmet and hammer/brush. 
Super Easy Setup and Use
This dynamic and user friendly equipment is surprisingly easy to use and set up. The kit comes ready to use and has all the components you'd need for basic repair work around the house. 
The electric cable is of really good quality and can be used at length so you wont need any more electrical extensions while you set up your equipment. There is no need for gas or any regulators while trying to turn on the arc either. 
The interface is pretty basic and understandable, it should not be a difficult task trying to work through it.  You can easily set the wire feed speed through the knob and set the max/min voltage with just one button.
The rest of the equipment pretty much works for itself when it shuts down with increase in temperature or any other malfunction. As long as you keep yourself protected with the accompanying shield, you're good to go!
Seamless and Versatile Performance 
Any good product review demands a complete pros and cons list to help prospective buyers in their decision. We have concocted a complete list of all you need to know before buying the Chicago Electric 90 amp Flux Wire Welder.
Pros
Easy to operate

Smoothly runs on low input 

Variable wire speed

Portable and lightweight

Cost effective

No gas or regulator required 

Thermal overload protection

Perfect for small projects
Cons
Not for large projects

Only 1 year warranty

Shuts down if overheated

Used for limited materials only
Why Should You Buy Chicago Electric 90 amp Flux Wire Welder?
Looking at all the benefits and drawbacks of the Chicago Welder clearly helps you decide in favor of this vigorous piece of equipment. It is a top tier MIG welder with good quality and durability. You should definitely invest into this welder if youre looking forward to doing small scale work around your house or office.
You need not worry about the complexities of running a welder. The smart and sophisticated interface on this model by Chicago makes it infinitely easy for anyone to operate and learn to weld. You won't be spending any money that won't be worth it if you invest into this welding equipment. This Chicago welder operates as well as any other such product in the market. 
Final Thought
Our review has made a good case as any regarding the prospects of the Chicago Electric 90 amp Flux Wire Welder. Anyone going through its pros and cons can see for themselves that it is a worthy product. You will truly get your money's worth with a reliable piece of equipment that can be kept and maintained for years to come, to use whenever need be.
It is high time people stopped relying on services to do the small work around the house, with stellar equipment such as this welder you can easily take matters into your own hands. You'd be doing yourself a favor and saving time and your money!
You May Like to Explore Other Chicago Electric Models: