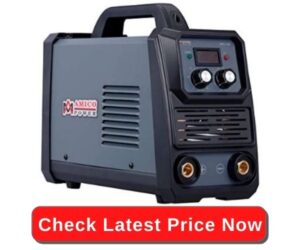 Amico Power has introduced a dual voltage welding soldering machine, Amrico ARC-160D, 160 Amp Stick arc IGBT Inverter DC Welder 115/230.
The combination of Stick arc and Lift-TIG combo makes it a versatile industrial level machinery. 
The lightweight machine is not only light and portable, it is super easy to operate.
ARC-169 comprises powerful functions that are compatible with all types of electrodes.
Its 5-160A welds perfectly through metal or stainless steel effortlessly.
Its package includes a 7 feet of power cord, 10 feet of 300-Amp electrode holder assembly, 10 feet of 300-Amp grounding clamp assembly, and a 230V to 115V power adapter.
We will review all the positive and negative aspects of Amico's welder and you can see for yourself if it's worth taking a chance or not.
We'll highlight what makes it unique to its competition and why you should buy it.
What makes Amico 160 AMP Stick Welder better than others? 
The Amico 160 amp Welder is unique from its competition because of its automatic function that detects the voltage input according to your needs. It is easily adjustable for new learners and continues to operate with ease over time as well. The strength of each component is a declaration of its strength and uniqueness. 
>> Click here to See Owner Reviews on Amazon
In-Depth Amico 160 AMP Stick Welder Review!
The manufacturer of ARC-160 is Amico Electric. It is a 16 pound machine with strong component parts. ARC-160 is a machine designed on industrial level and is mainly a proffered stick Arc and Lift-TIG dual welding machine. The part number of the machine is ARC-1602020. 
The dimensions of ARC-160 are 14.1 into 6.2 by 11.3 inches. The power source of the machine is AC 100 ~ 250V /60Hz ~ 50Hz. The amperage capacity of the machine is 160 amps. It does not include any battery as it is powered by direct electric supply. The performance is rated as 80% duty cycle at 160 amp.
It has not been discontinued by the manufacturer. It is made with material consisting of plastic and metal ABS. Pattern has been designed in the USA. ARC-160 is a welding machine that uses advanced inverter technology. The machine has a welding power source that is able to provide a stable, concentrated and strong arc.
The most important feature of ARC-160 is that it has an automatic selection feature that helps in
the automatic detection of input voltage. Moreover, this function allows switching easily between 100~250v/50~60Hz input power. Furthermore, ARC-160 consists of all the superior arc characteristics and it has the most advanced IGBT inverter technology.
It has excellent stability. This machine ensures welding for the longest time and still the machine can work at a normal pace by means of an extended power cord up to 700 feet. The power cord plays a very significant role in the attenuation of cable for several levels of length as well as resisting the power fluctuations.
In order to make the arc softer or harder it can be adjusted up to need. The largest thickness 160 D can weld is 1⁄4 inches Max single pass 5/16 inches 3 pass fillet or lap. The machine can be plugged to a 110 V outlet and it works very well.
In terms of compatibility this machine is similar to all electrodes including E6010, E6013, E7014, E7018 etc. ARC-160 is well known for its excellent Lift-TIG arc welding system. It ensures the most comfortable welding of various metals as well as thin stainless steel.
Super Easy Setup And Use
The complete package comes ready to use. Consisting of 7 feet power cord, 10 feet 300-Amp electrode holder assembly, 10 feet 300-Amp grounding clamp assembly, and a 230V to 115V power adapter. 
It is super easy to assemble according to the electrode you wish to operate with and you can connect the cords to the main interface. The interface is pretty self explanatory with knobs to adjust the current and arc force. Once you've adjusted these settings it's all about getting to work. 
There are a number of things that you must keep in mind before you use the equipment. Even though the machine is durable you must not be rough with it as it is for small scale usage. If the arc gives a cold start, wait to restart the machine and it'll run smoothly. 
Seamless and Versatile Performance
The Amico 160 amp Welder is ideal for small repair jobs rather than massive projects. To make a final decision on the worth of this welder we concocted a pros and cons list to help you make a decision for yourself. 
Its versatile and durable performance makes it an attractive prospect for all your repair works but there might be a few drawbacks to the products as well.
Pros
Built in hot start function

Control over intensity function

Easy adjustment function

Anti stick function

Automatic control over voltage

Protection from short circuit

Easy stimulation under voltage

Lightweight and portable 
Cons
Cold start from arc

Only one year warranty

Only for small scale use

Thin ground clamp

Less spring tension
Why Should You Buy it?
ARC-160 Stick Arc with Lift-TIG ensures the achievement of perfect weld. It has been ranked among the highest level welding machines. All of the components of ARC-160 pave the way towards being the most reliable tool of work for individuals as well as professionals.
It is a stellar plastic model that is light in weight, making it the perfect equipment for work around the house or your office. It's simple and sophisticated interface makes it the right tool for beginners that have no prior repairing experience.
The machine has a built-in hot start function, current-intensity control function, anti-stick function, thrust adjustment function, and automatic compensation for voltage fluctuations: over-voltage protection, under-voltage protection, over-current protection, and overload protection.
All these unique and multifaceted resources of the Amico 160 amp Welder make it the ideal welder that is a must have for every household. You should keep small scale equipment as such around to avoid having to hire help and incur huge costs. 
Final Thought 
We have thoroughly gone over every positive and negative aspect of the Amico 160 amp Welder in this review. Any prospective user can learn about the ways to use it and maintain it with this review. 
It is a high performance machine for domestic use that stays reliable with good maintenance. It is an excellent piece of equipment to learn the basics of maintenance work. The process of working on materials with this welder is smooth and penetrates metal and stainless steel smoothly.
You May Like to Explore Other Amico Model: