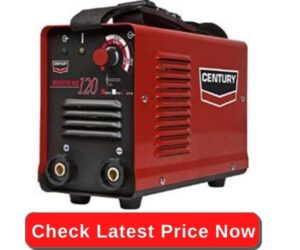 The welding business includes multiple types of welding such as MIG welding, TIG welding, and stick welding. Stick welding is quite a popular type of welding style.
It is also commonly known as manual metal arc welding or shielded metal arc welding (SMAW).
This welding process is widely used in home and various industrial welding applications.
The best part is that it works well for outdoor welding projects and when you find yourself in a challenging situation. 
The stick welding process uses an electrical current from a welding power supply and the current can either be alternating or direct, but you don't have to worry about that for now.
The electrical current goes direct from the welding power supply and makes its way through a gap between the welding stick and the metal.
Now, that's where the current will form an electric arch due to the difference in potential.
You will probably find a wide range of stick welding machines available on the market today that have different features, sizes, and prices.
Now the thing is that with so many options available, it can be difficult to choose the best stick welder for your needs.
It is necessary to start the welding project with the right equipment.
Century arc 120 stick welder is the most appropriate option when it comes to Stick welding.
We have analyzed the features and important aspects of this welder in detail in order to help you find the right equipment for your project.
Read this article further to know what makes this welding machine special and different from others.
What makes Century Inverter Arc 120 Stick Welder different from others?
The Century inverter ARC 120 stick welder comes with a working cable, shoulder strap, work clamp, electrode holder, and input cable with attached plug. Plus, it has a temperature setting for consistent welds. 
Century Inverter Arc 120 Stick Welder carries the awesome capability to handle most of the welding tasks. It provides flawless welds because of the smooth arc, and welds on 18 gauge sheet metal to 1/4-inch steel. It is hard to find such an amazing stick welder that can weld up to this level.
>> Click here to See Owner Reviews on Amazon
In-depth Century Inverter Arc 120 Stick Welder Review
This welder is the most reasonable machine for stick welding. Plus, It is portable enough to be easily carried and does not take up much space at your workplace. This stick welder is compact and the best thing is that it has a 10 to 90 amp output. The amp output supports mild steel stick electrode diameters from 1/16″ to 5/64″. 
It would not be wise to consider a welder that does not have a feature to monitor the temperature. Well, this one facilitates a great temperature setting to perform welding consistently. Further, it also comes with a 20% duty cycle at 70 AMPs that enables welding professionals to run 2 minutes out of each 10 minutes period without experiencing overheat problems.
The Important specifications of this stick welder are 20% duty cycle at 70 amps,10 to 90 amps welding range, 7.5 x 5.25 x 11.5 inches dimensions, 120V 1 phase input power, and 14 lbs weight. Also, Century Inverter Arc 120 Stick Welder comes with all the essential accessories that are required to weld smoothly and conveniently. 
Century Inverter Arc 120 is one of the best stick inverters that comes at an affordable price. It comes with outstanding capabilities for taking on most welding tasks. This portable welding machine is strong enough to weld in difficult scenarios and proves to be reliable and durable as compared to most welders in the market.
This amazing little welder can help you with some serious welding tasks. It has everything that a compact and lightweight welder must-have. Many professionals work on different projects and travel a lot, that's why they prefer welders that are lighter in weight and small in size.
Another important aspect that you need to Keep in mind is that it does not go beyond 90 amps, it's not possible to run real big rods. It's considered great for around the farm jobs.
Design
The design of this inverter is among a few of the many reasons why welding enthusiasts and professionals love the Century stick welding machine so much.
This design facilitates a lot of benefits to the table; among them are efficiency, size, stability, and cost. Most Inverter welders, by default, are comparatively smaller than regular arc welders available in the market.
Weight
The fact is that lightweight arc welders are always in short supply, so make sure not to ponder too much whether this century inverter will do the job – we can guarantee it will. It weighs only 14 lb, and it is undoubtedly one of the lightest inverter welders ever built. 
Price point
It's completely surprising how such a great arc welding machine can be as cheap as a century stick welder. Namely, it surely belongs to the medium bracket of the "affordable" price point category. It would not be wrong to say that this welder is the single most valuable arc welder for light-duty work.
Pros
can easily weld sheet metal from 18 gauge to ¼ inch steel.

It runs on 120 volts

Compact and lightweight

provides amazing versatility in a range of applications.
Cons
Its limit is 90 amps only, hence does run real big rods

The machine must be stopped every 2 minutes out of 10 in order to prevent overheating.
Why should you buy Century Inverter Arc 120 Stick Welder?
It is the most reasonable stick welder that comes at an affordable price and range is extremely easy to carry and move. This sick welder is best for beginners as well as for professionals. It has all the essential specifications and features that every welder prefers in a welding machine.
Final thoughts
It is not easy to find a welder that provides amazing versatility in a range of applications and is affordable too. This century inverter arc 120 stick welder is the best machine that you can possibly get for stick welding in such a reasonable price range. It is strongly recommended for minor welding projects but could also be used for some major ones.
You May Like to Explore Other Century Model: