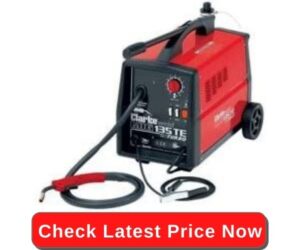 MIG welders can be used for a wide range of projects including hobby welding, autobody work, maintaining equipment, and a huge number of other things.
MIG welding is often considered a preferred technique as it produces good quality welds, it's not that difficult to learn, and does not cost a lot of money either.
A MIG welder can be bought for use in the home and to carry out basic DIY projects.
Plus, it could also be used to carry out basic professional tasks outside the home.
In the home, you can easily use it for multiple small works like clothes racks, making picture frames, and other tools in the home.
When buying a MIG welding device, the first and the most important factor to consider is where you will be using the MIG welder.
Definitely, This will help you pick the best MIG welder for your work.
It is important to understand that MIG welders differ when it comes to home and professional work, some come best for home use while others for professional tasks.
Whatever the reason is behind getting a MIG welder, there are certain features that are important to be a consideration while purchasing to be sure you get the best welder that will serve you for a long while.
We will be examining some of these basic features and important aspects of this welder.
Read the article further to know what's so special about this welding device.
What makes Clarke 135te MIG Welder better than others?
Clarke MIG welder 135TE turbo comes with amazing features that are hard to find in most of the welding devices that come in similar price ranges. The most convincing aspect of this welder is that it could be used for home use and for some professional work as well. Secondly, it is also among one of the most powerful MIG welders.
>> Click here to See Owner Reviews on Amazon
In-depth Clarke 135te MIG Welder Review
This easy-to-set-up MIG welder is considered ideal for the DIY enthusiast. It features a professional style, a non-live torch which is surely a distinct advantage for the inexperienced welder, and a turbofan for intense welding at full power. Plus,  It also comes in a stylish case with a hinged side door providing.
Provide access to the wire reel and gas bottle. It has power selector switches for easy and convenient use. This makes this MIG welder ideal for DIY minor car repairs and other jobs around the home.
The kit includes almost everything that is required to get you started – regulator, CO2 gas(390g), mild steel wire, earth clamp, professional type torch assembly, face shield & helpful user guide/instructions.
Plus, Buying appropriate gas and wire will enable you to use this unit to weld Aluminium or Stainless Steel. This Clarke MIG welder has Power settings from 30 to 130amps which makes it one of the most advanced welding machines in the market.
It is a strong device that holds the capability to Weld mild steel up to 5mm thick. When it comes to analyzing the duty power, this MIG welder facilitates with a Turbofan cooling for improved duty cycle & transformer life.
Furthermore, it uses 0.6 and 0.8mm wire up to 5kg spool. Clarke MIG welder comes with fully variable electronic wire speed control. As far as voltage and power supply are concerned, it operates from a 230v, single-phase power supply.
Thermal overload protection with an auto-reset feature makes it one of the most powerful and secure MIG welders for both beginners and professionals.
Duty cycle
When you weld for a certain period of time it gets overheated, so the time you have to weld before it gets overheated is very important to note. If one plans to use it for commercial purposes, you need a welder with a high duty cycle.
Usually, MIG welders with high output power have a low duty cycle. They take some time to cool down. The Clarke 135TE MIG welder has a good cooling system, as it offers Turbo fan cooling for improved duty cycle & transformer life.
Wire feed speed range
As wire feed speed measures the number of inches of the wire released by the gun per minute. Hence, to calculate the wire feed speed, measure the length of the wire after pressing the trigger for almost ten seconds. Then, multiply it by six. Surprisingly, this MIG welder comes with fully variable electronic wire speed control.
Regulator
The regulator is considered an important component of a MIG welder that allows you to maintain a steady flow of gas. You would see various types of pressure regulators available for your welding device in the market. But the Clarke 135TE MIG welder has a built-in regulator.
Thermal overload protection
It is very important to check whether the welding machine you are interested in buying is fitted with thermal overload protection. It will ensure that the machine will cut out when internal critical components reach a certain temperature, to prevent damage.
The machine will then re-start when it returns to a safe temperature. Thankfully, This welder comes with thermal overload protection and an auto-reset feature.
Pros
Cons
Better more minor repairs

A little bit Expensive
Why should you buy it?
Why should you buy this welder when there are many others in the market at almost the same price range. Well, this one comes in a stylish case with a hinged side door providing access to the wire reel, gas bottle and also has power selector switches for convenient use, enabling even beginners to produce professional-grade welds with ease and comfort, so it's ideal for automotive repair, home repairs, and other DIY jobs around the home. 
Final thoughts
This welder comes with all the essential features and components that every welder wants to have. It's not difficult to use hence it is best for beginners and as well as for professionals. Although it's a bit expensive, it's worth considering. You must try this welding machine if you are new to the welding industry.
You May Like: