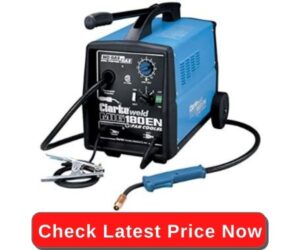 The Clarke range of MIG welders can make those tricky repair jobs that much easier.
It is considered ideal for professional engineers and auto-mechanics.
Other than professional use, MIG welders by Clarke are also best for use in home garages.
These MIG welders' sturdily built design means that you'll be provided with first-class results at a consistent rate for many years to come.
Most Heavier duty automotive MIG welders can be used on a day-to-day basis in car body factories and shops.
As you might already know that there are variations on the MIG welder design that can give you something a little more tailored to your specific requirements.
Especially if you are interested in a portable, sleek MIG welder solely for home/ D.I.Y use.
In the welding business, there are plenty of options available to select from.
However, it is true that making the right choice is not always that easy.
In order to buy the right machine, you need to go through tons of products that match your requirements.
Probably, you might be wondering how you could get all this information without spending so much time. Well, here's the deal. 
We have examined minor and major aspects of this Clarke MIG welder in this review in order to help you make the appropriate decision.
All the important aspects and essential features are explained well here, so read the article further to know what makes this welding unit different from others.
What makes Clarke 180en MIG Welder better than others?
Like many other outstanding MIG welders, this one also Operates on a 230 volt electrical supply. The exciting part is that you will be getting this new factory box Clarke 180EN welder along with a new welding cart, welding gloves, gas regulator kit, welding mask, welding helmet, chipping hammer/brush, a roll of wire, and manual as well.
>> Click here to See Owner Reviews on Amazon
In-depth Clarke 180en MIG Welder Review
The Clarke 180EN 230V welder KIT includes a welding cart, regulator kit,  welding gloves, and welding helmet. You would be amazed to know that Clarke 180EN MIG/flux-core 230V wire welder KIT is easily converted from flux-core to gas welding and will weld 1/4 in. in a single pass.
It also comes with electronic wire speed control and 6 variable heat settings that enable you to precisely adjust the welder to your needs. For smooth and better performance, it also has a fan-cooled.
It also features 6 power settings for maximum welding control Welds 1/4″ in a single pass. Plus, it comes with a Tweco TorchSolid state electronic heat control and with a large PC board for better wire speed control.
Weld stainless, steel, copper, aluminum, require a correct wire, cast, and gas.  In order to prevent overload, it facilitates with an automatic thermal safety switch which makes this welder one of the favorite choices among many welders.
Moreover, this MIG welder has a Mig gun with full On / Off safety control. The interesting thing is that Mig Gun is non-live with a built-in gas shut-off. It welds with or without gas Tough metal casing Fan Cooled.
It does not matter whether you are a newbie or a trained professional, you would find it very simple and easy to operate this MIG welder. Clarke 180en is portable enough to be easily carried and transported.
The Clarke 180 MIG welder specifications include Max Amps: 180 Min, Amps: 30 Heat Settings, Six-Max Open-Circuit Voltage, 30 Variable wire feed control 0 – 700, and IPM On / Off switch + / – Polarity control.
Plus, it has a Fan Cooled Thermal Safety Switch Wire size of .023 – .035. Circuit Breaker Req and 25 amps Input voltage: 230 VAC Phase Single. Lastly, Duty Cycle 20% at 100% output and Duty Cycle: 30% at 85% output.
Thermal protection
In welding machines, sometimes the welder gets overheated whenever the temperature goes over the limit. It is important to prevent overheating as it could damage the welding unit and the welder as well.
The Clarke 180 MIG welder's protective feature automatically enables and rescues your welder when the temperature exceeds a particular limit. Also, this welder is also fan-cooled.
Superior welding
This MIG welder has better welding options than other similar welders that come in the same price category, you can work on steel, aluminum, cast iron, and stainless steel. Not only that, in a single round or pass, one can weld almost up to 3/16 inches with it.
Power adjustments 
There are many features in a welder that you probably don't want to miss. The convincing factor of this unit is the power source of this welding system which is electric-corded. Plus, you will also get 4-different settings for power adjustments. This would enable you to experience welding at its best.
Convenient Parts
This welding unit comes with almost all the important components that a MIG welder must have. The Clarke 180 MIG welder includes convenient parts that help it achieve better efficiency. When it comes to safety assurance, it has a Tweco-type torch and an ON/OFF control for better safety.
Pros
Flux-core welder which means no need to buy gas

Easily convertible

Multiple power settings

Best for minor welding projects

Well-equipped with safety features
Cons
Not the best choice for industrial use

A bit heavier
Why should you buy Clarke 180en MIG Welder?
This welding unit is good enough to take care of minor welding jobs and small projects. Although it is considered best for minor projects it does not mean that it cannot be used for industrial use. The best thing that should be focused on is its ability to weld various metals like aluminum and stainless steel.
It is also well-equipped with all the essential features and components that you are looking for in your welding projects. It also ensures safety by offering thermal protection features.
Final thoughts
It is a reasonable welder that is not much expensive and considered best for small projects. You would find it useful if you are looking for a MIG welder that is reliable and durable. Clarke 180 MIG welder is among one of the best welders in the market.
You May Like: