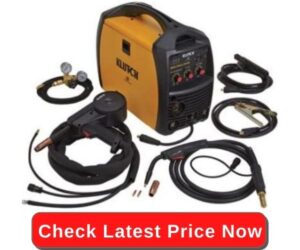 Many believe that you have one tool for a specific job, you use that tool for its intended use and so you just try to buy all the tools you need.
The thing is that not everyone has that luxury especially when it comes to welders.
Buying separate TIG, MIG, and stick welding machines can take up space in a shop and can cost a considerable amount of money. 
Thus machines like the Klutch 220Si multi-process welder was born. Many people do not have or just are not willing to expend their resources to buy separate machines for their welding needs.
Considering this, many manufacturers of welding devices have catered to this theory and there are some impressive welders out there that perform all of these functions quite well.
In this review, We have examined the important features and possible welding capabilities of this Multi-process welder.
Possible drawbacks and benefits are also mentioned here which are the result of users reviews being examined thoroughly.
Read the article to know what this welder has to offer.
What makes Klutch 220si Multiprocess Welder better than others?
This Multi-process welder is an above-average welder, with some impressive features and welding capabilities. It comes with an in-built inverter technology that requires 25% less input power.
Being a multiprocess welder is itself a huge benefit as it saves cost and space. It has 230 Voltage and is capable of welding stainless steel, steel, or aluminum.
>> Click here to See Owner Reviews on Amazon
In-Depth Klutch 220si Multiprocess Welder review
Klutch MIG/Stick 220Si 230V Multi-process Welder is one of the best welding units in the market that comes with an impressive welding capability. As it uses an inverter-based system, it will offer enhanced power output from a smaller transformer.
Moreover, it is made considering the lightweight aspect that makes the unit versatile enough. It has amazing welding capabilities from MIG to Flux Core to DC Stick to even DC TIG welding capabilities.
The Klutch welding device is capable of handling all types of welding processes to provide ultimate convenience in your welding-related arena. No matters, you want to weld steel, aluminum, or stainless steel, the Klutch MIG/Stick 220Si Multiprocess Welder is a perfect choice for most metals.
In case, if you want a TIG torch, you can easily buy an optional 10-foot TIG torch that needs to be bought separately, the model number is 44455. As the unit has a quite good capability to handle power fluctuations, it will surely deliver consistent output even if it gets fluctuated input power.
Furthermore, it also has dual purpose overload protection capability that is no doubt very helpful to keep your equipment safe and protect your welding machine from incoming power voltage spikes.
In the world of the welding business, the options are becoming greater and greater especially when multi-process welders are concerned. Where do you even start? Warranty, price, what comes with it, in what ways can help you expand it?
What are its capabilities and possible limitations? What is my level of experience and how do I intend to use it? Well, these are just some of the many questions. Our decision flowchart ended with the 220Si Klutch multiprocess welder from Northern Tool.
Outstanding welding control
This Welding unit comes with a combination of wire feeding settings with voltage controlling options, which enables you to have maximum control over various materials of different thicknesses.
Through its convenient control over the welding, it allows welding for common elements like stainless steel and aluminum, etc. Having an amperage output of up to 140 Amps provides perfect welding.
Inverted based operation
The best thing about using a versatile inverter-based operational system is that it manages to deliver an increased output even from the included small transformer. Undoubtedly, the system is quite consistent and reliable to offer sufficient power output.
The overall system requires less amperage input power which can further lead to a reduction in the entire power requirement by 25 Volt than traditional ones.
Multiprocess
Many believe that Multi-process welders make it easy and convenient for welding operators to tackle a variety of construction or fabrication jobs and projects in the shop, on the job site, or in the field without switching power sources.
Moreover, this further leads to saving time and money. This Klutch welder 220Si is capable of performing Stick, TIG, MIG, and Flux-Cored welding processes. 
230 Voltage
Like other top-quality multiprocess welders, The Klutch 220Si also operates on 230V of input power. So it is important to keep in mind that it's not exactly suitable for household outlets and it's better suited for jobs at large workshops, industrial sites, or garages.
Pros
Durable and Reliable

Can easily handle a variety of jobs

Multiprocess welder

Great power output

Smooth on all functions
Cons
Low temp plastic

No possibility of a foot pedal for TIG
Why should you buy Klutch 220si Multiprocess Welder?
Surprisingly, this Klutch unit at 230 volts is really smooth on all functions. Plus, Mig is controllable, solid, and has beautiful welds. Stick function is like butter, You wouldn't believe that stick could be so easy. The aluminum spool gun requires a bit of a learning curve but once you've practiced, it's a nice machine to have. 
If you are a fan of all-in-one featured machines, then you would probably not regret buying this one. It is not very expensive and is able to fulfill most of the welding requirements smoothly and efficiently.
Final thoughts
This machine is a fair example of the modern energy-efficient Inverter technology machine that works pretty well but is definitely cheaply made compared to a pro machine. The spot weld function is something you didn't expect to see in such a welder but it's actually very handy.
The welder is well-finished, light, and has a nice metal wire feed roller system that looks like it will last for many years of work. Also keep in mind that this welder operates at 230V of input power, hence it is strongly recommended to avoid using it in household outlets. Plus, this welder is best for industrial use and for big welding projects.
You May Like to Explore Other Klutch Model: