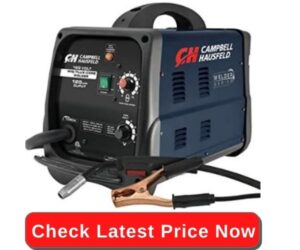 Campbell Hausfeld is considered one of the oldest manufacturers of numerous industrial products.
The company makes air compressors, spray guns, welding machines, and various other industrial tools.
You cannot underestimate these Campbell Hausfeld welders because they are made very well to deliver performance.
A MIG welder is the easiest welder in the market, which is good for both professionals and beginners.
Some of the welders are only curious about an easy-to-use welder, please try to know more about Campbell DW313000 welder, which is not only an easy-to-use MIG welder but also a portable, reliable, and low-price welder.
For buying, it is not much of an issue as the flux core welder is available on Amazon.
While buying a welder, there is a range of significant factors to consider such as price, input voltage, metal thickness, duty cycle, weight, and more.
We have examined important aspects of this welding device in this article which would help you in your decision making.
Read the article further to know what makes this welding machine better than others.
What makes Campbell Hausfeld MIG welding machine better than others?
First of all, This welder has all the essential features that a beginner needs to learn to weld. The price would not bother you much as it facilitates with much more than what it costs. The thermal overload protection feature in such a reasonable price range is hard to find. It is extremely easy to set up and run.
>> Click here to See Owner Reviews on Amazon
In-depth Campbell Hausfeld MIG Welder Review
You would probably not be interested in investing a huge amount of money to buy a welder, hence you can go with Campbell Hausfeld MIG DW313000, as it's not much expensive.
The pros and cons tell that this is an average-quality welder and the fact is that it is not recommended for serious welding works. As it could be bought in the price range of approximately $250, it would be a good welder for learners, trial and error, and minor welding projects.
In order to ensure a nice bead, an advanced wire speed control enables you to adjust the wire speed as per your requirements. For handy use, the Campbell Hausfeld welders feature a trigger-activated arc gun.
The benefit of such powerful welding guns is that it is very useful for an easy start. In case if you want to work on your welding project instantly, the Campbell Hausfeld welder comes along with multiple accessories such as a wire spool, some contact tips, and a MIG regulator.
The Campbell Hausfeld 120 Amp Output, MIG/Flux Core Welder (DW313000) is great for welding projects around the house and shop. You can easily select from four heat settings to match metal thicknesses up to 3/16 inches. The welder enables Thermal overload protection automatically to avoid overheating. 
In case, If you are new to the welding industry and learning the art of welding, choosing flux core welding is considered a suitable starting option.
No doubt that this type of welder is easy to use, and one can learn to weld just after a few hours of practice. You don't have to worry a lot about the sophistication, like this one most welding machines are user-friendly.
This welding device is Ideal for tackling welding projects around the shop and house, without having to use gas. As different welders are suitable for different types of projects, this one is the most appropriate welding machine for small projects. Campbell Hausfeld Mig welder is safe, durable, reliable, user-friendly, and inexpensive.
Another convincing aspect of this machine is that it is a very easy process to learn with high welding speeds. It also enables better control over thinner materials. Moreover, it also works well on dirty or rusty materials.
Voltage
The Campbell Hausfeld MIG/flux core welder is perfect for several applications including shop uses and household. It is important to understand that this is not a dual-voltage welder; it is operated on single 120V input power.
Such MIG/Flux-core welders are suitable for small to medium-level welding products. Because this device runs on only a 120V power supply, it is not considered a good welder to tackle heavy-duty welding projects.
Safety 
Excitingly, The Campbell Hausfeld DW313000 comes with numerous amperage settings. The best part is that a specific amperage setting can be used to handle the metal thickness up to 3/16 inches.
Plus, as far as safety measures are concerned, the Campbell welders come with thermal protection which prevents damage. The amazing thing is that automatic protection capability works at the time when the machine starts overheating.
Speed control
The convincing feature of this machine is the infinite wire speed control which allows exact adjustments for a smooth, even weld bead. The gun is well-equipped with a trigger-activated arc for convenient starting.
The machine also includes 2 extra contact tips and a starter spool of flux-cored wire. The best thing is that you can finish your projects faster and easier with this Campbell Hausfeld Welder.
Pros
Five years limited warranty

Hold 10lb wire spool

Decent welder at a reasonable price

Portable
Cons
120V power supply only

Gas welding requires separate accessories
Why Should you buy Campbell Hausfeld MIG Welder?
It is important to be clear about one thing that Campbell Hausfeld MIG is not a perfect welding device for big projects. It is a perfect choice for learners, beginners, and DIY enthusiasts.
If you are not a professional and just looking forward to buying a welding machine for the first time, you cannot find better than this one. Not only because it is less expensive, but it is also packed with advanced features.
Final thoughts
This welding device is strongly recommended for house or farm projects, as it is pocket-friendly, packed with features, and ensures quality welding.
It would not take much time for you to get your hands on it, as it is very simple to operate. It would not be an appropriate option for serious welding projects, but it is hard to find a welder better than this one when it comes to small projects.
You May Like to Explore Other Campbell Model: