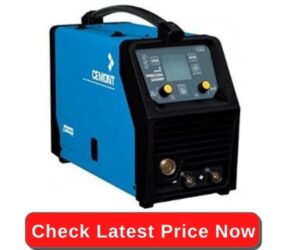 The Cemont MIG Welder is the ideal welding equipment for heavy professional use.
It exceeds all expectations of quality and technological advancement, giving complete satisfaction to each customer.
A flexible device that can be used for all types of soldering projects with great precision. 
This 200 MP device is a multi-processing MMA, TIG and MIG/MAG inverter with a compact structure that only weighs 15 kg making it super easy to carry around.
The smart interface helps in effortless navigation of the device and you can operate the bow with ease.
The single phase system allows you to select from all the welding processes according to the material you're working on. 
We will examine all the positive and negative aspects of the Cemont Mig Welder in this review to help you decide for yourself if you want to try it out for yourself.
You'll understand what makes it better than most of it s 
What makes Cemont Mig Welder better than others?
The multipurpose technology that allows MMA, TIG and MIG/MAG inverters to be used alternatively is a versatile function not available in all welders. The adjustable and easy to learn functions give this product an edge over most complicated machineries of its kind. The expertise of technology and quality used in Cemont Welders is unparalleled. 
For a machinery that offers so much potential and service it is surprisingly lightweight and easy to carry around. The fact that it can be operated on the normal switch anywhere makes it more reliable than most complicated and heavy loaded machinery.
>> Click here to See Owner Reviews on Amazon
In-Depth Cemont Mig Welder Review 
The Cemont Mig Welder is a 200 MP multi processing welder. It can run on MMA, TIG and MIG/MAG inverters. MMA is the metal arc welding that welds between the electrode and the work piece. TIG allows welding for stainless steel, metal, copper, gold, brass etc, specially helpful in fixing electrical equipment like refrigerators, lawn mowers etc.
The MIG/MAG feature allows the welder to use inert or active gasses to speed up the welding process, the intensity of the gasses allows both surfaces to weld together strongly. 
This superior technology makes Cemont Welders an all in one package for all your maintenance and repair work.  It is a lightweight and easy to carry device that can be used at a moment's notice with no trouble starting.
The usage is easy with a simple and sophisticated interface that has multiple programmes. Once you choose your desired setting you can easily navigate the bow at the work site. 
Once you've set up your device you can easily access over 40 different welding programmes to ensure the syncing of your performance. If you want to repeatedly use the same intensity and get the same results each time, it is just a click away. All your programmes can be stored inside a memory card that's pre installed into the system. 
You can easily adjust the settings and the voltage you want to operate at. There is a constant assurity of safety and quality in work with just the right settings.
You must pick the right parameters and balance for your rod and the rest is up to the welder. There are a total of 12 synergies to pick from, the material you want to weld, the type of gas you want to use and the diameter of the material.
Super Easy Setup and Use
Once you've set up and connected the welder to a powerline, adjusting the interface should be an easy job. The sophisticated interface is self-explanatory as you go through the options. 
You can choose the inverter you want to operate with, whether it be MMA, TIG and MAG/MIG. Different inverters give different performances on different materials.
The control panel helps you navigate through the welding process you want to go with. You can then select the amount of voltage you want to operate on. Settings like these ensure the safety and assurity of the user. 
There is a range of parameters and balances to choose from that works best with your material. You can pick from the 12 synergies that compliment your selected material. You must make sure that the gas you use (inert or active) is compliant with your material.
Seamless and Versatile Performance
We have run through all the technicalities of the product and informed readers of how to operate the Cemont Welder. For anyone looking to get their hands on this product must want a final look at the pros and cons at one glance.
We've come up with what can be the benefits or drawbacks of buying a Cemont Mig Welder. Our list can help you decide for yourself:
Pros
Lightweight easy to carry body

Simple interface 

Versatile options for domestic/office repairing

Ideal for various materials

Consistent and efficient

Does not overheat

Safe to use for all
Cons
Needs power source

Costly 

No light source in kit

Interface can feel too complex

Needs space for storage
Why should you buy Cemont Mig Welder? 
The versatile usage of the Cemont Mig Welder makes it an attractive investment. You can work on and repair around your home or office with just one tool that offers a lot of types of welding. 
The equipment comes in a single piece that can easily be carried around because of its light weight. Furthermore anyone can operate it with great ease because of its simplistic interface that provides a range of options. 
Final Thought
Cemont has definitely come up with an all in one device that shows the advancements we've made in our technology sector. Its quality is par excellence that is bound to attract any and all customers looking to fulfill their welding needs. 
It is a compact lightweight piece of machinery that ensures safe maintenance and repair work around the house or your office. You are promised excellent quality and control over your work.