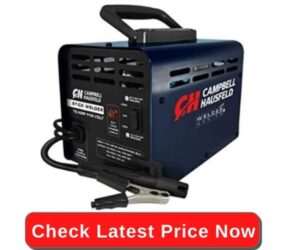 The perfectly handy and versatile welder to fulfill all  your domestic welding needs.
It can be used for small touch ups around the house or even for heavyweight jobs.
It's lightweight and portable body makes it easy to carry wherever you go and requires no assistance.
It is ideal for both experienced or even learners because of its simple equipment. 
The electrode size gives you good precision for smoother results and can be used on all kinds of surfaces.
The 20-amp circuit is sure to withstand any and all exertion and is safe from overload.
It is reliable to just plug in at any socket at any time and be ready to start welding. 
The entire kit comes with all the safety measures you could possibly need while using the Campbell Welder.
The protective gloves and shield are of premium quality, sure to protect you from harm's way.
Easily adjustable heat and electrodes are super easy to use and the versatile hammer-brush can be used for your welding and other purposes. 
What Makes Campbell Hausfeld 115V Stick Welder Outshine Others?
The Campbell Welder has a number of attractive features that give it a definite edge over its competitors. Most welding equipment are a safety hazard to use and can be hard to navigate at the same time.  Campbell is unique for its simplistic features and the complete package that comes with protective gear for its users.
>> Click here to See Owner Reviews on Amazon
In-Depth Campbell Hausfeld 115V Stick Welder Review
The entire product kits come with durable hand gloves and a protective shield to ensure user safety. Accompanied by a starter pack of electrodes to kick off your welding right away and a versatile hammer-brush that has multiple purposes besides welding. The complete package ensures that it comes ready to use with simple usage instructions.
The quality of the product is assured for domestic as well as professional use as it can operate on 120V household current. The standard size of 1/16 inch electrodes can easily be used on as little as a 15 amp household circuit, while for larger 5/64 inch electrodes you might require a 20 amp extra circuit depending on your needs. 
The interface feature makes it an easy to learn instantaneous machine to work around your home or elsewhere. The instructions are pretty basic to navigate and can be learnt by beginners just like any professional could. You can easily change the heat settings depending on the kind of exposure you need. 
Its lightweight and portable structure can be moved around quite easily and you can begin working at a moment's notice. Welding mild or stainless steel is a simple task as any with the use of the Campbell Hausfeld Stick Welder.
Super Easy Use and Setup 
The welder is not so difficult to set up, any beginner could understand its operation with one look. The interface is pretty self explanatory with buttons guiding every operation and range of the machine. The device is not run on batteries rather connected via an extension to your socket. 
Once you've brought the equipment to your work site all you have to do is install the electrodes into the clamp that is connected to the main interface. Different widths of electrodes can be used according to your need, the wider the electrode the more power supply will be consumed to operate it. 
Once set up you must put on the protective gear that's part of the equipment kit and are ready to work. 
Seamless and Versatile Performance 
For anyone deciding whether buying a Campbell Hausfeld Stick Welder is worth an investment or not needs to go over the pros and cons for themselves. It is crucial that you make a decision based on your personal preference and liking.
Pros
Versatile for domestic or office repairing

lightweight/ easy to carry

Shows consistency and efficiency

Easy to operate/start

No overheating

Ideal for mild/stainless steel
Cons
Does not come with a light source 

Can be too big to carry

Needs power source, no battery

Used only for steel, no variety
Why Should You Buy Campbell Hausfeld 115V Stick Welder?
Even if the product seems slightly costly or seems like something that's not ideal for regular use, this is a product with long term benefits. There are no separate parts of the entire set up that are ever at a risk to expire or fade.
You can keep the electrodes and the other equipment safely inside a box tucked away for using over the years. The electrodes once finished can be bought locally from any hardware store. 
The creativity and innovation of hardware mechanics has made it increasingly easier for people to do some tasks around the house themselves.
The simple self explanatory system insists that any person can operate the machine and weld whatever that needs to be serviced. Perfectly compatible with any type of use as long as they use the accompanying protective gear. 
Final Thought
With the increase in technology and innovation it is becoming increasingly unchallenging to perform menial domestic tasks. Simple services that you used to have to pay others for can now easily be performed ourselves. Inventions such as the Campbell Hausfeld Stick Welder are indeed another feather in the hat for innovators looking to make others lives easier.
It is definitely something that should be bought for domestic use or for small touch ups around the office. It is a meaningful investment that saves you from having to spend money on services you can perform yourself. 
You May Like to Explore Other Campbell Model: