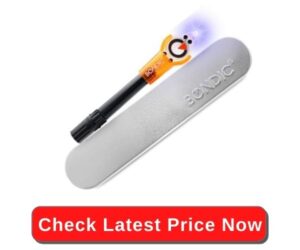 This tiny product is a must have for every household for all your instant repairs.
Bondic is a top tier adhesive and filler that can fix any damaged surface with little contact.
The complete pro kit comes with a LED light, extra liquid cartridges and a cloth. 
The special UV light feature and the properties of the liquid in question make it unique than most adhesive products used for our daily fixtures.
Once you get your hands on Bondic you'll understand how it is unlike any other product in its competition.
The thin viscosity of the liquid makes it more withstanding than other strong adhesives.  
Bondic can be used on materials ranging from metals to woods and it'll exceed expectations with how strong a bond it creates.
The liquid bond is solidified with the help of the UV light, helping it dry as quickly as possible.
This review will show you how to use this product, what makes it different from its competitors and all the other pros/cons we can suggest.
What Makes Bondic Liquid Plastic Welder Stand Out?
The small compact package holds a complete set that fulfills any urgent necessity. The strong adhesive bond shows that very little product is needed to get the job done. This makes it more durable, reliable and easy on the wallet for it can be used for a long period of time and preserved. 
It can not only create bonds but can also be used as a filler where there might be missing pieces or gaps to fill, a feature not common for all adhesives.
You can easily manage the strength of the bond depending on how you use it, temporary bonds can just as easily be made without the UV light if need be. It has a non-toxic formula which is unlike most adhesives that use strong toxic materials. 
The best thing that makes it stand apart is the fact that it can be used on nearly all kinds of materials there are and you wont need to use any additional products or reuse the same product over and over again. Once fixed by Bondic, you best believe the bond is made to last. 
>> Click here to See Owner Reviews on Amazon
In-Depth Bondic Liquid Plastic Welder Review  
The Bondic Liquid Plastic Welder is a waterproof liquid adhesive that comes in a small tube. The transparent white liquid once poured onto any surfaces needs to be dried by the attached UV light that comes with it.
It can safely be used indoors, outdoors and in your garage for mechanical purposes. Its versatile properties make it the perfect match for metals as well as woods or basically any type of surfaces. 
Once it has been dried with the UV light, the surface can be smoothed and painted over, its water and heat proof properties protect it against any damage. The UV light is incredibly easy to use, just one click of the tube.
The UV light is truly the cherry on top of an already pretty aggressive adhesive. As already established it can be used to fix up pretty much any surface no matter wood, plastic, vinyl, metal or rubber etc. 
It comes in the complete pro kit that is ready to use for any emergency purposes. A hand applicator, the UV light, two full tubes of the liquid adhesive and a 15 inch cloth all come in one metal container.
The kit can be used over and over till the liquid in the tubes is used up, the liquid is solvent free therefore it does not dry up in the container till it comes in contact with UV light. The non-toxic liquid tubes can be kept and used safely whenever need be, making it not only durable but economical. 
Super Easy Setup and Use 
Bondic tubes can be used on so many types of surfaces making them versatile and user friendly. The slender nozzle opening is like using a pen that can be used at any type of bond with ease and accuracy. The cartridges inside the tube are very user friendly therefore you can easily navigate the amount of products that's needed. 
Once you've managed to apply the liquid onto the surface you can use the UV light via the switch that can easily be turned on or off depending on how much light intensity needed to make it dry. For larger surface area you can keep the light on for longer time intervals till it completely dries and solidifies. 
It is quite suitable for small frequent fixes around the house that need urgent care. Although it is a strong adhesive that would surely hold larger products too, however that can be time consuming. All in all it is a high quality product that maintains the integrity of the product it is used on without disrupting any other workings. 
Seamless and Versatile Performance
Bondic has definitely created a versatile adhesive that can practically fix all and any types or surfaces or materials. It can be used both as a bonding agent and a filler making it the perfect formula however on the other hand it can be said it's probably more suitable for small surfaces only if we want to make use of the accompanying UV light. 
To help you make a final decision for yourself we have curated a complete list of the pros and cons that come with using a Bondic Liquid Plastic Welder. Go through these and make a decision for yourself.
Pros
Makes instant and durable bonds or fillings

Used in small simple steps, not complicated

Versatile, can be used on different materials and surfaces

Dries quickly and without a mess 

Complete pro kit, does not require extensive work
Cons
Works on most but not absolutely ALL materials

Difficult to use on large surfaces

UV light is a must to dry it up fast

Needs frequent refills
Final thought
Bondic is most assuredly a dynamic product in terms of not only domestic but professional use. The small metal packaging can be carried around everywhere and used for urgent situations for an easy fix.
It is a reliable and safe product to use and the entire pack comes ready to use with all the utensils that might possibly be needed. It is a safe bet and economically beneficial as it can be preserved. We highly recommend that you give it a shot and you will see for yourself how it saves time and money.